Analysis
Have the Diamondbacks Recovered From Their Second Half Skid?
The Arizona Diamondbacks were once in the driver's seat to make the playoffs. Now they are a underdog looking to grab the last Wild Card spot.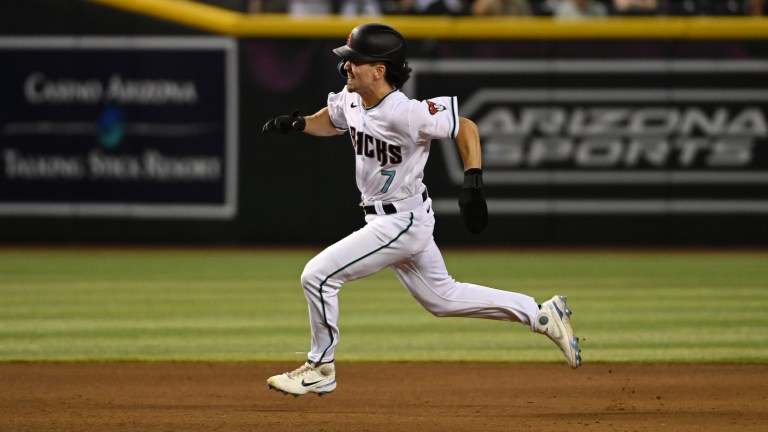 What a year it's been for the Arizona Diamondbacks.
They got off to a good start. In fact, on July 1, the D-backs were 50-34 and atop the NL West while having on their roster an almost-certain NL Rookie of the Year and Cy Young finalist. Life was good.
Then, however, the D-backs hit a bad streak — as in historically bad.
In July, they went from being 15 games over .500 to an astonishing two games under .500 (57-59). In case you're keeping score at home, since 1900, no team has fallen from 16 or more games over .500 to two games under in so few games.
When July ended, they had gone 8-16. Most folks wrote them off as a young team that had gotten off to a hot start before falling back to earth — the Icarus of the NL West, if you will — a sign that its window of contention had cracked for the young team but was not yet fully opened.
As manager Torrey Luvollo put it on July 25,
"Look, we're all frustrated. We know what's going on. Every single day we fight. The effort is there. We just haven't won baseball games at the rate that we want to. This is part of a baseball season. This is what happens inside of the baseball season. These days happen to good teams every single year, and every time you got to have some sort of response. And tomorrow is our opportunity to play our finest game. That's what I'm gonna look at."
The D-backs may have not played their "finest games" since Luvollo's comments, but it soon became clear that the D-backs were not yet done.
In August, they have gone 9-11(9-2 since August 12), getting firmly back to .500 on August 13. (Maybe it was those retro uniforms they wore to celebrate their 25th anniversary?)
Since then, they've won eight of 10 games, including a road series with the Colorado Rockies and San Diego Padres and a two-game homestand against the Rangers. In short, they are firmly back in the Wild Card hunt. This weekend will see them in perhaps their most consequential series of the season when they play four games against the Cincinnati Reds.
For the D-backs, these are must-win games.
So, what brought them to this place?
Corbin Carroll cooled off
After getting off to a flaming-hot start (he had an OPS+ of over 140 during April, May, and June and 116 in July), he's struggled in August with an OPS+ of only 75. Clearly, he still has time to improve that, but there's no doubt that Carroll's decline since June has not helped the D-backs.
Whether that's due to the fatigue the may come with working though a first full MLB season or the lingering effects of a nagging shoulder injury is unknown. But Corbin's bat has been missed. Still, he continues to steal bases and be an offensive threat when he in on base.
Ketel Marte cooled off
Like Carroll, Marte has had an exceptional 2023. In April through June, Marte's OPS+ averaged 141. In August, though, he has an OPS+ of only 42. That trend has changed recently with his OPS+ improving to 69 over the last seven days.
Most notable, however, is the timeliness of those hits: For example, when the D-backs needed a run to stay in the game against the Rangers, Marte hit it, sending the game to a extra innings that resulted in a win. And that's without mentioning his defense. Marte's contributions are key.
Christian Walker has been consistent
This the first baseman has an OPS+ of 136 with 28 home runs. When the D-backs have needed power, he's consistently provided it. Plus, his experience helps balance a young team.
The D-backs working out their starting rotation issues
No one questions the season Zac Gallen is having — he's a front runner for the NL Cy Young. Merrill Kelly, too, has been solid. Gallen has an ERA of 3.44 in 168.0 innings, while Merrill Kelly has an ERA of 3.13 (33rd) in 129.0 innings. But the rest of the rotation has been less certain and faced injuries, which has led to a combined ERA of 4.57 (18th).
So far, however, their young players have held things together, notably Tommy Henry (now injured), Brandon Pfaadt and now Slade Cecconi.
But this is a rotation operating with a thin margin.
It's worth noting that the D-backs are even experimenting with using an opener, a strategy that has worked for them so far. It's the kind of innovation that has helped hold things together.
Their bullpen held together
After their rotation, the D-backs' bullpen was the biggest question. Currently, they have an ERA of 4.59 (24th.) Kevin Ginkel is their best reliever with a 2.22 ERA (18th) followed by Paul Seawald (3.00) and Kyle Nelson (3.00). A number of relievers have been moving between Phoenix and Triple-A Reno.
The D-backs traded Andrew Chafin — not a bad move, it turns out — for reliever Peter Strzlecki. They also acquired Seawald from the Seattle Mariners, which was an excellent move, but he has had enough close calls that fans have learned no game is over until the final out is recorded.
Their worst reliever? Miguel Castro who has a 5.05 ERA in 51.2 innings. Scott McGough is not much better with a 4.66 ERA in 58.0 innings.
This is not a bullpen that inspires confidence, but it seems to have evened out and is keeping the D-backs in games.
Their speed plays
The D-backs have stolen the third-most bases in MLB with 127. Only Cincinnati and Tampa Bay have more. Their offense is fine — 13th in OBP (.323) and 12th in SLG (.419). But their speed makes the difference — both in terms of offense and defense.
The defense has been good
Right now, the D-backs have the fourth-most DRS (33) in MLB; they're third in terms of UZR (21.9); and third in Def (27.1). Their outfield accounts for 15 of their DRS.
Plays like this one from Alek Thomas shows why.
Plus, they added Tommy Pham at the trade deadline. Pham has given them power at the plate as well as outfield flexibility.
Behind the plate, rookie Gabriel Moreno has been outstanding. He was part of the trade with the Blue Jays, and so far, he's having a solid season as a catcher. When he was out with an injury — which was during part of the D-backs' skid — his absence was noted. (Catcher Carson Kelly was DFA'd when Moreno returned to the roster.)
In other words, the pitching has been okay — with some moments of brilliance — helped by solid defense has kept the D-backs in games. The offense has been good enough to win while the bullpen has become better at finishing games.
Still, the margins are close, but the future is very bright.
Closing thoughts
A young D-backs team seems to have found its second wind and is currently one game back from the third Wild Card.
Now let's see if they can ride it into October.
Reader, I think they can.