Analysis
Giants and Fantasy Owners Should Sell-High on Joc Pederson
An All-Star again for the first time since his rookie year, the time is now to maximize Joc Pederson's value and trade him at the deadline.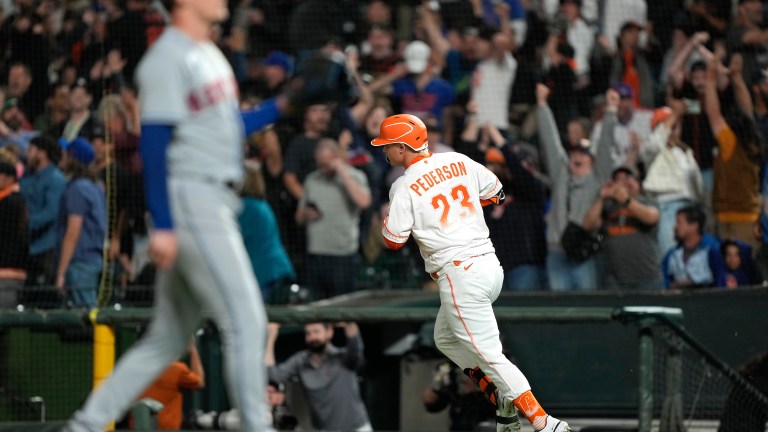 The San Francisco Giants of 2022 have taken a complete 180 turn from their incredible 2021 season. One of the few positive takeaways from the Giants season so far has been the breakout of Joc Pederson, who made his first All-Star Game since his Rookie of the Year campaign in 2015 with the Los Angeles Dodgers.
While Pederson has been a surprising pleasure to watch for San Francisco fans, now may be the time to maximize his value and trade him prior to the deadline.
I'm not about writing teams off and I truly believe anything and everything can happen in a 162-game season. However, the Giants have been playing mediocre baseball all season long and, with the division out of reach, it feels like selling may be their best option.
For teams in contention, Joc Pederson feels like a name that just naturally catches the eye. In addition to his All-Star season, Pederson is also the only player in baseball to claim back-to-back World Series titles over the last two seasons following his 2020 title with the Dodgers and 2021 with the Braves.
Pederson has been in a platoon the majority of his career. With San Francisco, he has not been platooned quite as frequently as he has in the past. However, he currently finds himself in more of a platoon now that many of the Giants players are healthy, with Gabe Kapler playing matchups rather unsuccessfully so far this season.
Over the last two weeks, Pederson has seen his numbers drop off a little, posting a .160/.222/.240 slash line in a limited 25 at-bats. Pederson has started in only three of the first seven games to open the second half, leaving reason for concern that San Francisco may already be shutting the door on his impressive first half.
On paper, Pederson has still had a terrific season with a .246/.321/.500 slash line overall, posting 17 homers and 43 RBIs in the process. Those numbers will catch the eye of any contending team, regardless of whether or not they have a "what have you done for me lately" mentality.
The most important thing about Pederson is that he does have a track record of producing in the postseason. Pederson has played in the postseason every year of his career, reaching the NLDS in 2015, the NLCS in 2016, the World Series in 2017 and 2018, the NLDS in 2019, and winning the World Series in 2020 and 2021.
In the 16 postseason series matchups he's been a part of, Pederson has remarkably solid numbers considering the pitching he's faced over the years. Pederson has a career .256/.332/.482 slash line in the postseason, posting 12 homers and eight doubles in 195 at-bats.
Pederson has an incredible 1.017 OPS in Division Series matchups, a much less impressive .660 OPS in Championship Series matchups, and an above-average .822 OPS in the four World Series matchups he has been involved in.
Why should Giants fans care about this?
Because Pederson's not helping them this year in the postseason. He is on a one-year deal and could very easily re-sign with the team from his hometown in the Bay. Other teams competing for it all this year in need of a left-handed bat know exactly what they can get from Pederson in the postseason.
He is a great bat late in the game off of the bench. He is a dangerous bat in the lineup facing right-handed pitchers. Pederson makes sense for a number of contenders, including the Dodgers, Padres, Brewers, Mets, Braves, Phillies, Twins, Astros, and Rays.
Some team will find enough interest in Pederson to make a deal and, while it may not cost top prospects, the Giants can certainly net pieces to help build what is a very average farm system. The Giants are no longer maximizing Pederson for his full potential with the logjam of players they have and some team should and will take advantage if the Giants decide to sell.
Why Should Fantasy Owners Sell?
If you are a fantasy baseball owner of Joc Pederson, you may have read all of the above and started sweating and rightfully so. I don't see Pederson as a starter in fantasy lineups for the rest of the season, especially if the Giants take my advice and decide to sell Pederson while his value is still high. If you are an owner of Pederson, do as the Giants should do and sell him for anything you can.
Otherwise, he may be a September drop in your league, possibly even earlier. While there is intrigue to Pederson possibly being dealt to a hitters park, the reality is the teams listed above as potential suitors will view Pederson as a platoon piece.
The Dodgers could use Pederson once again to platoon with Trayce Thompson and Chris Taylor once he returns from injury. The Padres may use Pederson as a replacement for Trent Grisham or Nomar Mazara, however, the way San Diego has managed Esteury Ruiz concerns me as far as how they actually view what their starting lineup should look like.
The Brewers can platoon Pederson with Andrew McCutchen and Tyrone Taylor. The Mets could use him as a DH in the off-chance Daniel Vogelbach doesn't work out. The Braves just lost Adam Duvall for the season and could use Pederson in the same role as what he was in last year.
The Phillies can't seem to find a guy who can actually play centerfield and hit the baseball. The Twins have all sorts of confusing things taking place with their depth and could use him as a piece to replace Byron Buxton in the outfield anytime he needs an off-day. The Astros saw Pederson torch them in 2017 and could use him as a depth piece in the outfield, especially with Michael Brantley injured. The Rays are obsessed with platoon pieces and Pederson could be perfect for that.
The point here is that the Giants and fantasy owners may need to cut ties with Pederson before his value starts dropping. While the Giants continue to platoon Pederson while playing losing baseball, San Francisco also loses value everyday in what their return may be for Pederson. For fantasy owners, those overall statistics may appeal to fantasy managers, who look at surface level numbers.
In both instances, Pederson should be traded before it is too late.