Analysis
From Rival to Hero: Kevin Kiermaier Is Fitting in on the Blue Jays
Kevin Kiermaier joined the Blue Jays this offseason on a one-year deal, and he seems to be fitting in quite nicely.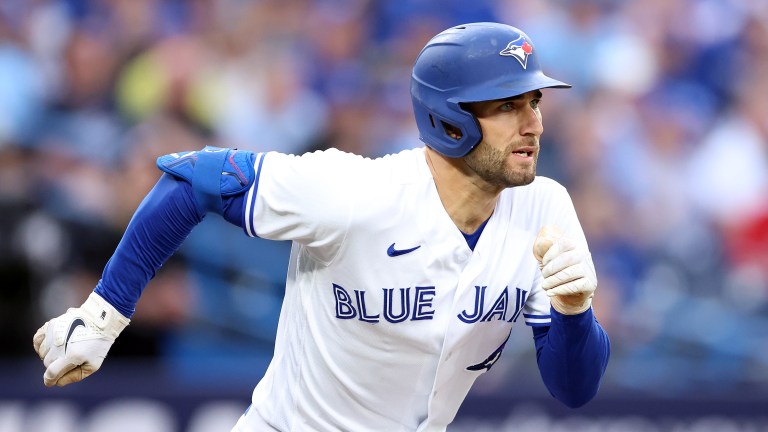 This past offseason, the Toronto Blue Jays made a flurry of moves, including bringing in veteran outfielder Kevin Kiermaier on a one-year deal worth $9 million.
For parts of ten seasons, Kiermaier was a member of the Tampa Bay Rays, a rival within the AL East. He played in four separate postseasons, including a World Series run back in 2020 (where the Rays ultimately lost to the Dodgers). Through 914 games with Tampa Bay, the three-time Gold Glove Award winner amassed a .715 OPS with 82 home runs while collecting 147 DRS during that time.
Interestingly enough, Kiermaier also gained the ire of Blue Jays fans back in 2021, when he scooped up catcher Alejandro Kirk's data card off the ground after sliding at home and took it back to the Rays dugout, seemingly thinking it was his positioning card. Reliever Ryan Borucki would plunk Kiermaier two days later.
Kevin Kiermaier Fitting In Well With Toronto
Fast forward to today, and Kiermaier is not only a Blue Jay, but he is loved in Toronto, as the outfielder has been outstanding through the first 50 games of the season. After battling numerous injuries over the past four years, Kiermaier has bounced back in a resounding way, sitting in the ninth spot in the lineup and sporting a .319/.366/.511 slash line after Friday night's contest against the Twins, where he added a triple and a home run to his resume.
He currently owns a .877 OPS, second best on the team, and has just 29 strikeouts on the season. The speedy center fielder also sits third on the team in fWAR at 1.6, ahead of his fellow outfielders Daulton Varsho (0.4) and George Springer (0.4). The Indiana product has five stolen bases on the year, ranking fourth on the Jays' roster and currently boasts a 143 wRC+.
Kiermaier also had one of the first wall grabs at the revamped Rogers Centre this season, making a spectacular grab to rob a home run from the Tigers' Kerry Carpenter back in early April. He has also shown off his plus arm on numerous occasions, earning three assists already this season. He currently sits above the 90th percentile in numerous fielding categories, including outfielder jump (96th), outs above average (97th), and arm strength (97th).
So far this season, Kiermaier has been arguably the best outfielder on the squad, as both Springer and Varsho have gotten off to particularly slow starts for the Blue Jays.
Defensively they are a solid group, making the routine plays, and this outfield is a step above the group the Jays put forward last season. However, the pair have struggled at the plate, although Springer spent some time battling a stomach virus that likely didn't help his plate appearances (he has dealt with some unfortunate luck, too). The former Astros center fielder is now slotted over in right field given the offseason acquisitions, and he is starting to find his groove as of late, sporting a .440 average with two home runs through his last seven games.
The Rays' Loss Is the Jays' Gain
This past week, Kiermaier made his first return to Tropicana Field, and while he felt a lot of nostalgia about being back in Tampa, he also spoke to Sportsnet's Hazel Mae about the club declining his option: "I am going to make you guys (the Rays) miss me." The Rays declined his $13.5 million option this past winter, triggering a $2.5 million buyout instead.
So far this year, the Rays' loss has been the Blue Jays' gain, as the lefty batter has slotted in nicely with the club at the bottom of the order. He is a speedy presence on the base paths for the top of the Jays lineup that features Springer, Bo Bichette, and Vladimir Guerrero Jr. For now, it appears that he has won over Blue Jays fans' hearts, and he already has some calling for an extension. That might not be a bad option if he can continue to put up similar numbers all season long.