Analysis
Free Agent Starters Have Not Provided Good Production in 2023
Looking through the free agent class of 2023, teams who added starting pitching have not gotten great results from their top signings.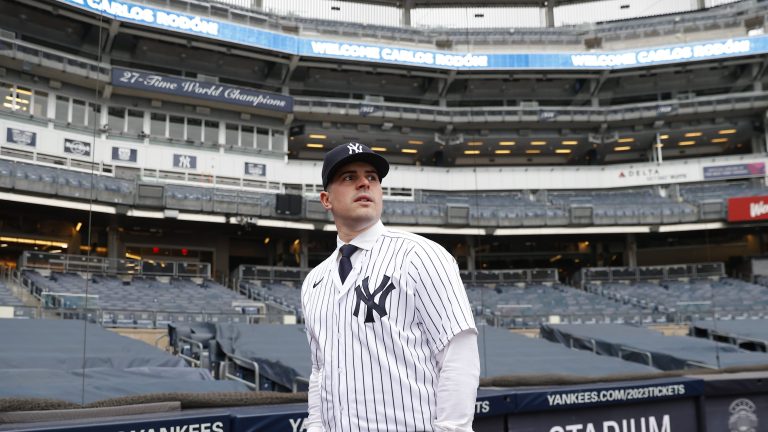 Every offseason teams scour the free agent market looking for pitching, particularly starters, who they can use to fill out their rotation ahead of the next marathon of a 162-game season.
Adding pitching via free agency is always a gamble, but is generally one of the best ways to build out the depth needed to carry teams through a long season. Yet as we look back at this year's free agent class, there are very few pitchers who are giving their new teams the impact we all expected.
Look at the top of the class with guys like Jacob deGrom, Carlos Rodon and Justin Verlander and all you find is arms who have struggled to stay on the mound due to injuries. That only continues throughout the remainder of this year's class, as most pitchers who have changed teams have either been hurt, or have wildly underperformed expectations.
Missing Aces: Top Arms on the Shelf
We already alluded to those top tier starters, but their absence so far this season bares repeating. The New York Yankees thought they had finally found a complimentary ace to go along with Gerrit Cole when they signed Carlos Rodon, but he is yet to have thrown a pitch in pinstripes.
Rodon has a long injury past, which is why teams were hesitant to give him a long-term deal when he first reached free agency prior to the 2022 season. After recording a full tour of duty with the San Francisco Giants last year, making 31 starts and pitching to a 2.88 ERA, the Yankees finally bite and signed him to a six-year, $162 million contract.
In spring training, Rodon's season was delayed due a forearm strain, but now the latest injury news is a back injury that doctors are reportedly calling chronic. Considering the long-term investment the Yankees made, Rodon's injury woes have to be bringing on some buyer's remorse.
Meanwhile in the other borough, the Mets have not gotten much production from their big offseason addition, although that could change soon.
Reigning AL Cy Young Justin Verlander hit the IL hours before the Mets season opener with an injury to his teres major (a muscle around his armpit). Verlander missed the first month of the season, but has since returned, making his season debut last Thursday against the Detroit Tigers.
The Mets opted to sign Verlander this offseason after watching their homegrown ace, Jacob deGrom, sign a five-year deal with the Texas Rangers. DeGrom's injury concerns have been a major talking point over the last few years, but of the three aces who were signed this offseason, he had been the most healthy.
DeGrom started Opening Day for the Rangers and went on to take six turns in the rotation. On the season, deGrom has pitched to a 2.67 ERA across 30 1/3 innings pitched, with 45 strikeouts to just four walks. Unfortunately his season has been put on hold, as deGrom is back on the IL.
During his last start against the New York Yankees on April 29th, deGrom left early due to elbow tightness, which led to him being placed on the IL. The Rangers are being very cautious with their $185 million man, as he is only throwing lightly and appears to be weeks away from a return.
Other injuries to note from this year's free agent class include Jose Quintana, who has yet to throw a pitch with the New York Mets after needing rib surgery during spring training, and Jameson Taillon who missed some time with a groin injury.
Struggling to Adjust in New Threads
It is not always easy to adjust to playing in a new place, particularly for starting pitchers who rely so heavily on having a routine. After signing a new deal, starters now have to adjust to pitching in a new place, on a different mound with a completely different set of fielders behind them.
More importantly, pitchers who have spent a lot of time in the same place may have changed divisions or even leagues, which puts them in the position of having to face a bunch of hitters they rarely saw before.
For some, the change is welcome and guys find success immediately. On the other hand, there are a lot of starting pitchers that find these changes very hard to adjust to and it leads to some pretty bad starts with a lot of earned runs.
Outside of Rodon, deGrom and Verlander, only Kodai Senga signed a bigger free agent contract this offseason than Taijuan Walker, who inked a four-year, $72 million deal with the Philadelphia Phillies. After spending the last few seasons with the New York Mets, Walker was able to remain in the NL East, but now has to pitch in the hitter's haven that is Citizen's Bank Park.
Early returns have not been great for Taijuan, who has made all seven starts but has pitched to a unsightly 5.97 ERA for the Phillies thus far. Walker has already allowed eight home runs in those seven starts and has seen his WHIP climb from 1.19 last year to 1.41 in Philly.
We already mentioned Jameson Taillon, due to his stint on the IL, but when he has been on the mound he hasn't found much success either. In four starts with the Cubs, Taillon has allowed 10 earned runs in just 17 innings pitched (5.29 ERA).
Tyler Anderson (5.40 ERA), Andrew Heaney (5.52 ERA), Sean Manaea (7.33 ERA), Ross Stripling (6.66 ERA), Noah Syndergaard (6.32 ERA), Corey Kluber (6.29 ERA) and Michael Wacha (5.46 ERA) are all starters who changed teams that are sporting ERA's over 5.00, while Mike Clevinger (4.84 ERA) and Kyle Gibson (4.40 ERA) just miss the cut in that regard.
The Few Free Agent Successes
It is not all bad when it comes to free agent signings made this offseason. There have been a few guys who have adapted quite nicely to their new homes, giving teams great production up to this point. We begin with the top international signing of the offseason, Kodai Senga.
While Senga is not running away with the Rookie of the Year by any stretch, he has been one constant in a Mets rotation that has desperately needed it up to this point in the season. The 30-year-old has not missed a turn in the rotation and has pitched to a solid 3.38 ERA across his first six starts coming over from the NPB.
Senga features a 4-1 record and is coming off a start where he went six scoreless against the Colorado Rockies. The expected metrics point to some regression (4.73 xERA), likely due to an alarming 15.6% walk rate in the early going. Still, the ghost fork is a thing of beauty.
Remember when Nathan Eovaldi was struggling to find a new team in free agency. Well the Rangers ended up getting one of the steals of the offseason, as Eovaldi has been excellent so far in 2023.
The former Red Sox starter has been consistently solid thus far, pitching to a 3.33 ERA, allowing just one home run in his first seven starts. Eovaldi has eaten up 44 2/3 innings, which puts him among the top-15 in MLB so far.
Zach Eflin missed a little time this year with back tightness, but is back in the Rays rotation and has been very effective. Compared to last year, Eflin has seen his K rate skyrocket from 20.8% to 28.4% and his walk rate drop from 4.8% to 2.8%. He is currently pitching to a career-best 2.25 ERA.
The San Diego Padres signed Seth Lugo this offseason with plans of converting him from a reliever back to being a starting pitcher and the results have been great so far. The former Met is pitching to a 3.21 ERA across six starts and 33 2/3 innings pitched.
Last of the prominent free agents who changed teams this offseason, Chris Bassitt has found more success than his 4.28 ERA would suggest. After signing a three-year, $63 million deal with the Blue Jays this offseason, Bassitt's first start with Toronto was a disaster.
The 34-year-old allowed nine runs off 10 hits, giving up four home runs to the Cardinals in just 3 1/3 innings pitched. Since then, Bassitt has been nothing but steady for the Jays.
Across his last six outings, Bassitt has given the Blue Jays five quality starts, going at least six innings with two earned runs or less all but one time. His other start wasn't awful either, allowing four runs across five innings pitched.
Altogether, Bassitt has pitched to a 2.45 ERA since his awful debut, earning four wins in the process.
It is still early, but when we look over this year's free agent class of starting pitchers, there are only a handful of guys who have found success. In fact, the best signings have been guys who returned to their former teams.
No one is surprised that Clayton Kershaw has been his usual excellent self (2.53 ERA), but guys like Martin Perez (3.86 ERA) and Drew Smyly (3.05 ERA) have proven that continuity is a great luxury for starting pitching.
This just shows the value of building quality starting pitching depth from within, as trying to solve problems via free agency is not always a guaranteed path to success.