Analysis
Five Underrated Relievers Who Could Be Dealt at the Trade Deadline
Every season there are relievers who fall under the radar that are dealt at the trade deadline. Here are five you could see moved this year.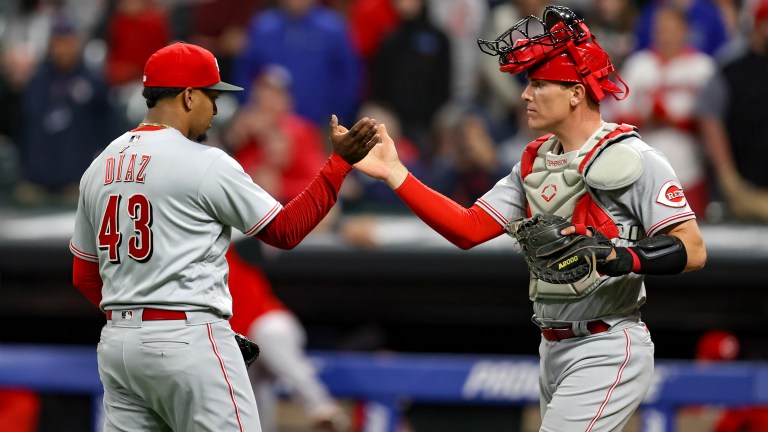 Relief pitchers are tough to gauge. Josh Hader, commonly referred to as the best relief pitcher in baseball is sitting with a 4.36 ERA and a 3.67 FIP. Edwin Diaz was getting booed at Citi Field just last season, and now he looks like the greatest thing since sliced bread.
Putting together a proper package for a reliever is one of the most difficult things to do for a front office. Brian Cashman saw Clay Holmes and his 5.58 ERA in Pittsburgh and traded Hoy Park and Diego Castillo for what is now one of the five best relievers in the sport.
Rick Hahn and the White Sox decided that half a season of Craig Kimbrel was worth trading Nick Madrigal and Cody Heuer. That didn't work out so well.
Thankfully, we aren't making decisions like that in this article. I'll highlight five relievers that I like on teams that are projected to be sellers at the trade deadline on August 2nd. These aren't the big-name guys, but they will definitely help out a contender in October if they are traded.
Scott Effross (RHP) – Chicago Cubs
Scott Effross is a submarine pitcher who's logged 41.2 innings for the Cubs this year, 33rd most of any reliever in baseball. He's been used in plenty of high leverage situations and has one save so far this season. His stuff doesn't jump off the page, but his funky delivery and sinker/slider combination keeps the ball on the ground. He's not your typical pitch-to-contact guy, he ranks in the 97th percentile in chase rate this year and the 85th percentile in strikeout rate.
He doesn't throw very hard, but his slider has performed as one of the better breaking balls in the game this year. He throws it 40.6% of the time and opponents are hitting just .160 against it. He's been a minor leaguer for a while, but the refinement of these pitches led to a promotion in 2021 where he held a 3.68 ERA. He's been even better this season, rocking a 2.81 ERA and a 1.99 FIP.
Alexis Diaz (RHP) – Cincinatti Reds
Alexis Diaz is nasty. He won't touch triple digits, but he regularly works in the high 90s with his fastball and it sits in the 100th percentile in spin rate. He throws this pitch north of 60% of the time and opponents haven't been able to square it up all year. Opponents are hitting just .106 against the fastball and he's allowed just three extra-base hits in 448 opportunities.
The slider should not go unnoticed as this pitch is almost as good and it produces a higher whiff rate. He is just a two-pitch guy, but he's just really hard to hit. The slider comes at you in the mid-to-upper 80s and opponents are hitting just .163 against it.
His Baseball Savant page is as red as they come and his 1.91 ERA this season ranks 23rd in baseball for relievers that qualify. He's just 25 years old and this is his first season in the big leagues, so he may not even be traded with how successful he's been at a young age. If your team gets him, I think you'll be very happy.
Sam Moll (LHP) – Oakland Athletics
The A's don't have a lot of bright spots on their team this year, but Sam Moll in their bullpen certainly has been. He's not your typical high-velo reliever, but he does an excellent job of limiting hard contact and keeping the ball on the ground.
He had a cup of coffee in the big leagues in 2017 but really established himself 2021, and has turned it up a notch this season. His 1.72 ERA ranks 17th in baseball.
Moll works off a slider and a sinker and both have been plus pitches this year. He normally throws between 92-94 MPH, but the sinker sits in the 97th percentile in spin and he's allowed just one extra-base hit in 212 opportunities. His slider is his best pitch which he deploys 58.1% of the time.
The slider holds opponents to a microscopic .118 average and he has solid command of it. The one downside to his game is command, however, recording a walk rate of 12.3%. That's not typically what you want from a reliever, but nobody is asking Moll to come in an be the closer, or even the eighth inning guy. He has a 0.69 WHIP against left-handed bats this season and should be a welcomed addition to any contender.
Anthony Bass (RHP) – Miami Marlins
This is one of the more high-profile names on this list, as Bass has been floated in plenty of deals so far this season. The reason why I wanted to highlight him is because of how fantastic he's been this season for the Marlins. His 1.44 ERA ranks eighth in the sport, as does his 1.95 FIP. He's been called on to throw plenty of innings, ranking 19th in innings pitched for relievers that qualify.
The 34-year-old upped his slider usage since last season and he's had phenomenal results. The pitch comes in at around 86-87 MPH and it has held opponents to a .180 batting average throwing it 57.8% of the time.
He has a hard mid-to-upper 90s sinker that's also held opponents to a batting average under .200. Bass gets a lot of swing-and-misses and features a chase rate that sits in the 91st percentile. He's been the best reliever on this list and can slot into an eighth-inning role or even the closer role if a contender needs one.
Kyle Nelson (LHP) – Arizona Diamondbacks
Joe Mantiply is the big name everyone is talking about and for good reason. He was an All-Star this year and deserves a ton of praise for what he's been able to accomplish. A much cheaper and younger lefty is sitting next to him in the bullpen, who could also really help a contending team. His name is Kyle Nelson who has a better ERA than Joe Mantiply does this season.
Kyle Nelson has the worst stuff of anyone on this list, but he's produced some of the best results. His 1.76 ERA ranks 19th in baseball for relievers that qualify and he has solid command to make up for a lack of stuff. He doesn't throw very hard and his fastball doesn't have a lot of spin, but opponents just haven't been able to square it up.
The pitch has held opponents to a .147 batting average and a .176 SLG. You don't see that very often from a 92 MPH pitch, and his ability to get out left-handed bats is very intriguing. His fastball has allowed just one extra-base hit all season.
Nelson's slider is solid and he throws it a lot, using it 63.9% of the time. He uses it to steal a strike early in counts, but also uses it as a put-away pitch, recording 20 of his 24 strikeouts with it.
With Cleveland in 2021, Nelson used a cutter a lot but ditched it to focus on these two pitches. It's worked very well for him, and he could be a steal at the deadline.