Analysis
Five Things the Mets Must Do To Become a Contenders in 2024
The New York Mets have their work cut out for them after a dissapointing season if they want to turn things around and contend in 2024.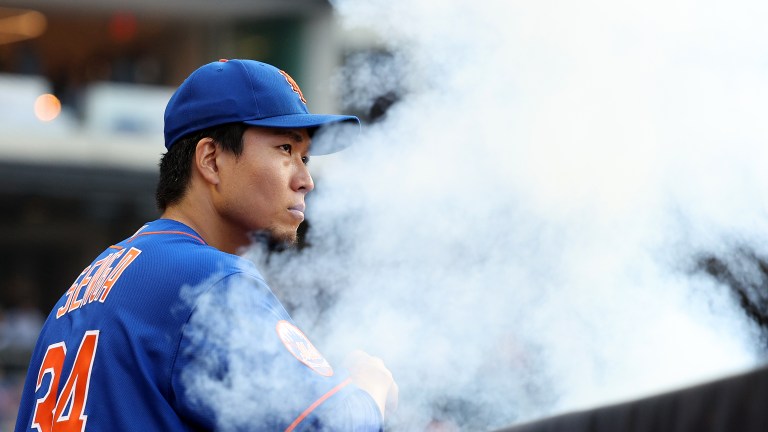 The New York Mets will soon wrap up a season that has been a massive disappointment, as they went from 101-win team to a bottom-dweller who won't finish any higher than fourth place in the National League East this season.
At the trade deadline, the Mets took the opportunity to take advantage of their position in a seller's market, dealing a handful of players that included two future first ballot Hall of Famers in Justin Verlander and Max Scherzer. In doing so, the Mets set their sights on the future, hoping to spark a short but effective rebuild that would extend their contention window for a long time.
The Mets have already conceded that they won't enter next season as quite the betting favorite they were this year, indicating that they might not be the same big spender we have seen over the past few offseasons. With newly acquired top prospects Lusiangel Acuna and Drew Gilbert being unlikely to contribute early next season, the Mets might have their eyes more set towards 2025 then 2024.
Still, with Steve Cohen at the helm, it would be surprising to see the Mets completely punt a new season and will instead look to improve their roster to the point where they could contend in 2024, even if the goal is the Wild Card instead of competing with the Braves atop the division.
Here are five things the Mets must do this offseason if they want any hope of contending next season.
Step One: Hire David Stearns as President of Baseball Operations
One of the worst-kept secrets in Major League Baseball is that the New York Mets are interested in hiring David Stearns to become their president of baseball operations. The title has remained vacant ever since Steve Cohen bought the team and all the rumblings have been that Stearns could be the guy that might finally fill the position.
For those who aren't familiar, Stearns last served as the president of baseball ops for the Milwaukee Brewers, but he stepped down from the position in October of last year to move into an advisory role with GM Matt Arnold taking over baseball operations duties.
Stearns first took over as the Brewers GM back in 2015, after previously having worked with the Mets, Cleveland Indians and Houston Astros. It was with the Astros where Stearns got prepared to take over as a future GM, as he worked as the only assistant GM to Jeff Luhnow.
When Stearns was hired by the Astros in 2012, they were coming off two 100-loss seasons. Fast-forward three years later, Houston was on the cusp of a dynasty. Stearns didn't get to enjoy it though, instead taking the position to head baseball ops for the Brewers.
In Milwaukee, Stearns inherited a similar situation to the one he started with in Houston.
Across 17 season spent in the National League prior to Stearns arrival, the Brewers made the playoffs just twice, with the last time being in 2011. They lost 94 games in 2015 and where in need of a complete rebuild.
It took some time, but by his second season with the Brewers, the franchise was on the right track.
In 2017, the Brewers finished second in the NL Central with a 86-76 record. They went on to make the playoffs in four-consecutive seasons from 2018-2021, winning the NL Central twice. Last year, the Brewers went 86-76 and narrowly missed the playoffs.
For a franchise that has only made the playoffs eight times across it's history dating back to 1969, Stearns resided over the most successful era of baseball in Brewers history. Now his contract is set to expire after this season, making him the most important free agent not named Shohei Ohtani.
If Cohen can find a way (with a massive check), to get Stearns to lead his baseball operations alongside current GM Billy Eppler, the Mets could be set up for great success moving forward.
Step Two: Extend Pete Alonso
There has been a lot of talk about Pete Alonso since the trade deadline, as the Mets were listened to trade offers on their All-Star slugger. Alonso will be a free agent after the 2024 season and is the one top player on the Mets roster who has not been inked to a long-term extension.
While some have suggested that Alonso could see his name in trade rumors once again, the Mets have made it known that their intention is to keep their first baseman for the 2024 season.
Without him, the Mets lineup would crater, as he has been the best run-producer in baseball since his debut in 2019. The real question though, is if the Mets let him play out his final year of arbitration or get Alonso to sign an extension to remain in New York long-term.
Although it is easier to fill first base than most positions, replacing a guaranteed 40 home runs in your lineup each season is not. If the Mets are serious about not going into a lengthy rebuild, extending Alonso would be a sign of good faith that contention is coming in the not-too-distant future.
Step Three: Sign Yoshinobu Yamamoto
If there is one free agent the Mets should pursue this offseason it is Yoshinobu Yamamoto. There has already been reports linking the Mets to Yamamoto, who will be the top international free agent coming from the NPB this winter.
The 25-year-old has pitched to a 1.34 ERA across 134 innings pitched this season and has pitched to a career 1.86 ERA across seven seasons in the NPB. The Mets have found great success in this market recently, landing the top NPB free agent last offseason in Kodai Senga.
This year, Senga was an All-Star in his first season with the Mets and has a 3.08 ERA across 143 1/3 innings pitched. Moving forward, Senga is set to be the Mets ace, but they could use another pitcher that could compete with him atop the rotation.
With a free agent class headlined by Blake Snell and Aaron Nola, Yamamoto slots right into that top tier of free agents, but could present the most upside.
Landing Yamamoto to pair with Senga would give the Mets a new set of co-aces, who would come much cheaper than their last build with Max Scherzer and Justin Verlander. They also are much younger and could make some serious noise if surrounded by the right team.
Step Four: Forecast the Youth Movement
If the New York Mets are going to contend in 2024, it is going to be due to the progression of some of their young talent that is either at the big league level now, or close to it in the upper levels of their farm system.
Francisco Alvarez has established himself as the starting catcher of both the present and the future, while Brett Baty was supposed to be the answer at third base. Unfortunately, Baty's first tour of duty with the Mets has been a disappointment, where he has posted just a .614 OPS in over 300 PAs.
Baty is still likely to be the starting third baseman come Opening Day next season, but the Mets may need to be prepared to have a fallback option if he continues to struggle. That option could come in-house, with both Mark Vientos and Ronny Mauricio being on the MLB roster as well.
Vientos has struggled himself with the big league club, albeit in more limited opportunities. He also is considered a liability at third base defensively, and is more likely to factor into being a DH option next season. Meanwhile, Mauricio has hit the ground running in his first five big league games, where he has been starting over at second base.
How Mauricio continues to play down the stretch could have a big role in his future with the Mets. There is every chance he could be the Opening Day second baseman for the Mets, with Jeff McNeil shifting to the outfield on a more regular basis. He also can begin the season in Triple-A.
At this stage, it certainly seems like Mauricio deserves to remain with the big league club and with Luisangel Acuna waiting in the wings to factor into the infield mix, the Mets likely won't need to make many additions there through free agency.
The outfield mix is more of an uncertainty, but with McNeil, Brandon Nimmo and Starling Marte all under contract for next season, the Mets might not be the biggest of spenders there either.
More important to the Mets next season is understanding how their youth can play when it comes to their pitching staff. Mike Vasil has ascended to Triple-A this year, while Christian Scott, Dominic Hamel, Tyler Stuart and Blade Tidwell will all finish the year in Double-A.
This group of five pitching prospects represents a third of the Mets top-15 prospects going into next season and could offer them real depth in their starting rotation. Still, the onus is on the Mets to know exactly what they have in-house, before they venture into the open market of free agency.
Step Five: Add the Right Veterans in Free Agency
Step four and step five really go hand-in-hand, as the Mets need to have a clear understanding on what they have internally before signing veterans to round out their roster.
Again, it does not appear like the Mets will be the same aggressive spender in free agency, where they address all of their problems by signing veterans. With that said, they are still going to make some moves so that they can be in the position to contend if their young players establish themselves.
Adding to the rotation and building out a bullpen is going to be the top priority for the Mets. Beyond Yamamoto, the Mets could sign a dependable middle-of-the-rotation starter like Jordan Montgomery or even Lucas Giolito on a one-year prove it deal.
With Senga and Jose Quintana being the only starting pitchers the Mets can count on right now, adding at least a pair of arms to the rotation will be imperative if New York is looking to contend.
Beyond the rotation and bullpen, the Mets could add some firepower to their lineup with a few key free agent signings. With so much promise, but also uncertainty, when it comes to their top position player prospects, the Mets will probably target veterans on short-term deals again.
J.D. Martinez, Brandon Belt and Jorge Soler are all expected to hit free agency and could give the Mets another run-producer who they can slot into the DH spot. You also can't rule out a reunion with Tommy Pham or Mark Canha if the Mets are looking to add another outfielder to the mix, assuming the Brewers don't pick up Canha's option.
Cody Bellinger and Matt Chapman are likely going to be viewed as the top free agents on the market, but I would not expect the Mets to be seriously in on either free agent.
Shohei Ohtani can be put in a different box entirely, but it is too soon to tell if Cohen is motivated to get into those sweepstakes, especially with Ohtani set to get his second Tommy John surgery.
The New York Mets are in the midst of a massively dissapointing season, but there is at least some optimism for their future. With the farm system getting a much-needed makeover at the deadline, and the emergence of rookies Francisco Alvarez and Kodai Senga, there is a foundation for a future contender.
If David Stearns accepts the president of baseball operations position, the Mets should be in great hands and with Steve Cohen's resources, this rebuild could be short-lived.