Five Starting Pitchers the Diamondbacks Should Target in Free Agency
The Arizona Diamondbacks have a young core and money to spend off a surprise World Series run. Who can they add to bolster their rotation?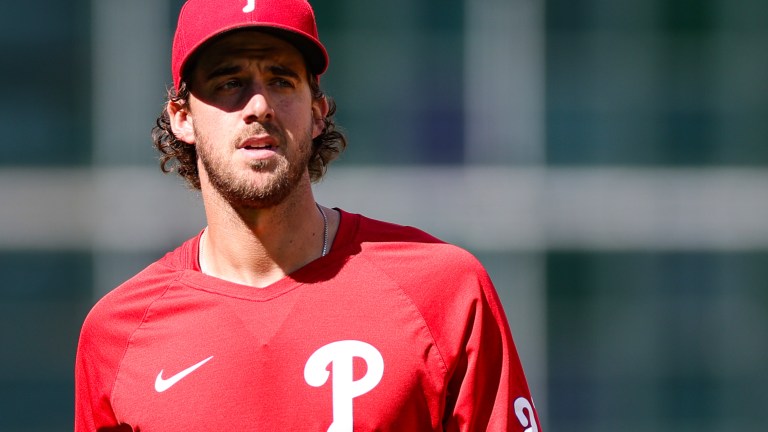 The Arizona Diamondbacks are the Rodney Dangerfields of MLB.
For example, check out these too-early 2024 power rankings:
The D-backs make it to the World Series with a young roster, and what do they get? Nothing. Nada.
In a similar vein, as baseball pundits make their free-agent signing predictions, they tend to fall into similar habits: Ohtani to the Dodgers! Bellinger to the Yankees! Nola back to the Phillies! Case in point: This ESPN projection of the top free agents. (Well, they do predict Matt Chapman to the D-backs, so there's that.)
You get the idea.
Everyone is consistently overlooking the D-backs, even though the team's window of contention is just opening..
What do they gotta do to get a little respect around here?
Reader, I am here to right the wrongs of the mainstream baseball media and postulate on the best starting pitcher fits for the D-backs.
First, though, bear a few caveats in mind.
I only project things that strike me as realistic, so no "Ohtani to the D-backs!" (The off season is not fantasy baseball.)
My thinking is influenced by a few factors.
Mike Hazen has been clear that the D-backs will add at least one starting pitcher and perhaps two. As he told Jack Sommers during last week's general managers meetings, "We need pitching . . . so we're going to be involved aggressively, hopefully in both the trade and free agent market." He also said, "I would prefer to have someone we can bank on" though he did not rule out a pitcher on a bounce-back contract.
In addition, owner Ken Kendrick has said that 2023 was a profitable season for the franchise, and he intends to put that money back into the team. I take this to mean that they will spend money — probably not Ohtani or Yamamoto or Snell money, but they'll be spending.
(No one seems to get that a starting pitcher may have affected the D-backs' ability to win the World Series. Trust me: They're going to be willing to spend.)
Consider, too, Hazen and manager Torey Lovullo have spoken at length about the culture of the D-backs' clubhouse. That's not something that's measurable by someone outside the organization, but when the D-backs look at free agents that will be much in their mind. (So, probably no Trevor Bauer.)
I expect the D-backs to spend, but I think they'll put more money on a shorter contract. This is a young team with its window of contention opening. The last thing Hazen will do is mortgage the future on one starting pitcher. (So if Jordan Montgomery gets six years, $150 dollars, that will probably rule him out.)
Probably, the D-backs will trade for another starter. Michael McDermott has written about possible trade candidates. He considers Paul Blackburn, Corbin Burnes, Patrick Sandoval, Marco Gonzalez, Joey Lucchesi, Dylan Cease, and Shane Bieber as possible targets. That seems to me like a good list, and the D-backs have the farm system to make this kind of trade.
The pitcher will have to pass muster with the D-backs' "pitcher whisperer," Brent Strom, who has indicated he'll coach for at least one more season.
And there's one last thing: Arizona will be an attractive destination for free agents. There's no need to move the family to a Spring Training location followed by a home for the season, and Phoenix has nice winters close to the D-backs' training staff. Now that the D-backs have shown they're contenders, they will have interested, high-profile free agents.
So with these caveats in mind, I culled my list using the numbers projected at MLB Trade Rumors.
I eliminated pitchers who do not have a record at Chase Field, so that removed international pitchers (although it's certainly possible the D-backs will sign one) as well as Eduardo Rodriguez and Lucas Giolito. I also left off any pitchers with a very bad Chase Field track record: Michael Wacha, Seth Lugo, and Kenta Maeda. That doesn't mean the D-backs won't be interested in these players — they might! But it provides some focus for what could otherwise be a sizeable list.
That left me with the following list of free agents that might be a fit for the D-backs.
RHP Aaron Nola, 30
We begin with the pie in the sky free agent target for the Arizona Diamondbacks. One they just got more familiar with in the NLCS one month ago.
While this is one that might exceed what the D-backs have to spend, Hazen mentioned the fact that Arizona is looking for dependable innings and there is not a pitcher on this market that personifies that more than Aaron Nola.
Dating back to 2018, Nola has not missed a start for the Phillies across six seasons, which featured two lengthy playoff runs. Three times in those six seasons, Nola eclipsed 200 innings pitched. He is coming off a season where he pitched 193 1/3 innings in the regular season, before adding 23 in the playoffs.
Across his career, Nola has pitched 1,422 innings with a 3.72 ERA. He has thrown over 400 more innings than fellow top free agent Blake Snell and nearly 700 more than Jordan Montgomery. The 30-year-old is exactly the type of workhorse the D-backs need atop their rotation.
Nola did not have the best 2023 regular season, pitching to a 4.46 ERA, but he quelled a lot of those concerns with an outstanding playoff run where he won a game in each of the Phillies' three series.
The D-backs are far from favorites to land his services, but the fit does make some sense. Let's not forget, Arizona is a franchise that has struck atop the free agent market before with Zack Greinke.
RHP Sonny Gray, 34
The Cy Young finalist is coming off a career year. Overall in 2023, Gray had an ERA of 2.79 (xERA 3.69) as well as a league-best 2.83 FIP (xFIP 3.64), and an ERA- of 66. His K/9 was 8.95 and a K/BB of 3.33. In 184.0 IP, he gave up only eight home runs and walked 55.
In limited appearances at Chase Field (6.1 IP), he earned a 2.84 ERA.
He's now 34, so Gray is not a young man, and his history of injuries will probably depress his contract value. However, he appears to be aging well. As Esteban Rivera writes, "His reliance on spin, command, and deception make him a compelling candidate to have an above-average mid-30s run."
As Gray told Dan Hayes in October, "I don't know if this is the right thing to say before going to become a free agent, but I'll say it because it's honest. Money is not the ultimate factor for me. Never has been," Gray said. "Having said that, you want to be valued appropriately."
His six-pitch mix should play at Chase Field.
Gray is projected to get a four-year, $90 million contract.
RHP Marcus Stroman, 32
After an uneven season, the 33-year-old opted out of the last year of his three-year, $77 million contract with the Cubs.
In 136.2 IP, Stroman had an ERA of 3.95 (xERA 4.18), FIP of 3.58 (xFIP 3.79), and an eRA- of 91. His 0.59 HR/9 is impressive. He gave up only nine home runs and walked 52. He had an exceptional start (2.96 ERA and 3.38 FIP before the All-Star Break), but struggled with injuries and saw limited success later in the season when returning to play. Over the last two months of the season, he appeared in only eight innings.
In the four games he pitched at Chase Field, he was excellent. In 17.0 innings pitched, he had a 2.12 ERA.
As Dan Szymborski writes, "[He is] the sort of player most teams in baseball could use, especially a club with a solid enough infield to capitalize on Stroman's ability to induce grounders."
Experts are projecting that Stroman will earn a two-year, $44 million contract.
RHP Nick Martinez, 33
Martinez, who opted out of his 2024-2025 contract with the Padres, has made clear he wishes to return to the starting rotation, even though he was effective out of the bullpen.
As he told the San Diego Union Tribune, "I love the preparation, I love the mind games that come with starting. And I love the adrenaline that comes with relieving. I feel like I have a lot of fun with it and am able to kind of tap into both in different times . . . . I love starting, man."
He was effective in both roles during 2023. In 110.1 IP, he had an ERA of 3.43 (4.10 xERA) in nine starts and 56 relief innings. (As a starter, he had a 2.32 ERA in 42.2 innings.) Martinez also earned a 3.92 FIP (3.79 xFIP), and 83 ERA-. His HR/9 was 0.98, and he gave up 12 home runs and walked 40.
Martinez pitched in five games (13.1 IP) at Chase Field for a 2.70 ERA.
He has five pitches with a notable changeup and is projected to sign for two years, $25 million.
LHP Sean Manaea, 31
Manaea opted out of his contract with the San Francisco Giants that would have earned him $12.5 million in 2024.
In 2023, the 31-year-old pitched 117.2 innings for a 4.44 ERA (4.18 xERA), 3.90 FIP (4.01 xFIP), and a 105 ERA-. So his numbers are less good than those of Gray and Stroman. His HR/9 was 1.07, which is higher than most of the players on this list. He also gave up 14 home runs and walked 42.
Manaea had an uneven 2023 with the Giants; not good in the first half that found him  moved to the bullpen; in the second half, things stabilized, and he finished the season as a starter in four games.
In those 24 innings, he walked two, struck out 18, and earned a 2.25 ERA.
In three games at Chase Field (18.0 IP), Manaea had a 2.50 ERA.
As Kyle Kishimoto writes, "His low-release fastball ran the best swinging strike rate of his career, but his slider took a step back, with career-worst results against it. Still, Manaea's 2023 performance should inspire confidence in his ability to pitch in any role asked of him."
He is expected to sign a two-year, $22 million contract.
Closing thoughts
It's the offseason, so anything can happen, but look for the D-backs to be aggressive in pursuing a starting pitcher. When they make a splash, expect folks to be surprised.
They shouldn't be. The D-backs are for real.
Give this team some respect — they've earned it.