Analysis
Five Established MLB Stars off to Brutal Starts in 2023
There is nothing worse than starting a season off with a prolonged slump. Unfortunately that is the case for these established MLB stars.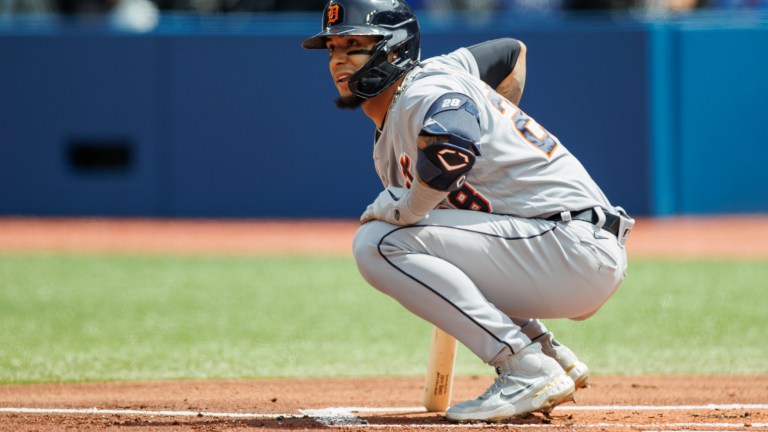 Marcell Ozuna has two home runs for the Atlanta Braves in 2023. The only problem is that the veteran slugger has just one other hit in 36 total at-bats this season. It's early, but the 32-year-old is slashing just .083/.195/.250, already having struck out 13 times.
Between being suspended after a domestic violence arrest and just general poor on-field performance, Ozuna's four-year, $65 million deal has been a trainwreck. Ozuna earned said deal by tearing the cover off the ball in the pandemic-shortened 2020 season, leading the National League with 18 home runs, 56 RBIs and 145 total bases. But in parts of three seasons since, the former Silver Slugger Award winner is hitting just .215 with a .663 OPS.
As it increasingly feels like the Braves may have to decide at some point just to eat the remainder of Ozuna's contract and release him, here's a look at five other stars (or former stars) who are struggling out of the gate in 2023.
Josh Bell – Cleveland Guardians
Despite his production falling off a cliff after being traded to the San Diego Padres in August, Bell still won a Silver Slugger Award in 2022 because he hit .301 with an .877 OPS in 103 games for the Washington Nationals.
So when the Guardians signed Bell to a two-year, $33 million deal this past offseason, the biggest issue appeared to be that if the former All-Star put together an excellent campaign in 2023, he'd likely exercise his opt-out clause and return to free agency.
However, Bell is slashing just .109/.250/.130 in 12 games, and his -0.6 WAR is the worst mark among all qualified position players, according to FanGraphs.
Trey Mancini – Chicago Cubs
Mancini didn't add a ton of production to the eventual World Series Champion Houston Astros after they acquired him last summer, so he had to settle for a two-year, $14 million deal with an opt out after year one when he became a free agent after the 2022 season. Mancini does have nine RBIs, but just a .251 batting average and an unsightly -0.5 WAR.
Jean Segura – Miami Marlins
Segura was greeted with a standing ovation when he returned to Citizens Bank Park as a visitor this week, after helping the Phillies go on a shocking run to the World Series in 2022. Thus far, Segura's tenure with the Marlins is off to a rocky start.
While typically a middle infielder, Segura has been serviceable in his transition to playing third base. But the career .284 hitter is hitting just .182 with zero RBIs in the first year of a two-year, $17 million deal with the Fish.
Kiké Hernández – Boston Red Sox
Hernández has been given the unenviable task of following up Xander Bogaerts as the starting shortstop in Boston. So far, he's struggle both in the field and at the plate.
In 90 innings at shortstop, Hernández has -2 defensive runs saved and -4 outs above average. He's also hitting just .114 in 44 at-bats. Hernández's best value is his ability to be a Swiss-Army knife and play all over the diamond. The Red Sox have tied him to his fifth or sixth-best defensive position, and the results have been bad to this point.
Javier Báez – Detroit Tigers
If you were hoping for a bounce-back year from Báez in his second campaign in Detroit, he's given you little to be encouraged by so far. Báez is hitting just .122 with a lone RBI and a -0.3 WAR early in 2023. Since signing a six-year, $140 million deal in free agency with the Tigers prior to the 2022 season, the former All-Star has slashed just .230/.271/.376.