Analysis
First Round Pick Brooks Lee is a Great Fit for the Minnesota Twins
One of the best college bats in the draft, Brooks Lee could make an impact at the big league level for the Minnesota Twins very soon.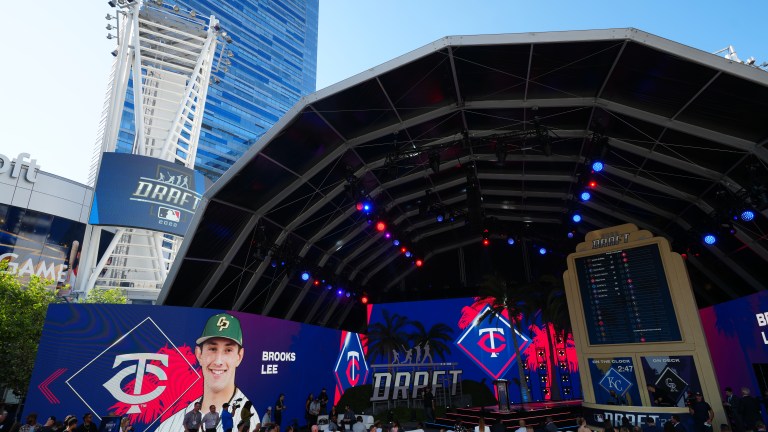 The Minnesota Twins may be very surprised with what they were able to walk away with from the MLB Draft this year. With the eighth pick in the draft, they selected Cal Poly shortstop Brooks Lee, a name many had discussed who could go as high as the first pick in the draft.
While Lee's most likely destinations (Baltimore, Pittsburgh, and Chicago) opted to go in a different direction, it was the unlikely destination of Minnesota that decided Lee would be the next key piece in building a winner in the Twin Cities.
While it may have seemed like a reactionary move considering Lee was the best name on the board, there is actually a very real path to the big leagues for Lee, who could have his name called at Target Field as early as 2023.
First of all, let me just state that Lee is a flat-out stud across the board. After speaking with Lee, he broke down his entire approach to the game of baseball seamlessly. His brains and baseball IQ come directly from how he was raised, growing up in San Luis Obispo where his father, Larry Lee, has been the Cal Poly Baseball Head Coach for his entire life.
Brooks grew up within the city of San Luis Obispo and out at Baggett Stadium, calling it his second home. He was scouted early in his career, and while he was drafted in 2019 in the 35th round by the Giants, that was in response to his commitment of playing under his father at the college level.
Lee is arguably the best college bat in the entire 2022 draft class. He broke numerous records at Cal Poly, posting 27 doubles in 2021 and improving on every other counting stat in 2022. Lee features a ridiculous .357/.462/.664 slash line, in which he hit 25 doubles and 15 homers in 2022.
After watching him firsthand, you can tell he has a knack for making the players around him in the lineup better, with four other Mustangs hitting over .300 during the season, including first baseman Joe Yorke, hitting behind him in the lineup with a .353 average.
As a switch-hitter, Lee says he feels he has a better overall hit tool from the left side of the plate, however, he also believes he has more power from the right side of the plate.

Lee is an above-average defender with a great arm that can translate to second and third base as well as his primary position at shortstop. His one knock, that he has even noted, is his average speed, as he stole three bases in only four attempts (that still led the Mustangs in 2022). Lee says he is continuing to work out and improve in that facet of his game in hopes of remaining an everyday shortstop. He is also incredibly durable, having played in every game with the Mustangs in 2022.
For the Minnesota Twins, it is no shock that Lee was the right pick for them considering all of the above. On paper, Twins fans who don't know enough about Lee may be scratching their heads wondering why they would pursue another shortstop.
After all, Minnesota just signed Carlos Correa, shifted Jorge Polanco to second, started Jose Miranda at third, and have Royce Lewis, Austin Martin, Spencer Steer, Jermaine Palacios, and even Noah Miller who are all gunning for a role in the infield in the near future.
Let me start by saying that in baseball you should always draft for potential and the best possible name available. The Twins did that. Minnesota is also progressively stacking up names for a potential win-now trade this summer, as they currently sit in first place in the AL Central.
Some of these names I listed may be possible trade chips for some of the bigger names this summer if Minnesota decides to go all-in.

The addition of Lee helps provide security for them over their near future and distant future as he is only 21 years old with a bat that is close to MLB-ready.
Also, what if Carlos Correa opts out? Even though he is said to have enjoyed his time in Minneapolis, money still talks and there is a very decent chance he could abort the mission and head elsewhere. Royce Lewis just tore his ACL in what has already been an injury-riddled career for him. Austin Martin has stolen 22 bases in Double-A but is also posting a less-than-stellar .691 OPS.
Luis Arraez is currently manning first base, however, we've seen he is perfectly capable of playing a utility role in the past.

The point is, Lee will have his shot and could very well wind up starting for the Twins at some point soon. He was a safe pick for Minnesota at a time when there are quite a few question marks surrounding some of the current and future pieces within the organization.
While he said he prefers playing shortstop, Lee told me to my face that winning is the most important thing. He is loyal. He is passionate. He is confident. He is a team player. He is a leader. He will play second. He will play third. He will even play first base if it means playing at the next level for a winning ballclub in Minneapolis. Lee has already had experience in Minnesota, playing for the Willmar Stingers in 2020. Expect him to play a key role in many more games in the Land of 10,000 Lakes down the road.