Analysis
Fantasy Baseball: Second Half Breakout Candidates
Alec Bohm, Alex Kirilloff and MJ Melendez headline the list of players who you could have a monster second half in fantasy baseball in 2022.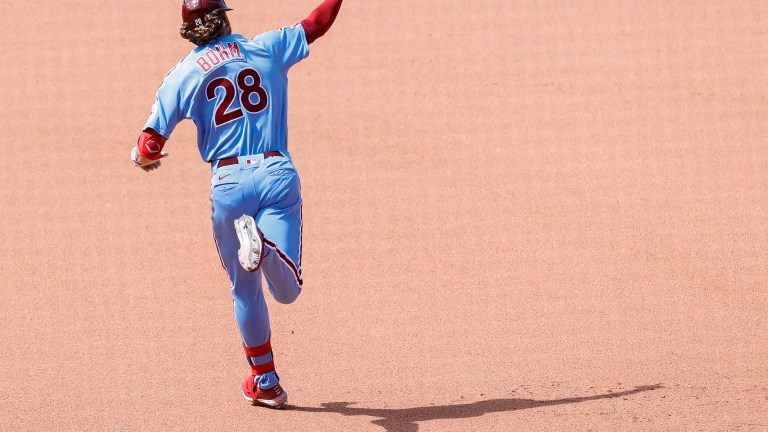 The All-Star break is great mental and physical reset for many players. Struggling stars get the opportunity to unplug, refocus, and focus on their second half. Each season we see several breakouts and players who can help your fantasy team climb the standings.
Last year it was Steven Matz, Abraham Toro, and Frank Schwindel. I'm here today to tell you who this years second half stars could be.
Alex Kirilloff – 1B/OF – Twins (28% ESPN)
2022 Stats: .257/.298/.371, 3 HR, 21 RBI, 90 wRC+
Since his debut in late 2020, the former top prospect has bounced on and off many fantasy rosters. Injuries have hampered his development and fantasy value. When Kiriloff returned to Triple-A, he slashed .359/.465/.641 with 10 home runs proving the power can be there.
Since his return to the Twins on June 17th, Kirilloff has a .301 average with 21 RBI and a 48% hard hit rate in 30 games. The Twins are active in deadline discussions, and several moves could boost his fantasy value. If he is traded to a new team, playing time in a low-pressure situation. If Jose Miranda or Trevor Larnach are moved, Kirilloffs at-bats should increase.
Alec Bohm – 3B – Phillies (18.7% ESPN)
2022 Stats: .294/.327/.403, 6 HR, 40 RBI, 102 wRC+
A massive 2020 season lead to plenty of buzz entering 2021. Bohm went through a sophmore slump in 2021, but has seemed to of found his stroke in 2022. The 25-year-old third baseman has exploded in July slashing .436/.463/.613 with six extra-base hits and 13 RBI in 62 at-bats.
His low walk rates are coupled with a respectable 19.6% strikeout rate, while the advantage metrics all check out. Bohm has doubled his launch angle from 5.6 degrees in 2021 to 10.6 degrees in 2022, leading me to believe there's room for more power. The Phillies batting order is ever-changing moving Bohm between the six and seven hole, even recently being slotted in the three hole.
After his emotional meltdown earlier this season, Bohm seems to be in better spirits. A more comfortable and confident player at the plate, Bohm is in position for a big second half of the season.
Brady Singer – SP – Royals (15.4% ESPN)
2022 Stats: 4-3, 3.51 ERA, 1.13 WHIP, 84.2 IP, 91 SO
Kansas City once had a promising "future" rotation filled with top prospects. Most have fallen off, but Singer is starting to show signs of a resurgence. Of his 13 starts this season, 11 have resulted in three earned runs or less. In five July starts, four have been quality starts with the other being a 4.2 inning, two-run start.
His last two starts have produced season-highs in strikeouts with 10 and 12 including a seven-inning gem allowing one hit and striking out 10. There's still room for improvement, but Singer knows he is auditioning for a future role in this rotation. He's worth taking a shot on and seeing if recent success can continue into the second half.
M.J. Melendez – C – Royals (11.5% ESPN)
2022 Stats: .233/.316/.429, 10 HR, 28 RBI, 109 wRC+
Finding catchers with any offensive upside is always difficult this late into the season. However, Melendez can be found in most leagues. Of catchers with 200 at-bats or more, Melendez ranks ninth in wRC+. In July he's slashing .247/.300/.507 with 10 extra-base hits in 73 at-bats.
In addition to his hitting profile, Melendez is only one game away from gaining right field eligibility. Having a player on your team that can flex from catcher to outfield is rare and will only increase his value. The Royals have slotted Melendez around the batting order and have used him in the three hole and leadoff spot leading to more at-bats.
Nick Lodolo – SP – Reds (9.3% ESPN)
2022 Stats: 3-3, 4.73 ERA, 1.67 WHIP, 32.1 IP, 47 SO
As is the case for many rookie pitchers, Lodolo's season has been up-and-down. After a flurry to pick him up near the beginning of the year, injuries forced many fantasy owners to drop the southpaw. Well, if he's available in your league, scoop him up.

Lodolo's advanced metric look great, especially the movement on his pitches. The fastball has enough velocity to help his secondary pitches which has led to strikeouts, ranking in the 89th percentile for strikeout percentage. There will still be some bumps in the road, but Lodolo should provide more positive outings than negative while also boosting your strikeout category.
Christian Bethancourt – C/1B – Rays (1.4% ESPN)
2022 Stats: .242/.291/.379, 5 HR, 21 RBI, 94 wRC+
Christian Bethancourt's story has been one that's flown under the radar this season. Having been out of the league since 2017, Bethancourt returned this season with Oakland, before being moved to Tampa. The catcher is worth a flier in deep leagues due to the Rays catching situation. Both Francisco Mejia and Mike Zunino are on the shelf leaving Bethancourt with an opportunity to claim more playing time.
What we know is Bethancourt puts up great exit velocity, ranking in the 92nd percentile in max exit velocity. His 13.2% barrel rate and 47.2% hard hit rate makes taking a flier on him worth while. Like most Rays players, playing time could be an issue. Roll the dice and see if you can capitalize on the Rays injury situation.