Analysis
Examining the American League Wild Card Chase
With four teams separated by less than four games in the standings, this year's American League Wild Card race is going to come down to the wire.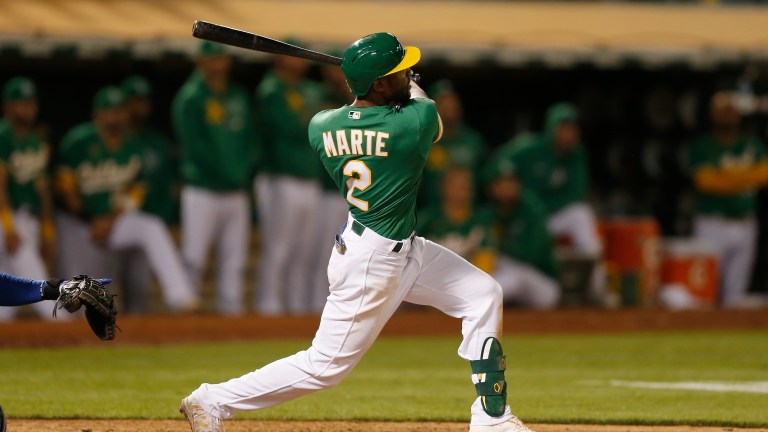 We're entering the stretch run of the MLB season and several races are really heating up. Only two first-place teams (the White Sox and Brewers) have a divisional lead of more than four games. Anything can happen between now and October 3rd. The most contentious battle might be the one brewing for the American League's two Wild Card spots. Currently, four teams (the Athletics, Red Sox, Yankees and Blue Jays) are separated by just 3.5 games, with several head-to-head meetings remaining with each other.
Top Wild Card Spot: Oakland Athletics (66-48)
Winners of six straight, and nine of their last 11 since acquiring Starling Marte at the trade deadline, the Athletics are the hottest of the four teams featured in this article. Speaking of Marte, he has provided a huge lift to Oakland's offense, slashing .400/.434/.560 (.994 OPS) in his first 11 games with the club. His presence is even more crucial now that fellow outfielder Ramon Laureano has been suspended 80 games after testing positive for a performance-enhancing substance.
For the season, the A's rank sixth in staff ERA (3.62) and seventh in FIP (3.80). They've been led by a pair of stout front-line options in Sean Manaea (3.43 ERA, 3.28 FIP) and Chris Bassitt (3.19 ERA, 3.40 FIP). Offensively, they're tied for eighth with a 103 wRC+. Matt Olson has paced them in his breakout season, with 28 home runs, a 159 wRC+ and 4.2 WAR. However, it does feel like the Athletics need more production from former All-Star Matt Chapman (90 wRC+) to become a true contender in the AL.
As for the A's chances of getting a Wild Card spot, it will likely come down to their seven remaining contests with the Yankees and Blue Jays, as they have the fifth hardest remaining schedule in MLB. It's also important to remember that Oakland is very much alive in the AL West, sitting only two games behind the first-place Astros with six head-to-head meetings still on the docket.
| | | |
| --- | --- | --- |
| Head-to-Head | Record | Remaining Games |
| vs. Red Sox | 3-3 | 0 |
| vs. Yankees | 1-2 | 4 (in Oakland) |
| vs. Blue Jays | 2-2 | 3 (in Toronto) |
Second Wild Card Spot: Boston Red Sox (66-50)
We just highlighted the hottest of the AL Wild Card hopefuls, and now it's time for the coldest. The Red Sox have lost 10 of their last 13 games, and have gone from a 1.5 game divisional lead to trailing the Rays by four. Boston's offense has been mostly cold lately. Before a 20-run outburst on Wednesday, the Sox owned a 95 wRC+ since the All-Star break (ranked 22nd during that stretch). For the season, the Red Sox are seventh with a 104 wRC+. Their big three of Rafael Devers (145 wRC+), Xander Bogaerts (134 wRC+) and J.D. Martinez (134 wRC+) is as good as any in baseball, but the rest of the lineup has been inconsistent.
On the other side of the ball, pitching has been better than expected. Boston is 15th in team ERA (4.35) and tied for 10th in FIP (3.95). Nathan Eovaldi leads the staff with 4.1 WAR, but has struggled to a 5.35 ERA in his last six starts. Help is on the way in form of staff ace Chris Sale, who hasn't pitched since 2019 in his recovery from Tommy John surgery. If he returns to anything close to his seven-time All-Star form, it could be the lift Boston desperately needs for this stretch run.
The Red Sox have already finished their season series' against the Athletics and Blue Jays, going 13-12 against those teams. However, they have six more critical games against the Yankees, a team they've gone 10-3 against this season. If they continue beating up their long-time rival, they will have a good chance at making the playoffs.
| | | |
| --- | --- | --- |
| Head-to-Head | Record | Remaining Games |
| vs. Athletics | 3-3 | 0 |
| vs. Yankees | 10-3 | 6 (3 in Boston, 3 in New York) |
| vs. Blue Jays | 10-9 | 0 |
First Team Out: New York Yankees (63-51)
Currently two games behind the Red Sox for the American League's final playoff spot, the Yankees have been on a roll recently. New York has the second best record in baseball since July 6th (21-10), and they've also won 12 of their last 16 games. Their pitching has carried them, as they're fourth in team ERA (3.28) and third in FIP (3.59) since July 4th. Notably, Jameson Taillon has a 1.25 ERA and 0.95 WHIP over his last seven starts. Additionally, much like Boston getting Chris Sale back in the coming days, the Yankees are expected to have Gerrit Cole, Jordan Mongtomery and Luis Severino all return in the next week to bolster their rotation.
Meanwhile, the offense is still a major question mark. New York is 13th in wRC+ (100), and just 21st in runs scored this season. Unsurprisingly, Aaron Judge has led the way with a 139 wRC+, but the rest of the team has been inconsistent at best. Trade deadline acquisition Anthony Rizzo immediately provided a jolt to the offense, but has since been placed on the COVID-19 IL. The hope is that the lineup will pick up the production once everyone is healthy to support their quietly solid pitching.
The Yanks have the most remaining games against the other Wild Card hopefuls, with a staggering 17 contests versus Oakland, Boston and Toronto. Those games will make or break their season, but the team has done its job lately to keep themselves within striking distance.
| | | |
| --- | --- | --- |
| Head-to-Head | Record | Remaining Games |
| vs. Athletics | 2-1 | 4 (in Oakland) |
| vs. Red Sox | 3-10 | 6 (3 in Boston, 3 in New York) |
| vs. Blue Jays | 6-6 | 7 (4 in New York, 3 in Toronto) |
Second Team Out: Toronto Blue Jays (62-51)
For my money, the Blue Jays are the best, and most dangerous, of these four teams. Their +132 run differential is fourth-best in MLB, and they're starting to put it together after a slow start to the season. Toronto is 12-3 in their last 15 after opening the season 50-48. Their offense is arguably the best in baseball (second with a 113 wRC+), especially with George Springer now firing on all cylinders. Springer is slashing .365/.431/.844 (1.275 OPS) with 11 home runs in his last 25 games after injuries nagged him in the early going. Additionally, Vladimir Guerrero Jr. has put together an MVP-caliber campaign with 35 home runs and a 174 wRC+.
Like Boston, their pitching staff has been better than expected, as they're 12th in team ERA (3.83) and 14th in FIP (4.18). Robbie Ray (2.90 ERA), Hyun-Jin Ryu (3.62 ERA) and rookie Alek Manoah (2.59 ERA) have all been outstanding atop the rotation. Moreover, it should only get better with the trade deadline acquisition of Jose Berrios (3.23 ERA between the Twins and Blue Jays). He has allowed just one run in his first 12 innings (two starts) with Toronto. If there's one thing to be worried about, it might be their mediocre bullpen (15th in FIP), but that's certainly not a glaring weakness.
The Jays wrapped up their season-series with the Red Sox last weekend, finishing 9-10 against their division rival. However, Toronto still has three games left against the Athletics, as well as seven remaining pivotal match-ups with the Yankees. All-in-all, the Blue Jays have baseball's seventh easiest remaining schedule.
| | | |
| --- | --- | --- |
| Head-to-Head | Record | Remaining Games |
| vs. Athletics | 2-2 | 3 (in Toronto) |
| vs. Red Sox | 9-10 | 0 |
| vs. Yankees | 6-6 | 7 (4 in New York, 3 in Toronto) |