Analysis
The Dysfunctional Mess That Is the Chicago White Sox
The White Sox have done nothing but disappoint this season, and things reached a new level of dysfunction and disconnection this past week.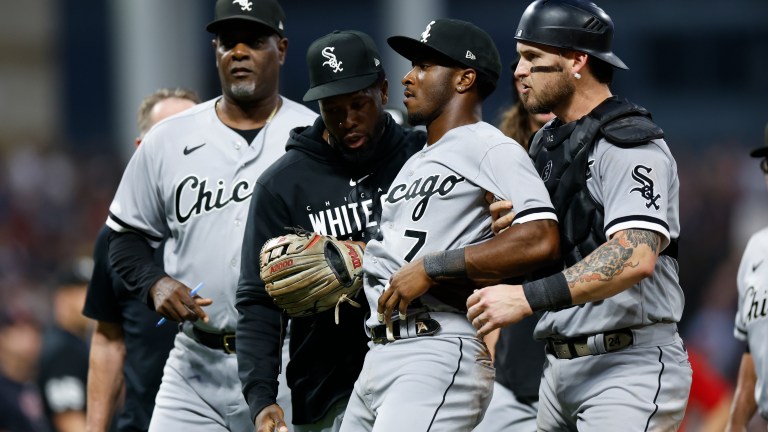 I've spent too much time, in reality, trying to understand the White Sox situation from a baseball perspective based on a roster loaded with talent that has continued to trend in the wrong direction for two years. The organization was heading in a seemingly promising direction just a few years ago, with a core of talent that was set to make up the majority of the roster for years to come.
Fast forward to August of 2023, and the team is one of the five worst in the entire league and was just one of the biggest sellers at the trade deadline.
The team has done nothing but disappoint, and this week reached an all-time high level of dysfunction, disconnection, and more on the South Side of Chicago. There is a lack of cohesion, energy, and teamwork in the clubhouse and from the top down of the entire organization right now.
This week featured a team leader getting into a fistfight, multiple recently-traded players speaking out about the team policies, and more examples of the struggling nature of the franchise.
For a rare change of pace, this piece has absolutely nothing to do with the team's play on the field but will be my attempt at summing up the nature of an organization that needs some serious change in order to get back on track in the near future and in the long term.
When examining the issues within the team, there are two main categories to consider. While the players and coaches are a factor, the upper management and ownership of the team have to be contemplated as well.
To figure out how the team has gone down such a poor path, let's look at both categories and what can be done moving forward in an effort to make some sense of everything happening in Chicago.
Ownership and Upper Management
The White Sox and Chicago Bulls have been owned (and managed, to an extent) by Jerry Reinsdorf for nearly 40 years, since he bought the White Sox in 1981 and proceeded to buy the Bulls in 1985.
Winning six championships with the Bulls thanks to the greatest basketball player ever (I don't want to hear it, LeBron fans) definitely improved the image of Reinsdorf as an owner, but fans have plenty of frustrations with his reign over two of the primary Chicago sports teams.
Reinsdorf puts resources into his teams to the extent at which he can profit but not to the degree to which the team can compete like the big-market team they are to have a real shot at contending yearly. The organization plays in the third biggest U.S. city but has operated like a mid-market team for years.
The issues coming to light that have been well-known by fans for years start with ownership and stem all the way down. Reinsdorf has continued to avoid answering the hard questions and has held the team back many times from reaching their potential due to restrictions placed upon those in charge of the front office.
Beyond Reinsdorf, the people he has put in place haven't done an adequate job running the organization. General manager Rick Hahn was in charge of the massive rebuild that began during and after the 2016 season. While he's done well at acquiring young talent via trades, his allocation of resources and ability to construct a well-rounded roster has been questionable. Furthermore, the problems regarding coaching and clubhouse atmosphere start with management, and he's been unable to create stability.
Hahn has been under scrutiny for his decision-making for a while but has remained consistent on the ideas he's followed through on. The roster has lacked balance, and the coaches put in place have evidently not been the best options. While it's impossible to know whether these decisions have been solely made by Hahn rather than being controlled by Reinsdorf – or possibly executive Kenny Williams – they haven't been good.
The functioning of a team starts from the top, and there's a lack of responsibility for actions at the top of the organization in Chicago that has held back this team. The lack of a cohesive culture in the organization, the right coaches, and spending in the right places has caught up to this regime, and it's starting to become evident in the results on the field and the supposed clubhouse environment.
Clubhouse Disconnect
The issues that have arisen in the media this week come as no surprise to those that follow the team, but it's nonetheless shocking to finally hear everything become public.
It started this past Sunday when relief pitcher Keynan Middleton, who was traded to the Yankees last week, came out with his honest feelings on everything in the White Sox clubhouse.
He ripped the organization in countless ways, from the "no rules" to "rookies sleeping in the bullpen" to "no consequences for anything" and even more. Middleton did not hold back in his thoughts on the status of the team and the way that it's operated.
Middleton expressed a multitude of issues that probably weren't all that surprising to many fans. Still, he highlighted issues that are appalling and clearly have affected the entire team.
Lance Lynn, traded to the Dodgers last week, did not deny Middleton's statements when he appeared on Foul Territory this week, implying that everything said by Middleton had truth to it. Lynn was considered to be one of the key veterans on the roster the past few years, which further supports the case that these issues have been there for a while.
Middleton clarified in his statements that these clubhouse situations were there prior to his arrival, as many teammates had told him that things were similar in previous years. This problem is not a new one and therefore can't be entirely put on the new coaching staff.
With that said, manager Pedro Grifol was adamant about establishing a routine and ways of doing things upon his arrival. While many procedures and regulations may have developed during the Tony La Russa era, Grifol clearly hasn't been able to correct them to this point.
There are many reasons to think that these habits came from previous managers, such as La Russa and possibly even Rick Renteria, but the current staff hasn't done a good enough job fixing the situation.
Everything continued to get worse for the team after Middleton spoke out, as Tim Anderson became infamous online for losing a literal fistfight on the baseball field to Guardians' third baseman José Ramírez.
Yes, that's a real sentence I just typed, and I'm sure everyone has already watched the video about five times. This massive brawl was clearly more of a culmination of frustration that had been boiling for a long time but speaks to the complete disarray in the White Sox clubhouse.
This fight not only showed Anderson's struggles and level of frustration but also showed how disconnected the team appears to be given the actions of many players during the situation and after. Things only continued to get crazier with numerous reports this week about the issues the White Sox have dealt with in the clubhouse.
Jesse Rogers of ESPN cited Yasmani Grandal, Yoan Moncada, and Eloy Jimenez specifically as players who have contributed to a negative culture. This is not all that shocking given Moncada's noticeable poor body language, Jimenez's lackluster work ethic, and other various issues that can be easily noticed by many.
Another story from Shane Riordan detailed a story about a physical altercation between Anderson and Grandal that might just be one example of many clubhouse fights between players that are not working as a cohesive unit whatsoever right now.
This seems like a scenario where more stories are going to continue spewing into the media over the coming months leading to a tricky offseason in Chicago. The team is far from united, and while the energy has improved since the trade deadline, it's far from a positive culture right now.
Despite deadline moves that indicate a rebuild, or at least a serious retool, Hahn continues to claim this team plans to compete next year. Despite that, the roster and system look much more likely to be competitive again starting in 2025. The roster and clubhouse need further restructuring to get things back on track and build a winning culture in Chicago.
Future Options
I see a few routes to fixing this dysfunctional situation for the White Sox. A combination of the options I came up with will probably be needed for a true shift in culture, but at least one potential option needs to happen after this season.
While some are more realistic than others, and I could probably continue rambling about the situation, let's look at possible ways the energy in the organization could change.
Option 1: Jerry Reinsdorf Sells the Team
This feels highly improbable, but there's a world in which Reinsdorf decides to let someone clean up the mess that the White Sox team has become. A new owner would almost certainly bring in a new front office to oversee changes that would shift the culture in potentially the biggest way.
This potential option would come with the most change and likely the highest probability of a cultural shift in the near future. However, I don't believe this is going to happen any in the near future and changes will likely have to be made with Reinsdorf in control.
Option 2: Rick Hahn Is Replaced
Hahn has been given multiple opportunities to rebuild the roster and system to create a sustainable winning team. While his resources may have been limited, he just hasn't done a good enough job yet. Furthermore, he's been candid lately about the fact that he'll be understanding if the time comes when the job no longer suits him.
Given that he's already been given the keys to this next "rebuild" that started at the deadline, he's likely going to get another shot at turning it around and setting the team up for contention in 2025 and beyond.
Option 3: Another Coaching Staff Takes Over
I think these next two options would have to be blended for this approach to work, but it seems possible that Pedro Grifol and much of his staff could be out after just one season. While he likely inherited a difficult situation, Grifol has not been able to improve upon the team dynamic in his time with Chicago, and the team's performance on the field has gotten much worse this year.
I don't really believe that as much blame should be placed on Grifol as many others do right now. I think he was thrown into a terrible spot where he was almost destined for failure, with those above him making the choices they have in the past few years. However, a true tone-setting manager might be needed to fix the clubhouse.
Option 4: Moving On From Core Players
One of the quickest ways to fix a clubhouse can simply be removing problematic players from the roster in one way or another. While it's often not that simple, it seems like certain players that didn't fit in may already be gone since last week and others could be on their way out in the near future.
With a reloaded farm, the White Sox may be able to move on from a few more veterans such as Yasmani Grandal, Tim Anderson, or Yoan Moncada, and create a new atmosphere. I believe that some further roster retooling is a guarantee, but moving some of the bigger names might be beneficial in establishing a new core and culture for the future.