Analysis
Dynasty Mailbag: When Will Reds Promote Top Prospects?
Answering some of your dynasty questions on one of the top farm systems in baseball, the Cincinnati Reds and much more.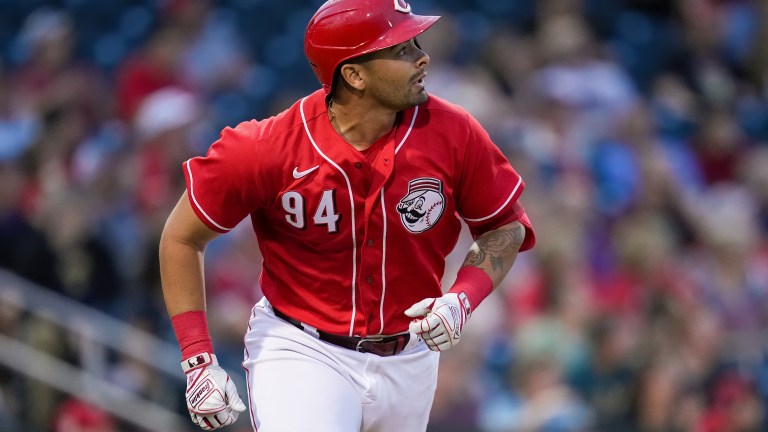 Hey what is up everyone, this is this week's iteration of the Dynasty Mailbag. Like the past few weeks I ask for your questions on twitter, and answer them all on here. This week we have a slight Cincinnati flair, which hopefully is better than the slop and trash that is Skyline Chili. That is for you to decide. Without further ado let's get after it everyone!
*All stats are up to date as of May 4th*
The real question is, why isn't he with the big league team right now? But if I were magically put in charge of the Reds, first, "whew" what a come-up for your boy. Secondly, there are going to be a lot of changes. But I think Matt McLain would be someone I would put at shortstop for the Reds. 
I mean, the Jose Barrero experience™ is, uhhh, not going well. Watching Jose Barrero bat is like watching a train wreck happen. He has never been remotely close to a league-average hitter, posting a career-high wRC+ of 65 in his first taste of Major League Baseball. Right now, Jose Barrero is currently posting a wRC+ of 59. It is time for the Reds to pull the plug on Jose Barrero. I mean can Jose Barrero do this?
He could also possibly go out to left field if needed because Stuart Fairchild shouldn't limit anyone's playing time. Fairchild is at his best as a fourth outfielder, so McClain could go out there and be solid. I don't know why McLain isn't up. He's ready, and he's destroying Triple-A. He's hitting .300/.435/.570 with seven homers and eight steals in Triple-A. Call him up already, Cincy.
This is a tough one because I don't know when the Reds will be good again. They are, however, rather lucky they play in the NL Central, where a team legally has to win that division. Their window looks like it will be open in two years, so that makes projecting players for them that much harder. Let's mention someone on a team that is both cheap and far away from their competitive window being opened (*cough cough* Oakland A's *cough cough*).
Maybe the Reds could live the Miller High Life? Mason Miller, if he holds up, could be the exact type of player for the Reds to target. In two years, he would be getting ready to be arbitration-eligible, and that means the Athletics would have to spend real money on him. Which, let's face it, they won't. Outside of that, it is so hard to project these sorts of things. Maybe Riley Greene? Because who knows with the Tigers and where they will be in two years. If you think my prospect analysis is bad, projecting trades is something I am somehow worse at.
Blake Dunn is a bit old for the level at 24, but you mentioned he has been injured. So, I don't tend to fully dismiss players like that if they have injuries. Dunn has looked good, showing the tools that made him an interesting prospect out of Western Michigan. 
The arm was one of the best I have seen from a draft prospect; truly an elite arm for the outfield. I ultimately think the upside here is a fourth outfielder. He can play any of the outfield spots and has enough power and speed to be able to help out in a pinch.
That is something you have to talk to Aram about. I do, however, agree with Aram that Christian Encarnacion-Strand isn't a top 100 prospect. It is difficult to include first basemen in a top 100 list, particularly in a real-life context. 
On a fantasy list I think he is a back-end player. The power in Great American Ballpark, or "Smallpark," is enough to get anyone excited. In Triple-A, CES is currently hitting .410/.452/.769 with four home runs. He could stand to get a bump up when Matt McLain gets promoted.
This sort of power makes me feel things I have never felt before, whew baby! I can't escape this Aram guy, big fan of his work, I would love to work with him one day.
That screaming you can hear is me shouting about how good Jonathan Clase is!
Jonathan Clase is an exceptional talent. He was recently promoted to Double-A at the ripe old age of 20, which is a remarkable achievement. He has hit seven home runs this season. 
Despite his smaller stature, he consistently makes solid contact with pitches. However, his strikeout rate is quite high at 26.4%. Nevertheless, considering he is walking 17% of the time, it is less of an issue. You know the saying, "It's not about the size of the dog in the fight, it's the size of the fight in the dog." Well, that applies to Clase. He's got that dog in him.
He will continue to hit for more power than you would think his short king (5'9") frame would indicate. He has the swing plane and raw strength to be a perennial 25-home run threat.
Nick Yorke is currently hitting well, and after a few years of his stock falling, it seems his stock is taking a nice jump. While he may not be considered a top 100 prospect due to uncertainty about his power, he has the potential to be a valuable player in average leagues. 
The dream is that he hits at the top of the lineup and contributes to both the average and runs department. Any kind of power and speed is a bonus for him. I would prefer Jorbit Vivas because I believe he has more potential to hit for power and is slightly faster, which could lead to a higher fantasy ceiling.
I look forward to talking with you all next week on here! Don't forget you can always DM me on twitter @RhysBWhite if you need any advice, my DMs are open for fantasy advice and for potential love interests so feel free to slide in.