Analysis
The Diamondbacks Need Zac Gallen at His Best for the NLCS
Zac Gallen has pitched capably so far in October, but the Diamondbacks need their ace to bring his A-game in the NLCS.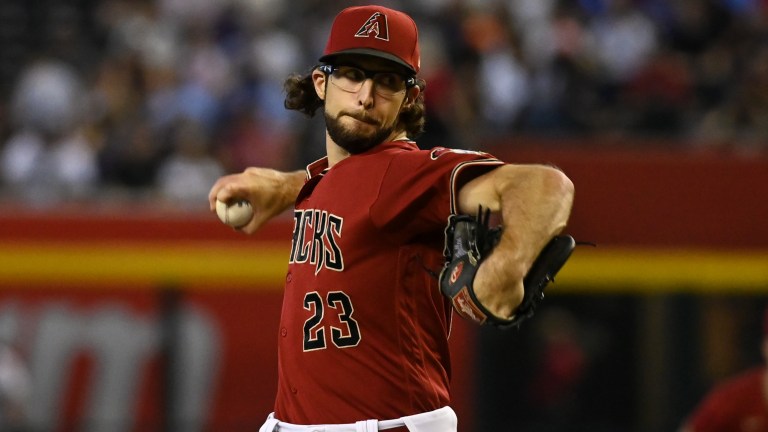 The Diamondbacks wouldn't be here without Zac Gallen.
Perhaps that sounds like an obvious statement – most teams would look completely different without their best pitcher – but for Arizona, it rings especially true.
The D-backs made the playoffs by the skin of their teeth, finishing ahead of the Cubs by a single game.
Pitching, and specifically starting pitching, was their biggest weakness all year. Diamondbacks starters posted a 4.67 ERA in 2023, 21st in baseball. Among NL contenders, only the Reds were worse.
Without their ace, that ERA jumps to 5.07. D-backs starters not named Gallen combined to go 29-42 with a 20% strikeout rate and a 4.73 FIP. In a word, yikes.
To be clear, those numbers don't represent the strength of Arizona's postseason rotation. Madison Bumgarner is long gone, and the team recently bid adieu to Zach Davies as well. The Diamondbacks only need three or four starters for the playoffs, and their top two will handle most of the work.
Still, the fact remains that Gallen's importance cannot be overstated. Outside of Corbin Carroll, he's the best player on this team, and in a short postseason series, a dominant starting pitcher can have a greater impact than anyone else on the roster.
The Diamondbacks wouldn't have reached this point without their ace. And if they're going to go further, they'll need him to pitch like the ace he can be.
Zac Gallen's October (So Far)
Gallen hasn't been bad in the playoffs – far from it. In two starts, he has collected a pair of wins, giving up just four earned runs across 11.1 innings of work. However, while he has gotten the job done, he hasn't looked quite like his All-Star self.
Of the 47 Brewers and Dodgers batters Gallen faced, he struck out only eight. He also walked five, three in the Wild Card round and two in the NLDS. That's unusual coming from the guy who finished fifth among qualified NL pitchers in walk rate and strikeout-to-walk ratio.
What's more, his whiff rate is down to 21%. Gallen has never had devastating swing-and-miss stuff, but his regular season whiff rate was comfortably middle-of-the-pack this year. Meanwhile, a 21% whiff rate would've ranked in the 13th percentile.
A big part of the problem is that his postseason opponents have done a better job laying off pitches outside the zone. They're offering at his chase pitches less often and making more contact when they do swing the bat. Batters facing Gallen have a .292 wOBA and a .309 xwOBA on pitches outside the zone in the playoffs, compared to a .223 wOBA and .237 xwOBA during the regular season.
On top of that, Gallen hasn't generated many groundballs thus far. Of 34 balls put in play against him, only 11 have been on the ground. That's about three or four fewer than you'd expect, given his regular season groundball rate.
Gallen Needs His Best Stuff in Philadelphia
None of these numbers are a big red flag or a dangerous warning sign. Gallen has still pitched well, and besides, two starts is a minuscule sample size.
Nevertheless, it's clear that Gallen hasn't been the best he can be so far. He just hasn't looked as sharp as he did throughout most of the regular season.
If indeed he is slowing down, no one could blame him. He was one of only five pitchers this year to pass 200 IP and one of only two with 34 or more starts. Combine that with his postseason outings, and this is far and away the heaviest workload the 28-year-old has had to shoulder in his career.
However, if the Diamondbacks are going to continue this incredible run, they'll have to hope their ace has a little more left in the tank. The Dodgers' offense didn't put up much of a fight in the NLDS, but the Phillies have been punishing mistakes and finding ways to beat good pitchers all postseason. They have as much momentum as the D-backs, and they're the only team with a higher OPS in the playoffs.
Simply put, "good enough" won't be good enough. It's going to take a great pitcher to stop the train of the Phillies offense from barreling down the tracks. It's going to take a great pitcher to outduel Zack Wheeler, who has been lights out in the playoffs. It's going to take a great pitcher to lead Arizona to victory despite their limited rotation depth.
Zac Gallen can be that pitcher.
But he needs to be at the top of his game.