Analysis
Contending Teams With Holes That Need To Be Addressed
The Cardinals, Yankees, Dodgers, and Padres all have playoff aspirations, but each of these contenders needs help in one area of the roster.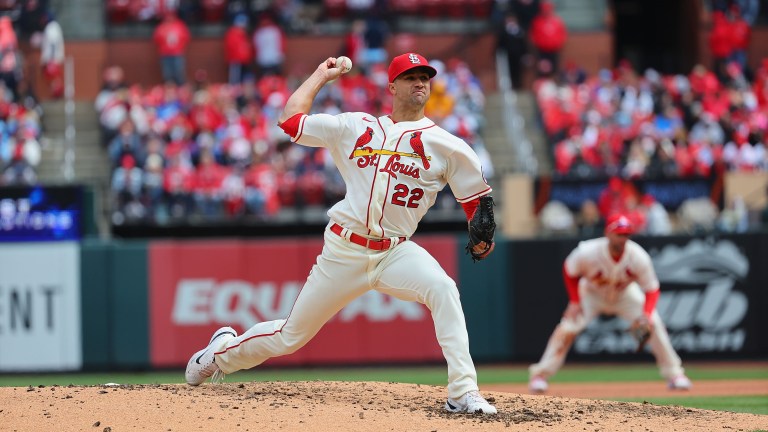 While it's early in the season and teams shouldn't be panicking quite yet, it's never too early to consider trade options to plug holes and better position your club for a playoff run.
Some teams have numerous holes to fill, but for now, we're going to focus on one main position of need per team.
With a few teams faltering early in the season and others clearly in rebuilding mode, there are a number of potential impact players that will be on the trade market in the coming months. It's never too early for a team in a contention window to address needs and consider the options available.
Los Angeles Dodgers: Shortstop
The Dodgers are off to an uncharacteristically slow start and look like a team with more holes now than they've had over the past decade. While they've got some support waiting in the wings in their farm system, there's one position that could be a persistent issue all season.
Gavin Lux, unfortunately, tore his ACL right before he was set to take over at shortstop following Trea Turner's departure. Miguel Rojas was brought in to help fill the gaps, but he got injured early in the year. He returned to the team this week, but ultimately he would be best served as a defensive-minded utility player.
Between Rojas, Chris Taylor, Luke Williams, and even Mookie Betts, the position has registered -0.4 WAR to this point in the year. That simply isn't going to cut it for a team with championship aspirations.
The Dodgers are aiming for nothing short of a World Series this year, and adding an impact player at shortstop could significantly improve their chances. With the contracts dealt out this past winter, the position is as premium as it gets, which could incentivize the Dodgers to try and find an option through the trade market.
The market doesn't appear deep at this point in the season, but there's one star at the top and a few other possible platoon-type options that could still be helpful. There's even a familiar face that could become an option sooner rather than later.
Potential options: *Tim Anderson (White Sox), Geraldo Perdomo (Diamondbacks), Kiké Hernandez (Red Sox)
St. Louis Cardinals: Starting Pitching
Oh, here we go again. The Cardinals need pitching…what a surprise.
The Cardinals are off to by far their worst start in years, and it is in large part due to a rotation that ranks 24th in the league in WAR (1.0). Their staff has been downright terrible all around, and while Adam Wainwright can help, he can't save an otherwise awful rotation.
Matthew Liberatore is in the wings and should definitely be considered an option soon, but it's also not wise to rely on a young arm to fix this problem. Even with both Wainwright and Liberatore in the picture, there's absolutely no reason for this team not to add a pitcher or even two in the coming months.
The Cardinals have all the promising young prospects and MLB-ready talent they need to trade for an impact arm, and the only question is if they'll pony up and do so before it's too late.
They could go the route of a rental that can help this year, or they can look to add someone with extra years of control that they can trust in the rotation for the next few years.
Potential options: Lucas Giolito (White Sox), Eduardo Rodriguez (Tigers), Alex Cobb (Giants), Vince Velasquez (Pirates), Brad Keller (Royals), Chris Sale (Red Sox)
New York Yankees: Left Field
The historical kings of the league haven't won a championship since 2009. They continue to operate with one of the highest payrolls every year but have also continued to fall short. While the Astros have run the American League for the past several years, the Yankees have seemingly been one piece short for a while.
One of the pieces they haven't had in a while is a stable left fielder. Their offense has been weak to start the season, and with Aaron Judge and Giancarlo Stanton on the injured list, they need to figure things out quickly.
Oswaldo Cabrera and Aaron Hicks have been the primary options in left field this season. While many had high hopes for Cabrera after he showed promise last season, he's clearly better suited to be a utility player. Cabrera's OPS is currently under .500, and his expected metrics are at the bottom of the league.
Hicks has been a lackluster player for too long with the Yankees and is far from a viable starter. Thus, Yankees left fielders have registered -0.9 fWAR through the first 30 games of the season, which is nowhere near what they need to remain competitive.
The market for outfielders will shape up more over the next couple of months, but numerous teams heading toward being non-competitive could have players available. The Yankees could look for their left fielder of the future or simply try to plug the hole in the short term and spark the offense.
Potential options: Joc Pederson (Giants), Seth Brown (Athletics), Eloy Jiménez? (White Sox), Charlie Blackmon (Rockies), Any outfielder (Cardinals)
San Diego Padres: Bullpen
Coming off of their best season in recent years, the Padres' expectations are higher than ever. They've loaded up the past few seasons, and despite their slightly slow start, their roster is one of the best in the league.
They added Josh Hader last year in order to create a lockdown back of the bullpen, and while he's been excellent this year, the rest of the bullpen has been lackluster. Even with Hader being one of the best closers in the game, the bullpen as a whole ranks among the ten worst in the league by WAR right now.
The injury to Robert Suárez doesn't help, as he was expected to be the regular 8th-inning guy ahead of Hader. His status is unclear, and he may not be back on the mound for a while, which worsens the outlook for this unit.
Bullpen arms are by far the easiest to add at the deadline, and the Padres have no reason not to add at least one and possibly more. In reality, they should consider making a move sooner, as it would be easy for them to add a decent relief pitcher to help out.
Plenty of struggling teams have one or two studs in their bullpen that could become a quality option for the Padres. There's no time like the present, and plenty of relievers could be acquired.
Potential options: Daniel Bard (Rockies), Mason Thompson (Nationals), Chris Martin (Red Sox), Kendall Graveman/Liam Hendriks (White Sox), Dylan Floro (Marlins), Aroldis Chapman (Royals)