Analysis
Cincinnati Reds Second Half Predictions
The Cincinnati Reds find themselves atop the NL Central, with an opportunity to contend earlier than anyone expected.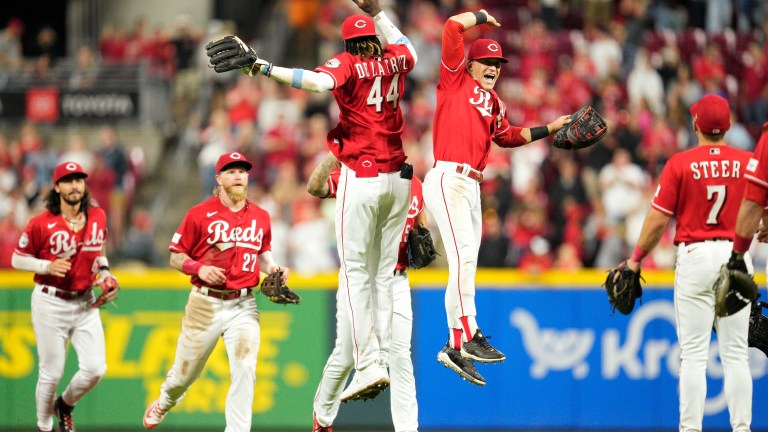 "America's Team" has gone from 2022 seller and bottom feeder to first place at the break. Sitting nine games over .500, the Reds have been one of, if not the, biggest surprise in baseball. The offense has been buzzing led by younger players and the pitching staff has done enough to win games.
For the first time in a decade, the Reds look like they are legitimate contenders. Sure, they made the 2020 playoffs, but let's be honest. The 2023 roster has more talent, and a big second half is just around the corner.
Reds Acquire Pitching at the Deadline
Cincinnati has somehow won a lot of games started by Ben Lively, Luke Weaver, and other castoffs, for lack of a better term. For the first time in far too long, the Reds are in a position where they could add more than just depth players to gear up for a playoff run.
Brandon Williamson, Graham Ashcraft, and Andrew Abbott have all had their moments, and Abbott looks like a bona fide top three starter. However, the Reds are in a position with their farm system where they can acquire a veteran to strengthen the rotation, and depth, and not have to part with a top 10 prospect. Even with the improvements Williamson and Ashcraft have flashed, you are banking on a lot to go right if you do not add.
Perhaps more importantly, the Reds add to the bullpen. Alex Young has been solid, but another lefty is much needed. Bringing in lefty, plus another arm with a track record could turn this team from good to great. Don't forget, the Reds will soon add Tejay Antone to the mix as well. They can make the bullpen as much of a strength as the lineup.
Spencer Steer Goes 20/20 and Finishes Top 3 in ROY
According to most odds, Steer is not even the odds on Red to win Rookie of the Year. Elly De La Cruz and Matt McLain both have a case, but give me Steer. He's slashing .277/.367/.477 with 14 home runs and nine stolen bases. Getting to 20 steals might be tough, but the Reds are running more than ever and he's getting on base enough to make it happen.
Steer finishes top three, although he does not have the name flare that Elly De La Cruz does. Steer has been nothing but consistent for Cincinnati. Add in that he's been willing to play multiple positions to help the team, what more could you ask for.
Reds Lead the League in Stolen Bases
Right now, the Reds are leading by one over Tampa Bay. After not running much the past few years, the Reds seem committed to a new style of aggressive baserunning. The Reds currently have four players with over 10 stolen bases, two with nine, and three with seven.
With Elly De La Cruz in the mix, I expect the stolen base numbers to keep climbing. He already has 16 through his first 30 games, which is ridiculous. Special player.
Jose Barrero Gets a Fresh Start
The once shortstop of the future currently finds himself hitting .233 in Triple-A. With so many middle infield prospects in the pipeline, and a few potentially getting added to the 40-man roster soon, I think it's time to find a fresh start.
Barrero has already shown he's a plus defender at short, and at times flashed a plus bat in the minors. At 25, he's far from done with his professional career. If he's a flier in a deal, or brings back a bullpen option, I think it's best for both parties.
Reds DFA Curt Casali
The front office has jumped through some hoops to keep three catchers all season, and I think it's time for that to come to an end. Casali has cemented himself in Reds history by catching "The Ricky Karcher Experience" but roster spots are becoming more and more valuable. Whether it be a newly acquired player, or Christian Encarnacion-Strand, I think Casali's days are number.
The catching depth might not take much of a hit if this were to happen. Chuckie Robinson has a 126 wRC+ in Louisville and would be a perfectly fine depth option if an injury were to occur.
Connor Phillips Does Not Debut
This one stings. Phillips has been one of my favorite prospects since being brought over in the Winker/Suarez deal with Seattle. Phillips has had some control issues coming into the season but his stuff was up there with the best in the organization. After dominating Double-A, and cutting down on walks, it's going to take some time to adjust to the new ball.
With my previous prediction of the Reds adding a starter, this makes calling up Phillips tricky. I think he's getting close to ready, but finishing the year in Louisville might be the best bet. I'd rather not add another rookie to the mix and cross my fingers. He'll be in the mix for Opening Day 2024, but I think that's the earliest we see him.
Reds Win the Central
Typing those words put a smile on my face. The best part is, I didn't even have to lie to myself to do it. The Reds have a deep lineup, enough depth, and a farm system they can utilize to improve the roster. The Cardinals are out, Cubs are headed towards somewhat of a sell, the Pirates aren't quiet there, and the Brewers don't have the offensive juice.
The front office knows they are ahead of schedule. This allows even more directions they could go. If someone with control becomes available, and is a good fit, they have the ammo to make the deal.
If a rental is the best option, they can go out and acquire that player without having to mortgage the future. Hunter Greene, Nick Lodolo, and Tejay Antone are nearing returns and should each play a big role in this teams ceiling.
It might have sounded crazy before the year, but the Reds are in the drivers seat.