Analysis
Cincinnati Reds Holding Center Field Competition This Spring
With Nick Senzel looking to begin the season on the IL, the Reds have a wide-open competition for the starting center field job this spring.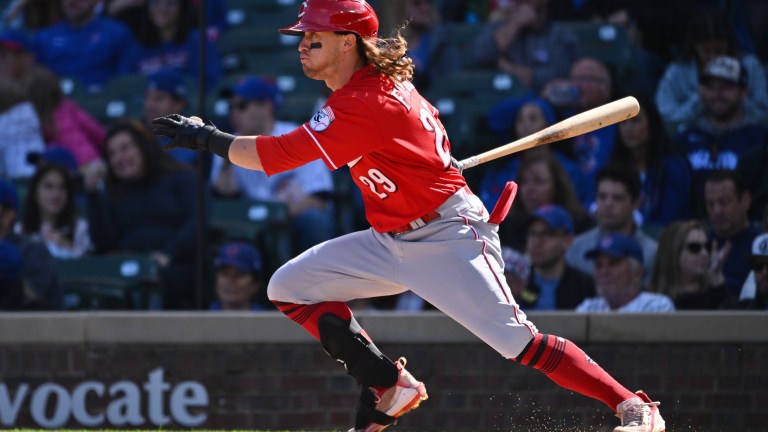 On December 11, 2012, the Reds engaged in a complicated three-team trade that would send center fielder Drew Stubbs out of Cincinnati and replace him with Shin-Soo Choo.
Choo, in center? Well, it worked. His lone season in Cincinnati still ranks as one of the most underrated seasons by a Reds player in the last 20 years. Choo batted leadoff, slashed .285/.423/.462 with 21 home runs and a 150 wRC+ in 2013.
Since then, Cincinnati has struggled to fill center field with a player who could hit well enough to impact the team. Sure, Hamilton's defense and speed left fond memories with Reds fans, but the bat just couldn't get it done.
Nick Senzel was next in line. The No. 2 overall pick in 2016 was destined to lead the Reds back to contention. Instead, his career has been filled with injuries and disappointment resulting in a -1,8 bWAR through his first four seasons. To no one's surprise, Senzel is injured to begin 2023, leaving the center field position up for grabs yet again. Several unproven players are battling in Arizona for a chance to show they can be an everyday major leaguer.
TJ Friedl
TJ Friedl had a slow, steady climb through the minor league ranks. At each level Friedl managed to hit well, draw walks, and make plenty of contact, while limiting strikeouts. He never topped a prospect list, but a solid depth outfielder was always a reasonable expectation.
Debuting at the end of 2021, Friedl made enough of an impression to be considered in 2022. Returning to Triple-A, Friedl put up impressive numbers before earning a call up to Cincinnati. His first half numbers were nothing special, but a second half slashing .267/.354/.533 with eight home runs had many fans calling for a true everyday role.
A professional approach at the plate should make him at least a bench outfielder. The good news? He lifts the ball. So far in his major league career Friedl has a fly ball rate of 50%, which is much better than driving the ball into the ground. The bad news? A career 30% hard hit rate and 5% barrel rate. Numbers that suggest power will not be a strong point, although he has shown flashes of pop here and there.
The sample size is still relatively small. A good contact hitter who is an average fielder and limited in the power department. To me, he's not the most exciting option although he is looking like maybe the most likely option.
Will Benson
Acquired from Cleveland in February, Benson has the most athletic and exciting profile of the options on this list. A former first-round pick with a 6'5″ 230 pound frame and the athletic ability to truly become a difference-maker, if all goes right.
Benson worked his way through the Guardians system showing an impressive blend of power and speed that ultimately resulted in a call up in 2022. The toolsy lefty can handle center defensively, although he has spent most of his time in the corners throughout his minor league career.
So, why would the Guardians trade him? Two reasons. They had a 40-man roster crunch and Benson's strikeout problems cause some concerns. In Triple-A in 2022, his 22.7% strikeout rate was much better than his career ~30% rate. Hopefully that continues to move in the right direction.
I love what I've seen from him so far through spring training. Numbers and sample size aside, Benson has displayed his athletic ability stealing bags, making diving catches, and finding solid contact on a few different occasions. His eye for the zone has been impressive as well. A player who looks determined to earn the starting role, there's still time for it to play out. In my eyes, he's the current leader in the clubhouse.
Mike Siani
Once a top 10 prospect in the Reds system, injuries and a pedestrian bat have seen him drop or fall off those list. In 2022, Siani hit 12 home runs in Double-A (.151 ISO) and does not profile as a power bat. Although Siani has not hit for a high average or power through the minors, he does excel at a few different things. Speed and defense.
No one will doubt Siani's speed. He's stolen over 40 bags at two different levels. Defensively, he might be the best option on this list. The questions come with his bat. Can he hit enough to really make it as a major leaguer? With only eight games in Triple-A and nine games in Cincinnati, a trip back to the minors is possible. Keeping him on the roster would allow the Reds to have a true center fielder, but that is not something they have always valued in the past.
Stuart Fairchild
Fairchild was originally drafted by the Reds before being dealt at the 2020 trade deadline. After bouncing around three organizations last season, he bounced back to Cincinnati. In 86 at-bats with the Reds, Fairchild slashed .279/.374/.523 with five home runs and 32 strikeouts. The minor league numbers are impressive, but are we looking at a player who just needs a chance or a "AAAA" player?
Again, small sample size but Fairchild had a 9.5% barrel rate and 41.3% hard hit rate. A pull-heavy hitter with enough pop and minor league production to keep teams interested in him. At this point, it is make or break. I don't see a future starter, more of a bench outfielder.
Nick Solak
Not long ago Nick Solak was appearing on some of the baseball world's top prospect list. The four-year vet has transitioned into more of a utility man and is looking for a fresh start after limited production for the Rangers. He brings speed and makes a decent amount of contact, but too often it has been driving the ball into the ground with an over 50% ground ball rate.
By far the least likely to appear in center of these options, Solak has 290 innings in center since turning pro. I thought I would mention him (yes, this is cheating) because he could bump someone else to center if he makes the team and plays left. Taking a flyer on a former top prospect with speed and positional flexibility never hurts. Solak will need to finish the spring strong to earn a roster spot.
Of these options, we probably are not looking at the next superstar in Cincinnati. Personally, I would rank them as follows:
1. Will Benson
2. TJ Friedl
3. Michael Siani
4. Stuart Fairchild
5. Nick Solak
I know Benson has the best tools of the group and I will always bet on tools. The upside play that brings both power and speed. Friedl is the probably the safest pick. And while it might seem temporary until Nick Senzel returns from injury, that job should not be handed to him.
The Reds need to be focused on finding players who can make a difference in the future. Senzel has not earned anything to this point. Right now, it's more likely than not that Senzel is on a different team sooner than later, and it has nothing to do with saving a few bucks.