Analysis
Christian Yelich's Resurgence Has Been Pivotal to the Brewers' Success
Christian Yelich has returned to being the Brewers' most dangerous hitter, and his offensive performance is vital to Milwaukee's success.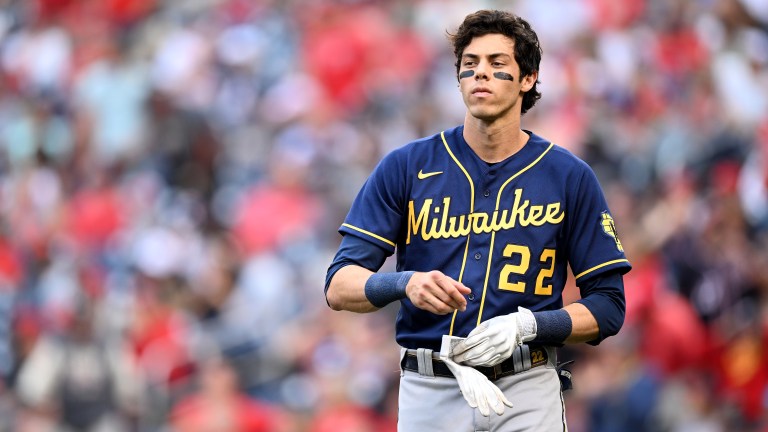 This 2023 season has been a career resurgence for Christian Yelich. He has been Milwaukee's most valuable player to this point in the year, and he has played an essential role in the Brewers' pursuit of a division title.
Yelich's offensive performance has been under a microscope for a handful of years now, and for valid reasons. He went from being one of the most prolific hitters in the entire sport from 2018-'19 to resembling more of a league-average hitter ever since. After signing the longest and most lucrative extension in the franchise's history in March of 2020, his production at the plate has left much to be desired from Brewers fans.
However, 2023 could be an indication that Christian Yelich is officially back.
This season, fans have witnessed a more confident version of Yelich than they have seen in several years. He's dialed into a consistent and disciplined approach at the plate, and his high-quality of contact is finally starting to yield results. He is the captain in the clubhouse, and he has been the anchor at the top of the Brewers' lineup.
Stats taken prior to play on August 23.
Milwaukee's Most Valuable Player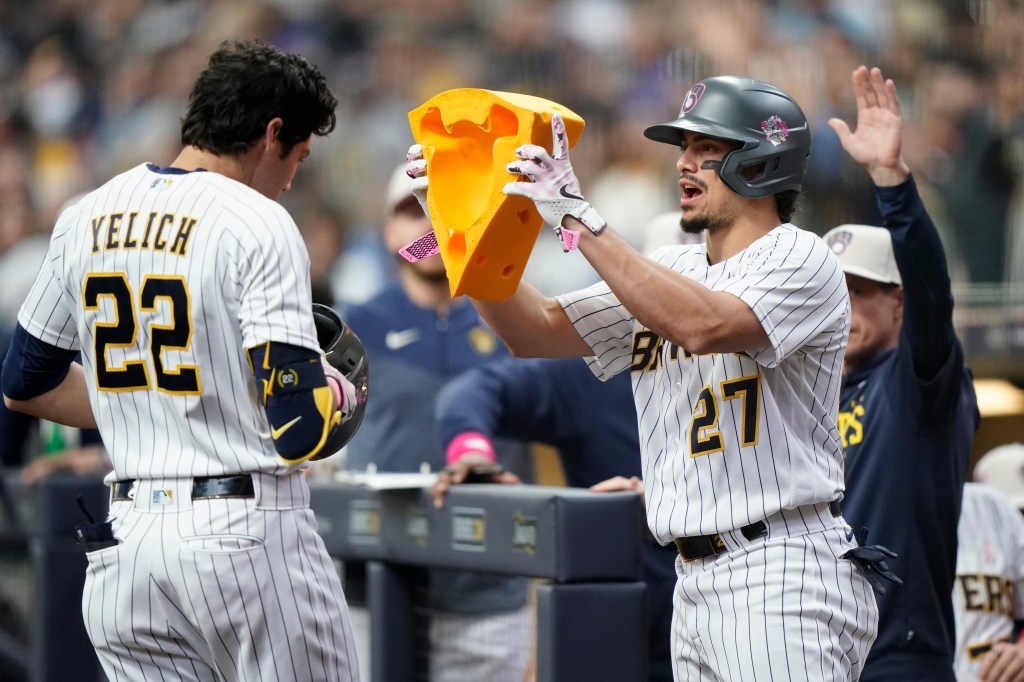 It cannot be overstated how valuable Yelich has been for the Brewers this season. He leads the team in RBIs with 67, and he has been the most dependable run producer in an offense that has struggled with consistency all year long.
Yelich leads the Brewers in several offensive metrics, including wRC+ (124), wOBA (.358), and OPS (.829). He also has the most runs scored on the team with 87, which is 29 more than the next best player and is the 10th most in MLB.
Yelich is posting an fWAR of 3.9 thus far in 2023, which is the sixth-highest mark among National League outfielders. Not only is that also the highest total on the Brewers, but it is already greater than his fWAR total from his previous two seasons combined. His swing looks as smooth and confident as it has in years, and he has demonstrated his ability to hit for both contact and power.
Yelich is hitting .286 on the year, which is over 30 points greater than last season's number. Plus, not only has he succeeded at putting the ball in play more often, but he has been able to generate more impactful contact as well, and it has led to his best power output since the 2019 season.
He already has more extra-base hits this season (47) than he had all of last year (43), and he has done it in 30 fewer games. His days of hitting over 40 home runs are likely behind him, but he has still managed to flash his power stroke.
He is second on the Brewers in home runs (16), and he leads the team in doubles as well (30). In turn, his ISO (.169) has jumped nearly 40 points from last season, and it is his highest mark since the 2020 season. Additionally, Yelich is posting his highest slugging percentage (.456) and OPS (.827) since 2019, and his controlled swing has led to an enormous jump in efficiency at the plate.
Improved In-Zone Efficiency
Yelich's offensive resurgence is extremely interesting for several different reasons. For starters, his peripheral statistics are in line with his previous seasons. While he is posting a strikeout rate of 20.3%, which is his lowest rate since 2019 and nearly a four percent improvement from last year, his general swing decisions and contact rates remain similar to the past few seasons.
Secondly, Yelich continues to post high quality-of-contact numbers. For the past few seasons, he has ranked near the top of the league in exit velocity and hard-hit rate, and that trend has continued in 2023. His hard-hit rate sits at 51.2%, which is in the 93rd percentile and is the second-best mark of his career (only behind the shortened 2020 season).
He is also in the top 12% of baseball in average and max exit velocities, which have translated to some of the best expected statistics in baseball.
What has changed this season for Yelich is his increased ability to do damage on pitches all throughout the strike zone. He has capitalized on mistakes while also seeing better results on pitches thrown around the edges of the zone. Therefore, he has produced much more efficient plate appearances this season.
When comparing his wOBA by strike zone from this season to 2022, there are improvements nearly across the board. Yhelic is making it increasingly more difficult for pitchers to get him out by eliminating weak spots in the strike zone.
He continues to punish pitches thrown down the middle of the plate while improving his numbers around the edges, specifically on pitches thrown on the inner half of the plate, as well as pitches thrown in the upper third of the strike zone.
On a more granular level, Yelich's increase in offensive efficiency stems from his boost in performance against the fastball. He is posting some of his best numbers against fastballs since the 2019 season, and it has led to increased consistency at the plate:
| Year | BA | SLG | wOBA | K% |
| --- | --- | --- | --- | --- |
| 2023 | .331 | .560 | .421 | 15.1% |
| 2022 | .290 | .414 | .365 | 20.1% |
| 2021 | .271 | .390 | .344 | 21.4% |
| 2020 | .241 | .519 | .390 | 26.7% |
| 2019 | .346 | .678 | .451 | 13.5% |
Stats courtesy of Baseball Savant
Yelich has seen improvements across the board against fastballs this season. He is putting the ball in play more often, and he is generating more impactful contact while effectively slashing his strikeout rate against the pitch type.
More specifically, hitting the four-seam fastball has been Yelich's bread and butter. He has a run value of +10 against the pitch, and he is hitting .345 and slugging .620 against the four-seam. He has seen a noticeable bump in production versus the pitch, and it has been fueling his offensive success.
Capitalizing on fastballs is what made Yelich such a successful hitter when he was on top of the league. Over the past couple of seasons, he has taken a step back versus the pitch type, and that has been contributing to his lack of consistency at the plate. Now, he has seen his numbers bounce back to the levels that made him such a dangerous hitter.
Batted Ball Data
It's no secret that Yelich's greatest shortcoming over the past few seasons has been his substantial ground ball rate. In fact, being among the league leaders in ground ball rate continues to be an issue for him this season. Among qualified hitters, Yelich's ground ball rate of 56.7% is the second-highest in Major League Baseball.
However, he has still made a marginal improvement in that area this season despite being near the top of that list. He has made a step in the right direction by cutting his ground ball rate by 2.4% from a season ago, and he has increased his line drive rate by over three percent from 2022.
Not only has Yelich managed to hit more line drives, but he has been exceptional at driving the ball to the opposite field. The percentage of his batted balls that he has hit to the opposite field sits at 31.7%, which is a career-high and a 4.1% jump from last season. His opposite-field rate is also the ninth-highest among qualified hitters in MLB.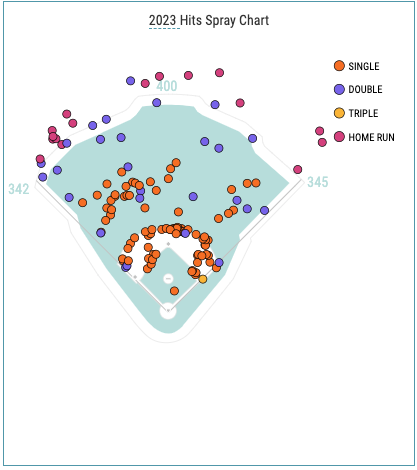 Yelich's spray chart captures how well-rounded of a hitter he has been this season. He has been excellent at driving the ball into open parts of the field, and his power has been dispersed all throughout the outfield this season.
It's encouraging to see a version of Yelich that can produce both pull-side and opposite-field power, and it is a recipe for sustainable success.
Final Thoughts
It has been a particularly interesting bounce-back season for Christian Yelich. It doesn't appear he has made any fundamental changes to any major aspect of his swing or approach. Still, it's intriguing to see Yelich improve in certain aspects of his game while continuing to do what he has done best: generate strong contact, limit strikeouts, and walk at one of the league's most efficient rates.
This season has been, without a doubt, the closest thing we have seen to MVP Yelich since 2019. He has shown flashes of the player he once was over the past handful of seasons, but he has struggled to put it together for the entirety of a season – until this year.
Yelich is now leading the charge in Milwaukee's pursuit to recapture a division title, and he has been the Brewers' most valuable offensive weapon. While he hasn't quite reached the level of stardom that the game became accustomed to in 2018 and '19, this season is an indication that, when things are clicking, he still has the ability to be one of the game's most dangerous lefty bats.