Analysis
Carlos Correa Lands with Twins on Six-Year, $200 Million Deal
For the third time this offseason, Carlos Correa has agreed to terms on a new contract, this time returning back to the Minnesota Twins.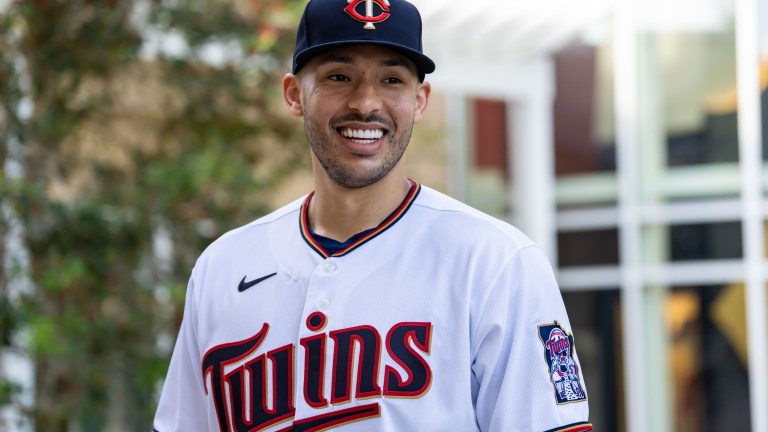 The Carlos Correa saga has finally come to a close, assuming the Minnesota Twins don't become the third team to have a problem with his physical.
That should not be an issue though, as all reports indicate that Correa will in fact remain with the Twins and on a contract that guarantees him over $100 million less than the first two contracts he signed this offseason.
Correa's new contract is a six-year deal, worth $200 million, with vesting options that could take the total value of the contract to $270 million. The Giants had previously agreed to sign Correa to a 13-year, $350 million contract before having an issue with the physical, before the Mets agreed to pay him $315 million over a 12-year pact.
At the end of the day, the ankle issue that concerned teams significantly hampered his value, as he lands on a contract half as long as those initial deals. With that said, if Correa stays healthy this can still work out fine for him.
He is set to make $33.3 million per season over the next six years. The initial AAV he got from the Giants was $26.9 million, then it went down to $26.2 million with the Mets. The shorter deal has brought the AAV up by a nice bit and the vesting options could bring the total value closer to what he was expected to get originally.
Correa has four vesting options after his initial six-year pact with the Twins, which will reportedly be picked up based on plate appearances in the previous season. Ultimately if all of them vest, Correa is looking at a 10-year, $270 million deal, with an overall AAV on par with the original deals he signed, but for a few less years.
Ultimately the Twins get their guy back, giving them a much better chance of contending this year. Meanwhile the Mets are now left to pivot if they truly want to improve their offense prior to Spring Training.