Analysis
Staff Debate: Has Brian Cashman Lost His Touch?
How much of the Yankees' failures should fall on Brian Cashman?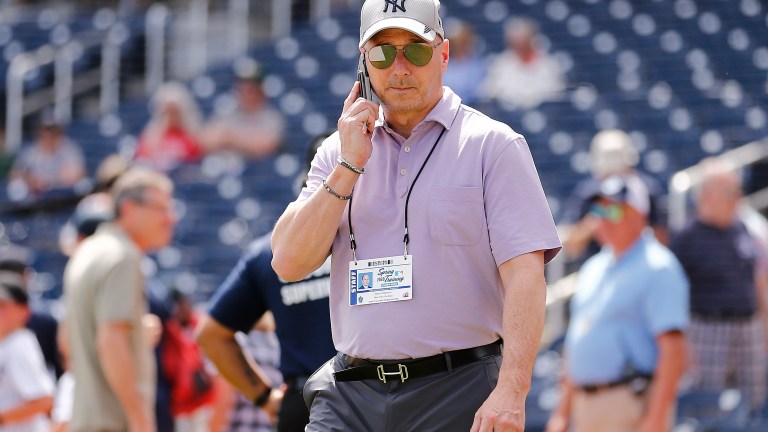 Get ready for this one, true believers: The Yankees are, indeed, in trouble! Despite heading into the season as one of the American League's favorites, and even a World Series contender, the Bronx Bombers have been an amalgamation of misery in 2021. They've been meme'd, roasted and toasted, and — much due to the crazed media market they inhabit — become one of the most talked-about stories in all of baseball. Is this good? Probably not! Are we still going to talk about them? Yep!
An important note to preface with is that Cashman is a very accomplished GM, having won four World Series titles since he took over in 1998. That being said, the Yankees have not won a title since 2009, and the conversation as to whether Cashman has lost his touch.
The Yankees being bad isn't exactly a tragedy, but rather a comedy, so I thought it'd be fun to debate whether or not Brian Cashman — the team's general manager for more than 20 years now — has lost his touch. Believe it or not, I'll be defending Cashman in this little debate, and I'll be joined by Aram Leighton, the founder of this here magnificent website, who will be attempting to rip him to shreds. Lets party!
Aram: So tell me why you want to defend the guy with the easiest job in sports?
Javier: Probably because I hate myself? What do you want from me? Plus, counterpoint, are we sure it's the easiest job in sports?
Aram: It's probably not the easiest, but man I'd love to be a GM with a limitless payroll.
Javier: That's true! At the same time, though, I've always had this feeling that while it's certainly not on the level of being the GM of, say, the Kansas City Royals, I think there's a different kind of difficulty. Yankees fans get rabid after one year of being non-competitive, which might put pressure on you to spend so much during free agency even when you're not high on the particular guys available. Like, remember the Jacoby Ellsbury signing? That off-season felt a lot like some pressure was added to make an attempt at being competitive.
Aram: No doubt, there is a level of impatience and pressure that most other teams don't have. That being said, the current roster construction of the Yankees blows my mind. He built the roster like I would on MLB The Show when I was 13-years-old.
Javier: I'll concede on the outfield construction; they potentially stymied the growth of Clint Frazier, who they were for some inexplicable reason obsessed with calling up, seeing him succeed for week-long stretches, and then sending him back down as soon as he had his first 0-4 game. Like, imagine if you made me take multiple month-long English courses and allow me to write for the site only until one of my articles didn't reach x amount of views!
Wait a minute, I'm not helping my client's case here, am I? Oh dear, I'm getting cooked already! Your honor, please disregard the previous statement!
Aram: Thank you for that. The Frazier trade rumors were endless, they managed him poorly, but I think the struggles are on him. My issue with the Yankees is that outside of DJ LeMahieu, it is a lot of swing and miss guys. The defense is terrible, the pitching is meh. How do you not have a competent left-handed bat in your lineup? If you are trading FOR Roughned Odor, then you know you are down bad.
Javier: I think you're down ATROCIOUS if you're relying on Rougned Odor.
Like, maybe I'd be able to rely on him in a fight — unlike, say, Frank Kaminsky — but otherwise, I think it speaks volumes. Remember when they had Jay Bruce for five minutes? My mom has a conspiracy theory that people like to just come to the Yankees at the very end of their careers (think Kevin Youkilis) just so they can have the chance to make those New York connections.
Aram: The 2013 Yankees are the best example of that. They had Vernon Wells, Travis Hafner, Lyle Overbay, Hiroki Kuroda, Ichiro and Alfonso Soriano haha. But, my issue with the Yankees as well is that they have been baseball's worst drafting team since Cashman took over. I understand they are drafting in the back of the first round often, but their draft history is GRIM.
Look at that! Like… dude…
Javier: Not great! Like, you know how the Patriots have been terrible at drafting wide receivers the last decade-plus? It's kind of like that except literally any kind of player. But I will say with the current Major League roster – because come on, they're the Yankees, screw the draft rules they have money – isn't it on some level the players' responsibility to simply execute?
Even non-Yankees fans said they should extend DJ and he hasn't done well for much of the year, Chapman hasn't just declined, but imploded, Frazier shouldn't have been THIS bad, and it's not necessarily Cashman's fault that Tanaka elected to go back to Japan! Plus, who expected Boston to be THIS good? I know the sports gods seem hellbent on making us suffer through another Boston team being good, but they came into the season with barely anything resembling a rotation. Is it Cashman's fault that everything has worked out for them?
Aram: I agree, there has been some misfortune. What stands out to me is the lack of balance with the team. They just acquired Tim Locastro, but before that had essentially nobody in the top 20% in sprint speed. The defense was ignored as well and there's no depth. But what I really didn't like is the forced move for Jameson Taillon. They gave up a DUDE in Roansy Contreras, one of my favorite prospects this year, as well as some solid complementary pieces (Canaan Smith, Miguel Yajure) for a struggling arm who is more of a back-end guy. Having Judge, Stanton, Voit and Sanchez is entirely redundant. The word I like to use is balance, and the Yankees have none of it
Javier: Is balance really your favorite word? I haven't heard you use it before. And no, I'm definitely not just deflecting from your points now.
Aram: When describing a roster, absolutely! See the Athletics.
Javier: Glad you brought them up! Here's my last defense: at least Cashman does have a championship, albeit from more than 10 years ago, and you can't say that about the A's.
But more importantly, maybe Cashman is a little like the Houston Rockets with James Harden? Have they had epic fails? Yes! But also, they were a good, often times great, team that just happened to lose to the Warriors every year. It's not like the Yankees have repeatedly been losers these last bunch of years. If one or two playoff games go the right way, we're not having this conversation. I'm not saying he's an elite GM, I just don't think he's the worst GM.
Aram: How often does a team with a top five in payroll finish under .500? Like, there are expensive teams who underachieve all the time, but it's pretty hard to be terrible when you're the Yankees. They don't develop their own talent anymore, they draft poorly, and now you have an unbalanced big league team with a meh system and not a lot of financial flexibility!
Javier: That's fair enough. So can I say it?
Aram: Say it.
Javier: I was 100% just trying to play devil's advocate and only believe, maybe, 15% of what I said. Send Brian Cashman to the Night's Watch.