Analysis
Boston Red Sox Trade Deadline Guide
The Boston Red Sox are close enough in the Wild Card race that they could buy at the trade deadline, or they could go the other way and sell.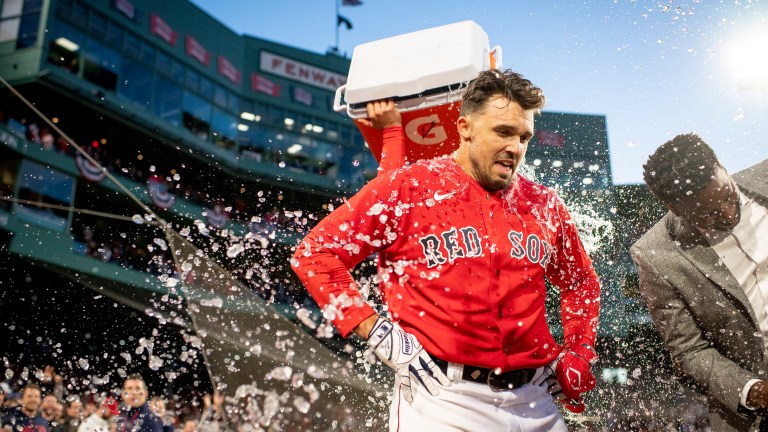 The first half of the Red Sox season was a roller coaster of ups and downs. At times they looked like real contenders and at other times it seemed they were on their way to a second-straight last place finish in the AL East.
A hot streak going into the break put Boston back above .500 and as it currently stands they're only three games back in the Wild Card race. If they stay in that range, it's likely the Red Sox will be looking to add at the deadline.
A series of injuries has left a big question mark around the starting rotation, so adding an arm there should be their top priority. They would also heavily benefit from adding a middle infielder and possibly another bullpen arm. In addition to buying, the Red Sox also have a couple of players they could flip.
2023 Trade Deadline Candidates
| | | | | | |
| --- | --- | --- | --- | --- | --- |
| | 2023 | 2024 | 2025 | 2026 | Notes |
| Lucas Giolito | $10,400,000 | UFA | | | |
| Michael Lorenzen | $8,500,000 | UFA | | | |
| Eduardo Rodriguez | $14,000,000 | $18,000,000* | $16,000,0000* | $15,000,000* | *Opt Out |
| Rich Hill | $8,000,000 | UFA | | | |
| Joe Kelly | $9,000,000 | $9,500,000* | UFA | | *Club Option |
| Michael Fulmer | $4,000,000 | UFA | | | |
| Paul DeJong | $9,000,000 | $12,500,000* | $15,000,000* | UFA | *Club Option |
| Tim Anderson | $12,500,000 | $14,000,000* | UFA | | *Club Option |
Numbers from Spotrac
Starting Pitchers
Starting pitching has been one of the Red Sox biggest struggles this season. Injuries have been a big issue and its still unknown when Tanner Houck, Garrett Whitlock and Chris Sale can rejoin the rotation. Their current four man rotation plus a bullpen day will not be sustainable down the stretch.
In terms of who the Red Sox can add to the starting rotation, it depends on what they want. If they're looking for a rental, Giolito, Hill or Lorenzen could be solid options.
With the exception of a few starts, Giolito has been a solid pitcher for the White Sox this season, and he's been one of the most talked about names for this year's deadline.
With a 3.96 ERA and 122 strikeouts, Giolito could provide the Red Sox with exactly what they need, a middle-of-the-rotation starter that gives them a chance to win the game. As an added bonus, he could be bundled with Kelly or Anderson and allow the Sox to fill two needs with one trade.
Alternatively, the Red Sox could chose to reunite with Rich Hill. This season, he's posting similar numbers to what he did with the Red Sox last year. He's proven he can hold down the fort as the fifth man in the lineup and he's familiar with this team. He's also the guy the Red Sox could get without having to give up any major prospects in return.
Detroit has two starters Boston could go after. If they're just looking to get through the year, Lorenzen is a great fit. Coming off his first All-Star selection, Lorenzen has a 3.75 ERA and 73 strikeouts. He would definitely add to the Sox rotation and could be used in the bullpen if need be.
But, if the Red Sox are looking for a pitcher for this year and beyond, they may be interested in bringing back Rodriguez. Before being sidelined with an injury, Rodriguez was having a great season, posting a 2.70 ERA and 153 strikeouts. If he comes back looking like he did to start the season, he could be huge for Boston.
However, it's a risky trade considering he could opt out after this season. Or, if he comes back not looking like himself, the Red Sox could be stuck paying him $49 million.
Relief Pitchers
The Red Sox aren't in a terrible spot with their bullpen, but adding another arm never hurts. Especially since the Sox need to win as many games as possible to make the Wild Card. Fulmer is an obvious choice. He got off to a rough start, but has turned it around as of late. Since May 28th, he has a 1.34 ERA over 20 1/3 innings. He'd add a lot of value to bullpen at a good price.
Another interesting option is Joe Kelly, who spent several years in Boston and won a World Series with them. He's had a lot of injury trouble this season but has been good enough when he's the field. The Red Sox could really use another right-handed arm and with a club option coming up, they don't have to commit to him past this season.
Middle Infielders
Even with Trevor Story on his way back, the Red Sox still need to find a dependable player for the middle infield. The White Sox Tim Anderson could be a possible fit.
While, Anderson is not having the best season, he's a solid defender. The Red Sox need his defense much more than need his bat. He'll come at a cost, but if it pans out Boston could have him next season as well.
A more affordable option would be Paul DeJong. Once again, DeJong would be more of an asset to the Sox in the field rather than at the plate, but he is slashing some of the highest numbers in his career at the moment.
A change of scenery could bring those numbers even higher. With club options the next two seasons, his contract is team-friendly and the Red Sox could keep him around as long as they need.
Players the Sox Could Move
The way Boston has operated the past few years, it's likely staying under the luxury tax is a priority. If they decide to go after some more expensive players, they have a few players they could move to free up salary. Kike Hernandez, Justin Turner and Adam Duvall are all older guys on the last years of their contracts.
Although he's beloved in the clubhouse, Hernandez doesn't have the value to the Red Sox he's had in previous seasons. A team in need of help in the outfield could benefit from picking up Kike. Turner and Duvall have been big contributors to the Red Sox offense this season. But if Casas and Duran keep their production up, the Sox could afford flip Turner and Duvall if they needed to.