Analysis
Boston Red Sox Top Prospect Wilyer Abreu Shines in Debut Series
Called up to replace Jarren Duran, Red Sox top prospect Wilyer Abreu made a great first impression playing in his first series this week.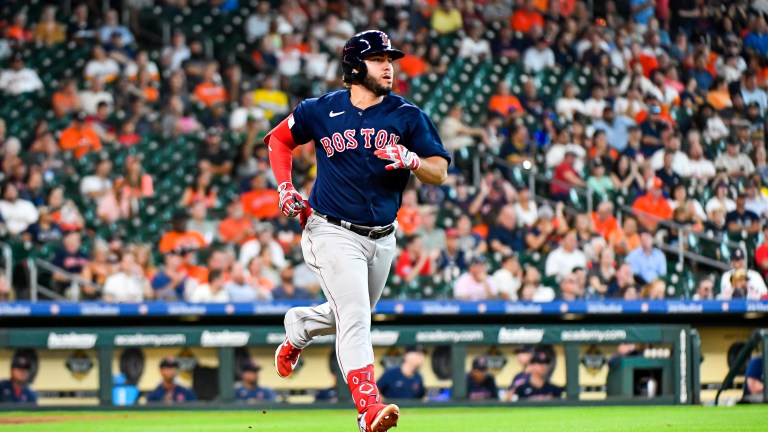 On Tuesday, the Red Sox placed Jarren Duran on the 10-day IL with a toe injury, and called up Wilyer Abreu. The 24-year-old outfielder was signed with the Astros in 2017 as an international free agent. He came over to the Red Sox last season as part of the Christian Vazquez trade.
He's spent this season in Triple-A Worcester. In 86 games he slashed .274/.391/.539 with 22 home runs, 65 RBIs, and eight stolen bases. He put similar numbers the year prior when he split his time between Houston and Boston's farm systems.
In addition to having solid numbers at the plate, he's also proven to be an extremely disciplined batter. In 2022, he was one of only five minor leaguers to walk over 100 times in a season.
After being called up, Abreu was set to make his debut on Wednesday. However, after Alex Verdugo was ejected in the fourth inning of Tuesday's game, Abreu got his shot a day early. His first major league hit, a double, came in the seventh inning with his family cheering him on in the stands. He later added a single in the ninth.
It's fitting Abreu's debut came at Minute Maid Park, against the organization he's spent most of his career with. However, it was actually the Red Sox who were first interested in signing Abreu. Boston intended to sign him in 2016, but were barred from doing so for violating the MLB's rules regarding signing bonuses.
When Abreu thought he was going to Boston, he developed a close relationship with Red Sox Assistant GM Eddie Romero. After Abreu eventually signed with Houston, Romero prophesied Abreu would one day be traded to Boston.
"I didn't know that [Romero] was going to do the things that he told me," Abreu said. "But he did, so I'm very happy to be here."
After going 2-for-3 with a double and runs scored in his MLB debut off the bench, Abreu struggled in his first career start, going 0-for-4 on Wednesday. He fared far better in his second start though.
Playing Thursday afternoon, Abreu went 4-for-5, beginning his day by hitting a mammoth 431-foot two-run homer.
Though he can play all three outfield positions, Manager Alex Cora said they intend to use him primarily as a center fielder. The team is still awaiting more information on Duran, but it's likely he will be out longer than the minimum 10 days.
It's an unfortunate loss for the Red Sox as they fight to secure a Wild Card spot, but it does provide a good opportunity to see Abreu in high-pressure situations.
It'll be interesting to watch how things play out for Abreu as the season draws to a close. He's coming up in a tough spot, as the Red Sox have a fairly difficult schedule remaining. But he's excited to be in Boston and hopes to make an impact.
"I feel this is incredible news for me," Abreu said through a translator after his call up. "It's great news for me. It's a dream come true. This is what I always dreamed of, to be able to play the best baseball in the world… I feel great to be here and I'm grateful for this opportunity."