Analysis
Bobby Miller is Helping the L.A. Dodgers Stay Alive in the NL West
With the D-backs surging, the Dodgers are asking a lot of rookie Bobby Miller to keep them afloat while they deal with an injured rotation.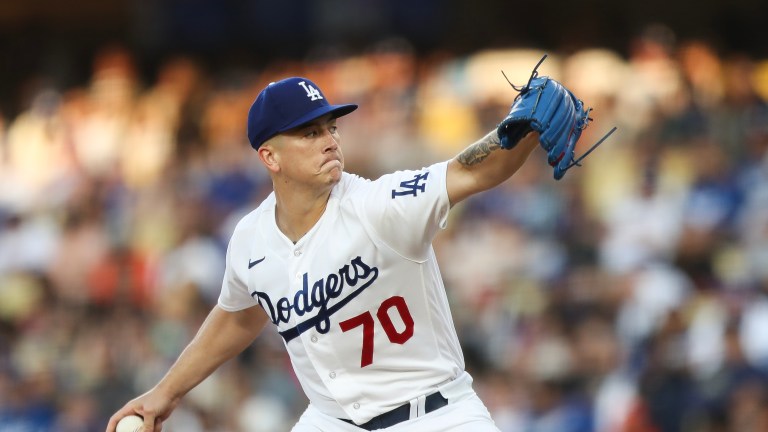 The name Bobby Miller has been known by Dodgers fans for a few years, as the 2020 first rounder quickly ascended prospect boards and entered the season as a top-five prospect in the system. However, few would have imagined that so much would be asked of the 24-year-old so early in his career. 
The team, though, and in particular the starting rotation, has been absolutely decimated by injuries. Front-end starter Julio Urias has missed significant time, as have other projected rotation pieces Dustin May (60-Day IL), Noah Syndergaard (15-Day IL), and Ryan Pepiot. This is all in addition to Walker Buehler, who is still rehabbing from Tommy John surgery.
To make matters worse for the Dodgers, the Arizona Diamondbacks appear to be several years ahead of schedule as their youth movement is playing out at the big league level.
With Corbin Carroll cementing himself as a true superstar and a one-two punch of Zach Gallen and Merrill Kelly at the top of the rotation the snakes have been incredible to start the season and taken over the top of the division. 
The San Francisco Giants, too, are outperforming expectations and sit in second place in the NL West, and the Padres are too good not to turn their season around. In short, the NL West is proving to be one of the toughest divisions in baseball, certainly not one you would want to be in if you have a plethora of injuries in your starting rotation like the Dodgers.
Enter Bobby Miller, the man keeping the Dodgers afloat out west. He has lived up to the hype (and then some) so far in his young major league career. Through his first five starts he sits at 3-1 with a 2.83 ERA, incredibly impressive for a youngster asked to help save the season of one of the most dominant franchises in the game. He has only given up one home run through his first 28.2 innings, has 8.8 K/9, and a dominating 1.01 WHIP.
Miller's underlying numbers are equally impressive, as he sits above the 80th percentile in expected batting average and expected slugging, and is above league average in average exit velocity, hard hit percentage, barrel percentage, strikeout percentage, chase rate, fastball spin, fastball velocity, and extension. If all of this is not enough to show that has dominance has not been a fluke, he has a 2.93 FIP, indicating his ERA is not likely to fluctuate significantly.
All five pitches for Miller (four-seam fastball, sinker, slider, changeup and curveball) perform well above league average. His change-up, four-seam, slider, and curveball all have more horizontal movement than league average, and his curveball and slider also have more vertical movement than league average as well.
Opponents are hitting under .200 against all of Miller's pitches, with the exception of his fastball, which he only throws 13% of the time. His sinker, which sits at a ridiculous 98.6 mph, has been particularly devastating for hitters, as he has thrown it 164 times and has only allowed seven hits, six of which were singles.
His curveball, changeup, and slider have whiff rates of 40%, 37.5%, and 36.4%, respectively. To have secondary pitches this dominant is a testament to just how good Miller has been and shows he is more than just a young fireballer, but instead has the repertoire of a much more experienced starter.
Whether Miller's heroics will be enough to allow the Dodgers to repeat as NL West champions remains to be seen, but the youngsters dominance has to be encouraging for Dodgers fans as they watch the next generation of their dynasty break into the big leagues with such massive success.