Analysis
Best Remaining Free Agents At Each Position And Where They Might Land
While most of the top free agents have signed, there are still plenty of veteran players left on the market that could help teams in 2023.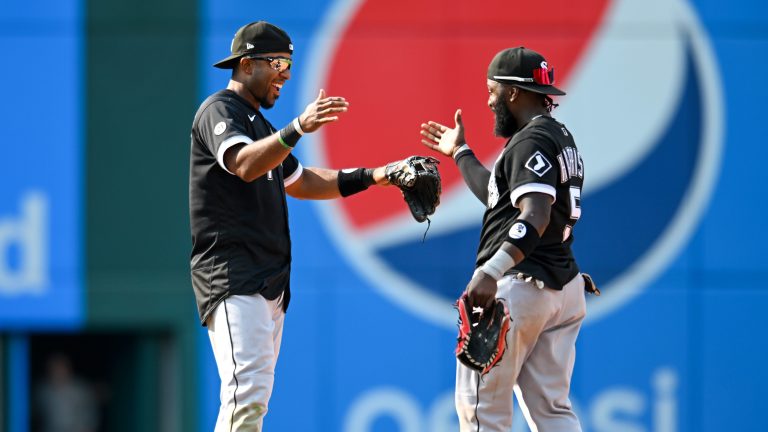 Aaron Judge and Carlos Rodon are Yankees. Carlos Correa is probably going to be a Met and Michael Conforto finally found a team! The Rangers are building a sneaky good rotation. A lot of teams have been busy, but there are a few gems that remain!
The marquee players have all signed, and we've even seen a few trades. With that said, plenty of valuable players are still available that fit enough teams who need to spend. We'll list the best players at each position and my educated guess of where they are going.
Catcher: Gary Sanchez
The 30-year-old catcher is not what he once was, but he can still be a valuable player for a team in 2023. We most likely will never see Sanchez replicate his 2017 season, where he rocked a 131 wRC+ with 33 home runs, but he's still a good enough catcher to warrant a starting role. He improved on defense from 2021, recording a positive defensive WAR with one defensive run saved. He also had bad batted-ball luck from last year, contributing to the lack of power.
Sanchez is a catcher who should age well with the new rule changes involving robot umpires. His arm strength is still in the league's upper echelon, and I believe he has 20-25 home run power. The Red Sox's catching situation is less desirable, and they could use a bat, Sanchez checks both boxes.
Other Possible Suitors: Miami Marlins, Houston Astros
First Base: Brandon Belt
Belt is an interesting case because it's challenging to project a player who can't seem to stay on the field. He's had back-to-back seasons of playing less than 100 games and was a slightly below league average hitter last season. In 2021, he was one of the best hitters in the National League when he was on the field.
While he has been banged up, his exit velocities indicate the bat still has some juice left. At his worst, he's a fine defender with elite plate discipline, recording a walk rate above 12% over the past four seasons. Teams should be wary of signing him to a deal beyond a few years because he did have his third surgery on the same knee. The Marlins have Garrett Cooper listed as the starting first basemen, and if they signed Belt, could create a well above-average platoon at the position.
Other Possible Suitors: San Francisco Giants, Chicago Cubs
Second Base: Josh Harrison
While his All-Star days are long behind him, Josh Harrison has continued to re-invent himself across what has really been a great career. After a few bad years in 2018 and 2019, Harrison has bounce back to post three consecutive season with a wRC+ of 98 or better.
While that might not move the needle towards winning a championship, league average production is still hard to come by. Harrison brings versatility to play second or third and can even still play left field in a pinch. Even at 34 years old, Harrison can be a quality bench piece on a good team, or an innings eater veteran starter on a rebuilding team.
A move from the South Side of Chicago to the North Side could be a good spot for Harrison, allowing him to back up the new middle infield combination of Dansby Swanson and Nico Hoerner, while also taking some playing time from Patrick Wisdom at third base.
Other Possible Suitors: Washington Nationals, Kansas City Royals
Third Base: Brian Anderson
Evan Longoria could be the answer, but I'd rather take a stab at Brian Anderson if I'm running a team. Anderson is projected to have a higher fWAR in 2023, is eight years younger, and can cover a corner outfield in a pinch. The problem with both is health, as neither has played over 100 games in the past two seasons.
Before the injuries, Anderson was an above-average hitter with 20 home run pop. He isn't far removed from a 120 wRC+, and the batted ball data indicates he still has at least some of that in him. I'd like to see the Tigers make some noise, especially at third base after losing Candelario. Austin Meadows has some clear injury concerns, so you can slot Anderson in left if needed.
Other Possible Suitors: Kansas City Royals, Washington Nationals
Shortstop: Elvis Andrus
Andrus isn't the only starting-caliber shortstop available, but he was the best in 2022. His resurgence with the White Sox was fun to watch, recording a 3.5 fWAR in 2022. That was higher than Jeremy Pena, Jorge Mateo, Amed Rosario, and Javier Baez; I could keep going. He was a bit lucky with the bat, but he's still a solid player, even if he regresses.
He probably won't hit 17 home runs and steal 18 bases, but I think 10 of each is the floor. He can play short or second and would be a great player to sign on a short-term deal before ushering in a top shortstop prospect. The Diamondbacks feel like a perfect fit, as Jordan Lawler isn't quite ready and they don't have a good option right now. He's played over 140 games in the past few seasons and is just 34 years old.
Other Possible Suitors: Chicago White Sox, Cincinnati Reds
Left Field: Jurickson Profar
This is one of the deeper positions in free agency, as AJ Pollock, David Peralta, and Tommy Pham are all available to be signed. I'll side with Profar as the best due to his age and versatility. Profar recorded a 110 wRC+ last season with 15 home runs and a walk rate above 11%. A former top prospect, Profar's defensive abilities are a question mark, but he's not a black hole out there. I appreciate Profar because he makes a lot of contact and had the highest Hard-Hit rate of his career in 2022. I'd like to see the Nationals add an outfielder, even though they have some talented prospects coming up. Profar would replace Alex Call in left field, who is more suited for a bench role.
Other Possible Suitors: Milwaukee Brewers, Atlanta Braves
Center Field: Rafael Ortega
This position is easily the weakest when it comes to available free agents. Rafael Ortega has the highest projected fWAR of them all at 0.6. He will not drive ticket sales, but he can still contribute. Ortega did have a 122 wRC+ in 2021, and while that may be his peak, he can still be a league-average hitter.
If given a starting role, I wouldn't be surprised to see him hit 10 home runs and steal 10 bases. He also could be a really high-end fourth outfielder on most teams. The Reds have Nick Senzel as their starting center fielder, with Stuart Fairchild as the backup. Why not add Ortega to the fold who could benefit from playing in the ballpark?
Other Suitors: Colorado Rockies, Boston Red Sox
Right Field: Robbie Grossman
Fans of Just Baseball know that I'm a Robbie Grossman guy. Grossman was one of five players in Major League Baseball who had 20 home runs, 20 steals, and a walk rate above 11% in 2021. He did have a down year last year, but when he was traded over to the Braves, we saw an uptick in production. If he goes to a contender, he would be a great switch-hitting bat off the bench but could also be an everyday player for a team that isn't on the brink of contention.
The Blue Jays make a lot of sense to me as they have their outfield figured out but no great options on the bench other than Whit Merrifield, who could be seeing plenty of time at second base. Varsho, Kiermaier and Springer looks great on paper, but with the latter two having injury concerns, some depth could be nice to have to make sure you get through the regular season.
Other Possible Suitors: Atlanta Braves, Colorado Rockies
Designated Hitter: Trey Mancini
Trey Mancini's market seems dry now, and I understand why. Once he was traded to the Astros, he recorded a 77 wRC+ and was absent in the playoffs, slashing .048/.125/.048 in eight games. He may be on his way down, but I'm willing to lean on a larger sample of above-average offensive production. He still posted above-average exit velocities with a hard-hit rate above 40%. He's more of a DH at this point, but he's a player you could slot at first base or a corner outfield spot. He'll be 31 years old on Opening Day and is a fantastic clubhouse presence. I'd like to see the Mariners add Mancini to relieve Kellenic if he struggles and play some DH if Tom Murphy doesn't replicate his 2022 success.
Other Possible Suitors: Washington Nationals, Chicago Cubs, Miami Marlins
Starting Pitcher: Johnny Cueto
Johnny Cueto and I have a history. I couldn't figure this man out when it came to gambling on White Sox games because he continually outperformed his underlying metrics. At 37 years old, Cueto can still get outs in a rotation. While he doesn't strike out many hitters, he doesn't walk anyone and limits the long ball. He's due for some regression, but a 4.00 ERA over 150 innings is completely reasonable, and that makes plenty of teams better. The Baltimore Orioles have failed to address the rotation outside of adding Kyle Gibson and could use a veteran like Cueto.
Other Possible Suitors: Houston Astros, Philadelphia Phillies
Relief Pitcher: Andrew Chafin
This one is puzzling to me. Why hasn't Chafin been swooped up by anyone yet?
Chafin has been one of the best relief pitchers in baseball over the past two seasons. He's 20th in fWAR among relievers since 2021 with the 10th-best ERA and 26th-best FIP. He doesn't light up the radar gun, but nearly 80% of the outs he recorded last year were groundballs or by the strikeout. He's also left-handed, which many bullpens could use as a different look. The 32-year-old also has closing experience which is a bonus. I think the Yankees are a great fit after the departure of Aroldis Chapman and Zach Britton, as they only have one lefty in their bullpen.
Other Possible Suitors: Toronto Blue Jays, Minnesota Twins