Analysis
Dominant Start From Astros Hunter Brown Headlines Big Week of Pitching Debuts
Young arms continue to toe big league mounds, and several debuts over the last week should have fanbases giddy for what's to come.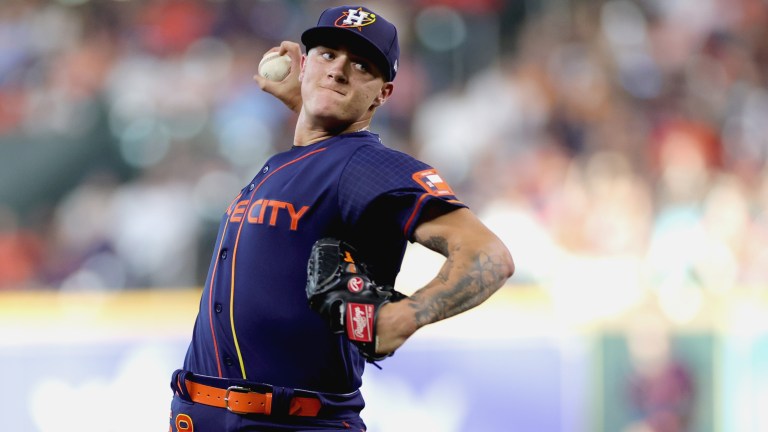 We've reached the part of the MLB season where rosters expand and prospects are either brought up to help the big league club make a playoff push or to get their feet wet on a team out of contention.
The last week has been filled with plenty of both, including sparkling outings from Astros top prospect Hunter Brown and former Diamondbacks second round pick Ryne Nelson. Both Louie Varland of the Twins and the Hayden Wesneski of the Cubs dazzled in their debuts as well.
Hunter Brown's Coming Out Party
6 IP, 3 H, 0 ER, 1 BB, 5 K
The Astros top prospect has enjoyed a spectacular 2022 season thanks to improved command and an uptick in his already explosive stuff. A fifth round pick out of Division II Wayne State University in 2019, Brown missed bats in bunches right out of the gate, but also had the tendency to miss the zone too often.
Brown has posted his lowest walk rate of his career this season, which has continued to dwindle as the year has gone on. His average fastball velocity has also jumped a tick, while he has adjusted his slider to be sharper at a higher velocity.
The fastball for Brown now averages 96 mph with riding life, but more importantly, he is hitting his spots with the pitch. His improved fastball command sets up his two breaking balls and allows him to tunnel more effectively.
Last season, Brown often got burned by fastballs bleeding back over the middle of the plate, resulting in 12 homers surrendered in 100 innings. His east/west command of his fastball has helped him induce weak contact and limit the catastrophic mistakes, surrendering just five homers in 112 innings between Triple-A and the big leagues.
Being able to use his fastball however he and his catcher Martin Maldonado want ideally sets up the rest of his electric arsenal. In the clip above, Seager whiffs under a 98 mph fastball for strike two, forcing the veteran to be weary of the pitch 0-2.
Brown has smoothed ouy his mechanics and delivery, repeating his release point and arm speed making it difficult to differentiate his fastball from his breaking balls, especially when he establishes the heater at the top of the zone like he did with Seager.
The spiking curve has become Brown's go-to pitch against lefties, while his improved slider has become a much more reliable pitch for him against right-handed hitters. After operating more in the upper 80s with the pitch last season, Brown's slider has sat in the low 90s with sharper bite.
Brown has evenly used the two breaking balls this season, but favored the curve in his start against the Rangers due to the lefty-heavy lineup the team featured. The same plan of attack works against right-handed hitters, using the high spin fastball at the top of the zone to set the tone.
When you hear a fastball described as "high spin" or with "ride", the video above is exactly why those two characteristics are so coveted. Naturally, Duran expects this fastball to drop into the strike zone, but Brown's heater possesses more life than the average fastball and stays on a line above the zone.
Similar to what the pitch achieved with Seager, Duran is now cognizant of the potential that Brown could go back up there again after his half-hearted swing.
Instead, Duran gets a 92 mph slider which he likely thought was a fastball until it was much too late. When a hitter feels rushed by a fastball, they often feel like they have to make their swing decisions a bit earlier. The earlier the swing decision, the more likely it is going to be the wrong decision.
Brown also has a split-change that he will sprinkle in, but it lags behind his other three offerings. There's not necessary a massive need for Brown to develop the changeup because of the effectiveness his curveball has against lefties as well as his comfort to mix in both breaking balls to both lefties and righties.
The Astros have done an incredible job developing pitchers over the last few years and Brown looks to be the latest example. His outing against the Rangers is likely a taste of more to come. He still has his moments where the command can go to the wayside like many young pitchers, but I think we can get used to this version of Hunter Brown.
Louie Varland Impresses In Big League Cameo
5.1 IP, 3 H, 2 ER, 1 BB, 7 K
Desperate for starting pitching due to a litany of injuries, the Twins promoted 24-year-old starter Louie Varland to make a spot start against the Yankees. Aside from a homer allowed to Aaron Judge (who he also struck out), Varland was as good as could be.
Varland has followed up last year's breakout season with a strong year in the upper-minors, pitching to a 3.06 ERA in 126 1/3 innings with 146 strikeouts and just 42 walks. Possessing a solid three pitch mix that he commands really well, Varland pounds the strike zone and mixes up his offerings well. An uptick in fastball velocity this season has helped his average secondaries play up a bit as well from his low attack angle.
It's not uncommon for command-over-stuff pitchers to not fully trust their stuff and find themselves nibbling at the MLB level, but Varland went right after Yankee hitters and sequenced his pitches well. Varland's confidence going to his changeup right-on-right helps him avoid predictability to pick up whiffs in the zone when hitters may be geared up for the heater as Aaron Judge was in the video below.
Varland's most reliable secondary pitch is his mid 80s slider which he has used more than 30% of the time this year, holding Minor League opponents to just a .489 OPS this season.
With the jump in fastball velocity into the mid 90s and above-average command of all three of his pitches, Varland has a good chance to be a No. 4 starter and showed us that he may have a bit more in the tank in his first MLB start.
Varland was optioned back to Triple-A St. Paul as he had only pitched 21 1/3 innings above Double-A prior to that start, however the 23-year-old Minnesota native should have a chance to crack next year's rotation for the Twins.
Ryne Nelson Rides Fastball To Seven Shoutout
7 IP, 4 H, 0 ER, 0 BB, 7 K
A second round pick out of the University of Oregon by the Diamondbacks in 2019, Nelson showed off his polish from day one with the organization, quickly climbing to Triple-A to start this season. The extremely hitter-friendly Pacific Coast League was not friendly to the fly ball-inducing Nelson, who surrendered 25 homers in 136 innings this season.
Pitching in the launchpad that is Reno and basically everywhere else in the PCL inflated Nelson's ERA to well over five, but the command was there and the D-backs saw enough good things from the 24-year-old to promote him, and he proved them right.
Nelson's best pitch is his 70-grade fastball that sits 94-96 mph with as much ride or more than Hunter Brown's heater, boasting an elite 20 inches of induced vertical break. The difference for Nelson is that his breaking balls are closer to average than plus and he doesn't command either his curve or slider as well as Brown does.
Nelson didn't need to use his secondaries much at all, using his fastball on 58 of his 87 pitches. Four of Nelson's seven strikeouts came on the fastball, along with two on his slider and one on his changeup.
There's plenty of reason to believe that Nelson can get away with a higher fastball usage with the amount of in zone whiff he is able to generate, however over-reliance on the fastball will make it relatively easy for MLB hitters to adjust and work towards the top of the baseball. Especially when they don't have to fear the breaking ball as much.
For Nelson to reach his middle-of-the-rotation ceiling, he will need to improve his confidence in his secondaries. Regardless, Nelson showed us just how effective his fastball can be in a spectacular first career start.
Hayden Wesneski Carves In a Piggy Back Role
5 IP, 2 H, 0 ER, 1 BB, 8 K
It was a Wade Miley start for the Cubs, but rookie right-hander Hayden Wesneski stole the show with a lights-out five innings of relief to finish the game and pick up the win.
Acquired at the deadline in a swap with the Yankees for reliever Scott Effross, Wesneski has risen through the Yankees system quickly after a phenomenal 2021 season that saw him jump three levels, finishing the year in Triple-A.
Wesneski's 70-grade slider with 20 inches of horizontal movement has given him the floor of a multi-inning reliever, though a decent rest of his arsenal and above average command led both the Yankees and the Cubs to believe that he could profile as a back of the rotation starter.
The 24-year-old leaned on his best pitch heavily in his five innings of work, going to the slider with 26 of his 61 pitches. Even with the heavy usage, Wesneski and his slider ate Reds hitters alive in large part due to how well he set up the pitch with his heavy sinker.
The sinker features a ton of arm side run at 92-94 mph, tying up right-handed hitters as he does with Donovan Solano in the video below.
The running sinker set the stage for Wesneski's slider, which up until it the ball is about 30 or so feet away, Solano is not sure whether the pitch is going to run towards him or dive away from him. In the case below, it dove away and Solano realized just a hair too late according to the first base umpire.
Wesneski's sinker/slider combination has the potential to be a problem for right-handed hitters at the highest level and it's probably not a coincidence that he was so good against a lineup that featured eight right handed hitters.
Left-handed hitters have faired better against Wesneski in his career, though there's reason to believe that he can develop his arsenal enough to even out his splits some. The righty mixes in a four seamer that gets whiffs when elevated and has flashed an average changeup that he struggles to command but could be the missing piece.
As far as I'm concerned, Wesneski showed us just how tough he can be on righties whether it's the Reds or one of baseball's better lineups. Development of his changeup should help him keep left-handed hitters in check and would give the 24-year-old a middle-of-the-rotation ceiling.