Analysis
Are the Twins the New Kings of the AL Central?
After an active offseason that saw the Twins turn over their roster, Minnesota finds themselves atop the AL Central near the halfway point of the season.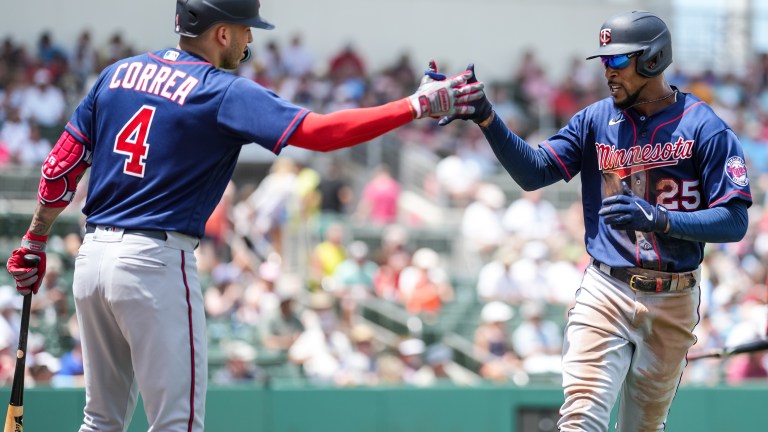 The Minnesota Twins have experienced quite the resurgence in 2022. Sitting at 44-36 atop the AL Central, they've made the best out of playing in one of the weaker divisions in baseball.
Frankly, this roster seemed mediocre at best to me entering this year. Mind you, this is a team that finished at the bottom of this division last year with 73 wins. Minnesota's offseason puzzled me, as it seemed like they didn't want to make up their minds regarding entering a rebuilding phase.
Mitch Garver was dealt to Texas. Garver, an elite level power bat that could never stay healthy being sent away was confusing. Their highest paid player, Josh Donaldson, was then sent to New York for Gary Sanchez and Gio Urshela. The veteran Donaldson was still producing at an incredible rate, and him being flipped for an average third baseman and a catcher that can't catch was… odd.
The front office then turned heads once again, acquiring starting pitcher Sonny Gray from Cincinatti's fire sale. They then added more starting pitching, dealing for Padres starter Chris Paddack. And oh, they weren't even CLOSE to being finished. What did they do, you may ask? Carlos Correa inked the highest AAV contract ever for an infielder, signing a three-year, $105 million contract with the Twins.
At first it was a rebuild. Now it's a contender? Why did they do this? What's the logic? These were all the thoughts in my head after this flurry of moves.
It was tough to imagine this team competing with the White Sox, who seemed to have a roster ready to win now. Chicago's 90-win season last year seemed like sign of things to come. But with a multitude of injuries to many starters, they've fallen off. Cleveland, Kansas City and Detroit didn't have rosters to compete now. Minnesota in many eyes could've floated between the two and four spot in this division, with Chicago remaining king. But they've taken this division by storm in 2022.
A PLETHORA of elite bats
The Twins have been able to show off their offensive skill-sets over the past few years. They set the record for most home runs hit in a season, nuking 307 home runs during 2019. While this roster only includes one player that's hit over 10 in 2022 (Byron Buxton), they've still been incredible at the dish.
Their team wRC+ of 112 is the fifth-best mark in all of baseball, ahead of teams like the Mets, Red Sox and Cardinals. They've quietly been one of the best hitting teams in baseball this season.
Adding a player with Carlos Correa's stature obviously brings its benefits to your baseball team. Correa's early life in Minnesota wasn't incredible, but he's been one of the best shortstops in baseball over the past month. The shortstop's slashed .301/.366/.479 with a 147 wRC+. He's fully made his presence felt in this Twins lineup.
Byron Buxton is FINALLY healthy. After numerous years of hot starts derailed by significant injuries, the center fielder has played 59 of the teams 79 games in 2022. Buxton has begun to sell out for power, as shown by his .305 on base percentage compared to his astronomical .571 slugging percentage. His 20 home runs lead Minnesota and is the seventh-highest tally in MLB.
Buxton's isolated power of .341 is the fourth-highest in baseball, below name such as Mike Trout, Yordan Alvarez and Aaron Judge. It's awesome to see Buxton stay on the field.
By far the biggest story out of this Minnesota lineup is utility man Luis Arraez. The Twins leader in wRC+ at 150, he's ranks near the top of a plethora of statistical categories. Arraez ranks second in batting average, on-base percentage, and 16th in BABIP.
While the first baseman hits for minimal power with just a .432 slugging percentage and only four home runs, he's a consistent on-base threat when the Twins need him the most. Arraez has been incredible at the lead-off spot for Minnesota, putting a baserunner on ahead of guys like Correa and Buxton, who can leave the yard at any time.
Guys like Max Kepler, Jorge Polanco, Gio Urshela and Gary Sanchez all have been above league average hitters this season. Kepler specifically, has been much improved, posting a 119 wRC+ for the season.
The Twins have received incredible production from a star-studded offense and have reaped the rewards because of it.
In need of bullpen reinforcements?
The Twins were dealt with numerous amounts of starting pitcher injuries at the beginning of the season. Sonny Gray, Kenta Maeda, Randy Dobnak, Chris Paddack and Bailey Ober have all experienced some sort of injury this season. Despite this, Minnesota starters have pitched to the tune of the seventh-lowest starter ERA in the bigs at 3.56.
Sonny Gray has slotted in directly as the Twins ace. He missed a significant chunk of time at the beginning of the season. But since returning, he's been incredible. Gray has accumulated 1.4 WAR in the early goings, maintaining a 2.17 ERA and an elite ground ball percentage of 45.5%.
Hell of a trade for the Minnesota front office!
Other starters like Chris Archer, Joe Ryan and Devin Smeltzer have been instrumental to the success of this rotation. In a division with both Cleveland and Chicago, two organizations who have had immense support from their starters over the past two seasons, the Minnesota rotation needs more love!
Where the real issue lies with this Twins team is the bullpen. Outside of Jhoan Duran, there doesn't seem to be a ton of reliable arms at the back-end. This would explain their team's bullpen ERA of 3.89, just the 16th-highest mark in the league. If there was a hole in this team, this would be the one to spot out.
One would only assume that this an area the Minnesota front office will look to attack come the trade deadline. If the Twins wants to become a serious World Series contender, they need to buff up. And even with Chicago getting healthier as time goes on, and Cleveland becoming even more dangerous, it could get scary. Cleveland in particular, have snagged some late wins over the Twins during the past two weeks. Twins… get some bullpen arms!
The perfect storm of rivals struggles?
Chicago was the clear favorite in this division entering play this season. Their injuries have caused them to take a massive step back, along with some insane underperformances and the ineptitude of manager Tony LaRussa at times. Cleveland didn't seem like a true threat to the division in the early goings but have been hot on Minnesota's heels recently.
Detroit spent big in the offseason and had two top prospects called up but have seen minimal results. And Kansas City is a young, re-tooling team that is still a few years away.
That's where the Twins step in.
It's the perfect storm for Minnesota. With their division rivals struggling they stepped up and have taken the division crown… for now.
While I do think the Twins will win this division, it won't be without its struggles. Chicago will be a force once their pieces come back, and Cleveland's pitching staff partnered with a much-improved offense won't be easy to take down.
However, the facts still remain. The Twins offense has been ELITE. Will they be able to keep up this same level of production, and stay healthy?
Only time will tell, but it's been a blast to watch them in this first half, and hopefully their success continues. Just buy some bullpen arms, please.