Analysis
Anthony Rizzo and Aaron Judge Powering Yankees to Fast Start
Tied for the league league in home runs, while sharing the same the lineup, Anthony Rizzo and Aaron Judge are turning the Yankees into a juggernaut.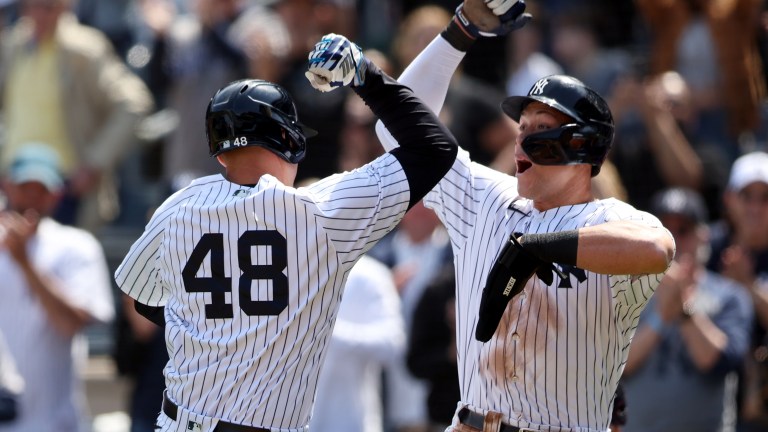 Through the first 24 games of the season, the best record in baseball belongs to the boys in the Bronx, as the New York Yankees have accumulated a league-high 18 wins thus far, coming off an 11-game winning streak.
This Yankees lineup oozes power. Topping the league with a 123 wRC+, the bats have never been more alive.
With that being said, two individuals from this Yankees team have impressed more than most and have put the league on notice during the early goings of this season.
Aaron Judge and Anthony Rizzo are two of the best hitters on the planet right now, tied for the league lead with nine home runs apiece. Combining for 18 extra base hits and 40 RBI's, this duo has been crucial to the Yankees early season success.
So, how did we get here?
Let's start with Rizzo.
Anthony Rizzo was dealt to the Bronx prior to the 2021 trade deadline filling in instantly as the Yankees starting first baseman, as Luke Voit was hampered with injuries for most of the campaign.
The long-time Chicago Cub was seen as an instant upgrade at the position, mainly due to being a significant upgrade defensively over Voit at first base, but he provided a lefty bat which gave more balance to the Bomber's order which lacked diversity. And of course, the short porch at Yankee Stadium would inevitably be very, very kind to him.
Rizzo slashed .240/.340/.428 during the latter half of the season in the Bronx, with eight home runs and an incredibly underwhelming .768 OPS in 49 games. Not terrible, but not ideal either for a Yankees offense that struggled massively during 2021.
He re-signed with the Yankees post-lockout, receiving a two-year, $32 million contract. Many Yankees fans (including myself) weren't necessarily upset with the deal, but felt disappointed with Brian Cashman and the front office, as we had spent the majority of the offseason begging and pleading for one of Matt Olson or Freddie Freeman. Two elite, top of the line first basemen who fit the same profile as Rizzo, but seemed like significant upgrades.
I now fully regret that portion of my life.
Rizzo re-signing with the Yankees might be the largest blessing in disguise that Yankees fans have received, as he's been setting the league on fire in 2022.
Like I previously mentioned, Rizzo tops the home run charts through the first 24 games, including a three-homer game against Baltimore. His 184 wRC+ ranks 10th best among hitters with at least 80 plate appearances. His 21 RBI's are tied for the fourth-best mark among all hitters in MLB, and is slashing .242/.355/.582 with a .937 OPS.
Anthony Rizzo has turned back the clock so far in 2022, reverting to a version of himself we haven't seen since his World Series win in 2016, when he finished fourth in MVP voting. He's been crucial at the top of the Yankees order, and has become a true table-setter for the current best team in baseball. Rizzo is raking, and he's put the league on notice by doing so.
Now to the other half of this dynamic duo, the 6'7" 270-pound mammoth that is Aaron Judge.
Prior to the beginning of the 2022 season, Judge declined a seven-year, $230 million extension to keep himself in pinstripes. It was a frightening thing for us as Yankees fans to see, as Judge has been the face of this team since his second place finish in MVP voting in 2017.
Judge is clearly betting on himself. He wants more money. And through his first 23 games in 2022, it looks like he'll get it.
He's done nothing but mash so far this season. Slashing .293/.356/.652 with nine home runs, 19 RBI's and a 204 wRC+, which ranks fifth highest in MLB among qualified hitters.
Tuesday night in Toronto, Judge hit his eighth home run in his last 10 games. He's rivaling the likes of Jose Ramirez, Nolan Arenado, and Mike Trout as one of the best hitters in the league this year, as all four top the wRC+ charts.
Judge ranks in the 98th percentile or above in average exit velocity, xwOBA, barrel percentage, max exit velocity, expected batting average, hard-hit percentage, and expected slugging.
To put it simply, Aaron Judge is flat out raking.
He's on a revenge tour. He wants to show the Yankees front office that he truly is one of the best players on the planet. He wants HIS payday.
And so far, he's deserved every single penny coming his way.
Judge had a nice return to form in 2021. He played 148 games, erasing the "injury-prone" narrative that has stuck with him, despite playing 100+ games every season since 2017 (excluding the shortened season). He mashed 39 home runs and finished fourth in MVP voting, winning a Silver Slugger during last year's campaign.
But this year feels so much different.
With a huge contract coming his way, this is the closest we've seen to "MVP Judge" ever since his breakout rookie campaign where he nuked 52 home runs.
With both of these guys leading the pack for the Yankees in 2022, this offense has been the scariest bunch in baseball this year, already holding a three-game lead on the second place Toronto Blue Jays, who many believed were the lock to come out of the American League this season.
Rizzo and Judge have been massive for this Yankees team. And if both keep up with this pace, the sky's the limit for the Bronx Bombers.