Analysis
Adolis Garcia's Storybook Journey to Becoming a Champion
The Texas Rangers won the World Series thanks in large part to the contributions of Adolis Garcia, who took the long road to becoming a star.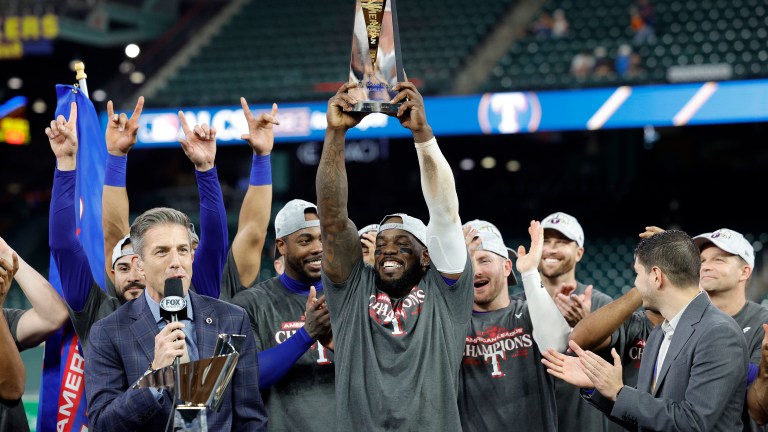 Without question, the moment of winning a world championship in your respective sport is something that most can only imagine. The feeling of hoisting the trophy, popping the champagne and embracing your teammates after putting in all of that hard work has to be unbelievable. To all that get to experience it, it has to feel like all of your blood, sweat and tears were worth it.
Everyone's campaign to get to a World Series Title is not easy. Not one single person was given the opportunity, they had to take it. For some the road was more direct, others not so much. For those that had to fight just a little bit harder, the feeling of achieving your goals is something out of a story book.
And, Adolis Garcia's face says it all.
El Bombi just finished his first postseason slashing .323/.382/.726. He also clubbed eight home runs and drove in a postseason record 22 RBI, both 2023 playoff leaders in their respective categories. The brightest stage that he has ever played on was not too much for Garcia. After all, his nickname is correlated to a light bulb and not his monster power.
The American League Championship Series MVP, now adds World Series Champion to his resume. A resume that doesn't begin once he got to the MLB in 2017 with the St. Louis Cardinals. It is one that shows resilience, and making the best out of any obstacle that gets in his way.
Growing up in Ciego De Avila, Cuba, Adolis was tagged with the nickname because of his light bulb shaped head via his neighborhood friends.
While living in Cuba, Garcia played five seasons for the Cuban National Series. But, he wanted to achieve more and follow in the footsteps of his father and older brother, who both played professional baseball. The only way to do so was to travel over to Japan.
In his first steps of overcoming the hold that the Cuban government had on him, he had to venture far to play for the Yomiuri Giants. After just one season with the Giants, Garcia defected from Cuba to gain residency from the Dominican Republic, soon establishing him as an international free agent. Now on the market to come to the MLB, the Cardinals signed him for $2.5 million in February of 2017 to a minor league contract.
He had made it to the United States and was one step closer to finding himself in the majors, but the club didn't view him as a part of their future plan.
Adolis was assigned to Double-A to start, quickly making a case for him to move up. Garcia collected himself a .285 BA and an OPS of .815 to go along with 12 home runs. After a little over 80 games played for Springfield, he was assigned to Triple-A Memphis. In his first 40 games on higher level ball, he raked. Garcia earned a .301 BA and bumped his OPS up to a .820.
He would continue his stellar start in the minors throughout his time with the Cardinals organization to 2019, along with a 17 at-bat stint in the majors to end his 2018 season. When Garcia got his chance it seemed to be a little much as he mustered up a .118 BA, one extra base hit, one RBI and seven strikeouts.
After another year of raking at the Triple-A level in 2019, the Cardinals DFA'd Adolis and later traded him to the Texas Rangers for cash. Garcia finished his final season with St. Louis with his most homers in 32, paired with his highest OPS in .818. He was ready to prove that he could be a contributor in the MLB.
But, sometimes the world has other plans.
As we are no stranger to what the world came to in 2020. Adolis only got three games in the majors for the Rangers that season to prove himself, and did not record a hit. Garcia could have been satisfied, and complacent.
Especially with the world seemingly shutting down, and getting DFA'd again, this time by the Rangers. Garcia went unclaimed and received an invitation to spring training by Texas. He did not make the Opening Day roster, but was called up two weeks later as an injury replacement.
He was given, what seemed to be, his final shot at the majors at 28 years old.
And, he did not disappoint.
Garcia, in his first full month in the majors, earned the award for AL Rookie of the Month with his 11 home runs, 27 RBI and .633 slugging percentage. Adolis had started to make a name for himself, and just kept growing as a player. El Bombi continued with his success. At the halfway point in the season m, he received the nod for All-Star replacement. He'd finish the season with 31 home runs, which lead the team and is the second-most he has hit in a season.
Adolis seemed like he was reaching his most dominant form, as little had known of him before the season. Garcia, with all the success, still ranked in the bottom-five percent in K% (31.2) and bottom-six percent in BB% (5.1).
As crazy as it seemed to say at that time, there was room for him to improve. Which gave him and the Rangers more confidence for the future.
The Rangers started to make splashes in free agency as they landed top-end talent in Corey Seager and Marcus Semien to pair with El Bombi. In 2022, Garcia grew as a player, not just with eye popping stats but with his advanced analytics. Adolis ranked in the top-eight percent of the league in Exit Velocity with 92.1, raised his barrel percentage 1.4% and lowered his K% 3.3%.
The club, despite the added talent and growth by Adolis, still finished the season 68-94, fourth in their division and 38 games back from the Houston Astros. Garcia, and the Rangers, continued to grow.
The Rangers added the likes of Jacob deGrom, Jon Gary and Nathan Eovaldi. While Garcia just added to his already powerful skill set.
Garcia came ready for the 2023 season as he clubbed eight home runs to kick off the first full month of the season. Adolis was on a mission and so was the club. At the mid-way point of the season Garcia earned his second All-Star nod, first time as a starting outfielder. He sat with 23 home runs, 75 RBI and an OPS of .848.
The Rangers also sat at 52-39 at the break.
Throughout the rest of the year both Adolis and the club fought till the end of the regular season. The Rangers let the division slip as they lost the tiebreaker with the Astros both ending with a record of 90-72, but who got the last laugh.
Garcia ended the regular season with stats that seemed video game-like. The power hitter ranked in the top-10 percent of the league in Exit Velocity, Max EV, xSLG and Hard hit percentage. His power collected him 39 home runs, 107 RBI and aided with his 124 wRC+.
The stats speak for themselves, yet Adolis seemed better than his numbers say.
So, in his first postseason of his career, Adolis made sure everyone knew just how good he is.
Where do we even start? The home runs, the defense, the clutch moments? Adolis Garica did it all.
In the Wild Card against the Tampa Bay Rays, the Rangers swept the only two games needed to advance. Garcia in the pair against the Rays collected two hits, one in each game. Adolis's latter hit came in a solo shot in a blowout 7-1 win to put an exclamation point on the series.
Advancing to the NLDS, where they only needed three games to take down the Baltimore Orioles, Garcia smacked five hits. Among the five, Adolis smashed one home run and earned four RBI.
The Rangers and Garcia had a pretty easy road to the NLCS. But, pitted against the Astros, both knew the battle ahead.
In the seven games that it took for the Rangers to take down their foes, Garcia earned his first ALCS MVP award. El Bombi was in full effect as he had 10 hits, five homers and 15 RBI. Adolis had a whole team behind him, but he was a driving factor in them making it to their first World Series since 2011.
If it wasn't for a strained oblique, we may be talking about a World Series MVP for Garcia. Even without playing in all five games in the final series, Adolis made an impact. Especially in Game 1 as he walked off the game in the bottom of the 11th inning with a moonshot. Garcia won the game with a home run, and extended his homer streak to five consecutive games.
Garcia also added to his postseason highlight tape with a flash of the cannon that he has on his arm. Saving a run early in Game 2 of the World Series to make a statement.
Adolis did not muster much else in the series before going down, yet that one game proved to be a championship effort. Garcia ended his postseason with a slash line of .323/.382/.726 coupled with a wRC+ of 197.
El Bombi shined where most would have never thought he would get the chance to. The journey that this man has gone through to get that chance is beyond astonishing. Now he is a star on a team that is primed to be in contention for the foreseeable future.
So the legend of El Bombi could only be growing further in the years to come.