Feature
Adam Wainwright, Ageless Wonder
In his 16th Big League season, Adam Wainwright is putting together one of the best years of his legendary career.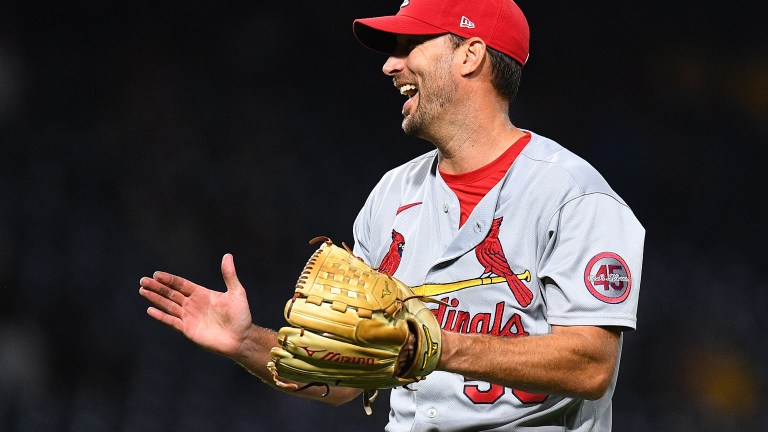 Somewhat lost in the mediocrity of this St. Louis Cardinals season has been 39-year-old Adam Wainwright's incredible 2021 campaign. The veteran righty has a sparkling 3.27 ERA (16th amongst qualified starters), 1.06 WHIP (13th) and 2.6 WAR (19th). He also has two of the 60 most valuable pitches in the sport this year, with his sinker (-10 run value) and his famous curveball (-9 run value).
Most impressively, he ranks second in all of baseball with 148.2 innings pitched, and leads MLB with three complete games. As a reminder, this man will turn 40-years-old in 18 days. And speaking of complete games, Wainwright just fired an 88-pitch, two-hit shutout against the Pirates on Wednesday night. It was the 11th shutout of his career. All-in-all, he has turned back the clock in spectacular fashion.
Postseason Hero
Our story begins in October 2006. It was nearly three years after the Braves dealt Adam Wainwright, and two other prospects, to St. Louis for J.D. Drew. 25-year-old Wainwright, then a reliever, put together an historic postseason to help the Cards to their first World Series title since 1982.
After closer Jason Isringhausen was lost for the season in late September that year, Wainwright became the team's new game-finisher. The young right-hander didn't allow a single run in 9.2 innings of work, while striking out 15 and walking just two in the playoffs. He held batters to a .194 batting average and .542 OPS in those nine appearances. Additionally, he recorded the final out of both the NLCS and World Series to seal the franchise's 10th championship.
Amazingly, Waino still has the same battery mate he had way back then: surefire Hall-of-Famer Yadier Molina. They are indisputably two of the greatest players in Cards' history. The postseason heroics didn't stop there for Wainwright. He's consistently been elite on the game's biggest stage. In 109 career playoff innings, Wainwright has a 2.89 ERA, 1.11 WHIP and 118 strikeouts. He's also allowed three or less earned runs in all but two of his 28 career postseason games. Wainwright has been St. Louis' big game pitcher for 15 years.
Elite Peak
From 2009-2014, few pitchers in baseball were better than Adam Wainwright. During that six-season stretch, he was third in ERA (2.83), FIP (2.89) and ERA+ (135). He was also a three-time All-Star over that span, and finished top three in NL Cy Young voting four times. He garnered NL MVP votes four times as well. Wainwright was also eighth in starting pitcher WAR at 25.7. He accomplished all of that despite missing the entire 2011 season after undergoing Tommy John surgery.
Wainwright was never an overpowering pitcher, instead relying on movement and command to get hitters out. Aptly nicknamed "Uncle Charlie," Wainwright has long mowed down hitters with his curveball, sinker, and cutter. His lack of reliance on velocity is almost assuredly what's allowed Wainwright to remain effective into his late-30's. He's a throwback pitcher in an age defined by how fast you throw.
Undying Perseverance
There's a grittiness to Wainwright that's hard not to appreciate. He's overcome two major injuries in his career, finding a way to return to peak form each time. As already mentioned, Wainwright missed the entire 2011 season with a torn UCL in his throwing elbow right in the middle of his prime. After pitching to a 3.94 ERA in his 2012 return, Wainwright had the best season of his career in 2013. He had 2.94 ERA, career-high 6.2 WAR and led his team to the World Series.
Early in 2015, Wainwright ruptured his Achilles while batting against the Brewers. His season was expected to be over. However, Wainwright returned to the mound just five months later, serving as a reliever for the Cardinals in the postseason. In the 2015 playoffs, he allowed just three hits and one run (1.69 ERA) over 5.1 innings of work. The next several seasons were a struggle (4.58 ERA and 1.44 WHIP from 2016-2019), and Waino even considered retirement, but he eventually got it back once again.
That brings us back to this year. I'm not sure how much longer Adam Wainwright can keep this up, and there's also a non-zero chance he retires after this year. So let's enjoy what he's doing right now, because this is an amazing final act in one of baseball's finest careers.