Analysis
Aaron Nola's Return to Acehood
After posting the worst year of his career last season, Aaron Nola is once again pitching like a front-line starter for the Phillies.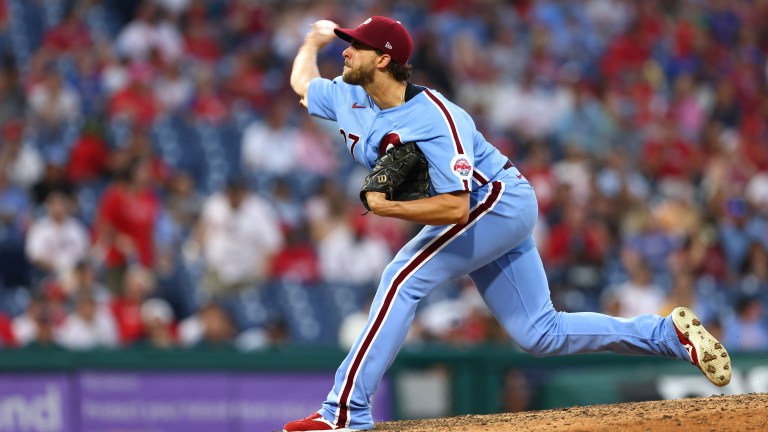 To fail is to become complacent. To succeed is to adapt. Aaron Nola has chosen to adapt, while drawing from old tricks and is returning to form as one of the best pitchers in baseball.
The Early Years
For much of his life, failure on the baseball field was a foreign concept to Nola. Everywhere he's pitched, he's dominated. Even as a freshman at LSU, he held his own in the toughest conference in the country, making 16 starts with a 3.61 ERA and was named to two freshman All-American teams.
He garnered enough interest to earn an invite to play for the Harwich Mariners in the Cape Cod Baseball League, the most prestigious summer baseball league of them all. At the time, it was Nola's biggest opportunity to prove he was one of the best college pitchers in the country. He only made two starts that summer, giving up one earned run and striking out 15 over 11 innings.
When he returned to LSU for the 2013 season, the hype was starting to grow and Nola was given the honor of being the Tigers' opening night starter. He took his role as the Friday night starter and never looked back, going 23-2 with a 1.52 ERA in 33 starts between Sophomore and Junior year.
The Philadelphia Phillies were so confident in Nola's plus command and wipeout curveball that they picked him seventh overall in the 2014 draft. He became the second LSU Tiger pitcher to be taken in the top 10 in a short span of two years after the Orioles selected Kevin Gausman with the second overall pick in 2012.
Coming Out Party
Nola entered the 2015 season as the No. 39 prospect by Baseball America and was selected to start the season at Double-A Reading. He would end up making 12 starts for Reading and another six for Lehigh Valley in Triple-A before the Phillies decided he had nothing left to prove and called up to the bigs. He made his debut on July 21st, 2015, just 13 months after being drafted. Phillies fans and fantasy owners alike were ecstatic for the debut of one of the best prospect arms in baseball.
The first three seasons of his career were solid and he even collected 4.5 WAR with a 3.54 ERA in 2017, but it was all leading to his true breakout in 2018. In 2018, Nola went 17-6 with a 2.37 ERA in 212.2 innings pitched. He made the NL All Star team and finished third in Cy Young voting behind Max Scherzer and Jacob deGrom.
Nola's 173 ERA+ through 2018 was the 11th-best ERA+ in a player's first four seasons since 2000 and was on par with Corbin Burnes' 176 ERA+ in his 2021 Cy Young season.
Crash and Burn
Life comes at you fast, or so they say. One day you're at peak of performance and the next, your head is being whipped around incessantly as you watch home run after home run leave the yard. From 2019 to 2021, life kind of felt like that for Aaron Nola.
Coming off his dazzling 2018, he pitched to the tune of a 3.87 ERA and 4.01 FIP in 2019 and the world questioned whether Nola had lost something. His four-seam fastball was getting clobbered and even his otherworldly curveball suddenly looked somewhat pedestrian.
From a broad view statistical perspective, nothing looked different from the 2018 version of Nola, outside of a slight uptick in walks. He was still getting ground balls at a near 50% clip and striking out nearly 30% of batters faced. All signs pointed to a bounce back in 2021 after he posted the highest strikeout rate of his career in 2020. Short season or not, a 6% jump in K rate is impressive.
The 2021 season though, was a disaster of epic proportions for Nola. He gave up 26 home runs in 180.2 IP, leading to a 4.63 ERA. Easily the worst of his entire career. The thing was, Nola's numbers on paper were as good as ever in most categories.
He was striking out 30% of batters and had the lowest walk rate of his career and was even giving up less hard contact than in previous seasons. His ERA made no sense and advanced stats like FIP (3.37) and xERA (3.35) were in agreement that his ERA had fluke written all over it.
What plagued Nola in 2021 was a knack for giving up the long ball. While his home run per fly ball rate was the lowest it had been since 2018, he was allowing more fly balls than ever. Through the first six years of his career, Nola had a career 50.5% ground ball rate, but in 2021, his ground ball rate shrunk to 40.5%. Still though, that's not the sole reason for his inflated ERA. The Phillies league worst defense is partly to blame. The Phillies failed to save 54 runs on defense last season, easily the worst in baseball.
As It Was
Just like Harry Styles' hit song, Aaron Nola has taken notes from earlier in his career to deliver a sensational first half and it has all started with an increase in sinker usage. You'd be hard-pressed to find another pitcher that tinkers with pitch usage as much as Nola, but to adapt is to succeed and that's what Aaron Nola has done.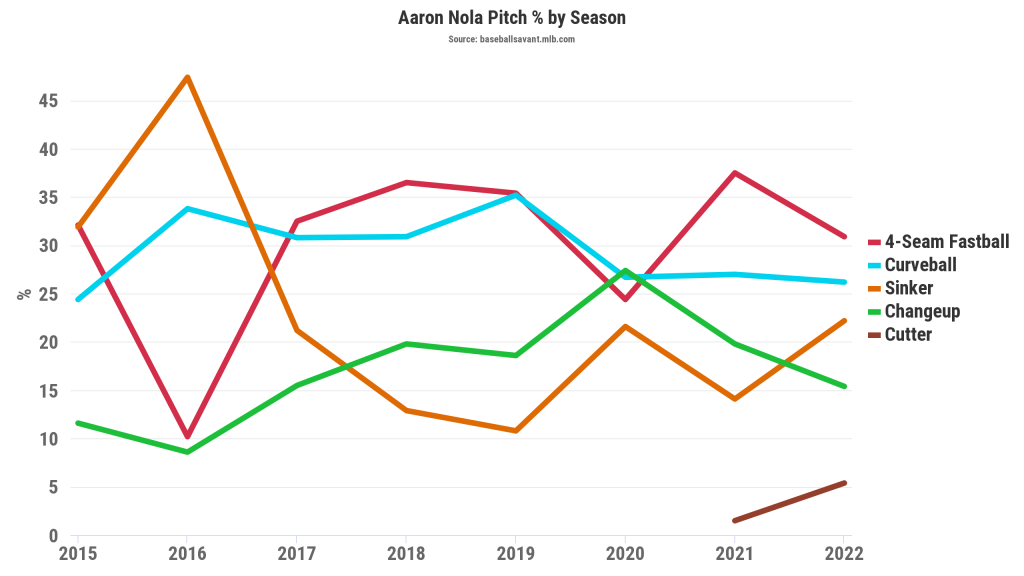 Last season was Nola's final awakening to the fact that his four-seamer cannot play on its own. In 2019, his heater had a .375 wOBA against and a .344 wOBA against last season. The thing with his heater is that it acts differently than most four-seamers. It gets limited vertical rise, but 13 inches of horizontal movement, which is nearly five inches of horizontal movement more than other four-seamers at the same velocity. For a pitcher with so much natural run on his fastball, it makes sense that a sinker would also perform well.
Attacking batters with both four-seamers and sinkers has kept them on their toes and allowed his four-seamer and sinker to combine for a -15 run value and a .170 batting average against. Because his four-seamer doesn't do much by way of inducing grounders, the increased usage of the sinker has given Nola another pitch that can keep balls on the ground.
Changing the recipe through pitch mix adjustments will always be a catalyst in success for good pitchers that have faired poorly, but there's a missing piece to the puzzle: Location.
Aaron Nola, for as long as he has been in the league, has been somewhat of a finesse pitcher. Yes, his curveball and changeup get whiffs and ground balls, but for a pitcher with a 93 MPH fastball to succeed, he needs elite command in the zone.
According to MLB Pitch Profiler, Aaron Nola has a 99 Stuff+ and 107 Pitching+ this season. That means that while his stuff is about average, where he is locating his stuff has been well above average. Just look at his sinker heat map…Paint!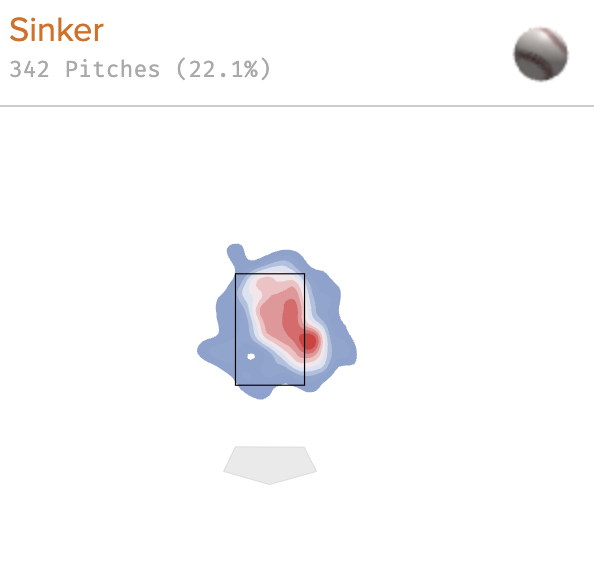 So with all of the mumbo jumbo about pitch mix, ground balls, and command being said, how do Aaron Nola's numbers actually stack up this year?
Well, he has a 3.13 ERA to go along with a 2.68 xERA and 2.96 FIP. He currently ranks fifth in fWAR and third in bWAR. He's pitched the second-most innings in baseball behind only Sandy Alcantara and looks to be in line to get at least some Cy Young love. A recipe of more ground balls, better location and plenty of K's has equaled a return to ace-form for Nola in 2022 thus far.