Analysis
Aaron Judge Breaks Roger Maris' Franchise and AL Home Run Record
He's done it! Aaron Judge has passed Roger Maris for the most home runs ever hit in AL history, setting a franchise record with 62 homers.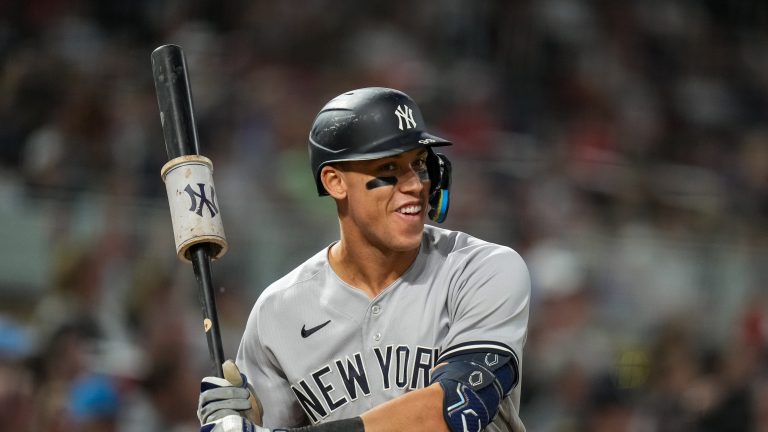 October 4th, 2022 will forever be one of the most historic days in this sport's existence. On this very day, Yankees slugger Aaron Judge has broken the American League's single season home run record with 62 home runs. The previous record was also held by another Yankee legend, Roger Maris. A record that once seemed impossible to break has been broken.
The last week in the world of sports have revolved around this particular athlete. Many fans from across the nation have paid witness to Judge's greatness over the past week and a half. And rightfully so. This is a record that hasn't been broken in 61 years. It's hard to take into perspective how incredible this achievement is, and how much an individual like Aaron Judge deserves this type of recognition.
Aaron Judge is a class act. Home-grown talent from the Yankees who came up and lit the world on fire during his 52-home run rookie campaign. He spear-headed the once proclaimed "Baby Bombers", leading the newest generation of Yankees all the way to the ALCS in his debut campaign. He's become a leader, a role model, and the face of this game over the past five seasons. Injuries have plagued him. Some gave up on him because of his inability to be on the field at times. But look at how great he's become.
As an individual who has spent an incredible amount of time covering this player and this team, this is so special. The most storied franchise in baseball has added another illustrious chapter to their long history. Judge has topped the likes of Maris, Mantle, DiMaggio, Gehrig, and even Babe Ruth in the home run department. The Great Bambino! He's been the most dominant player in the sport over the last six months, and it's been an absolute joy to watch.
Judge has legitimately posted video game numbers in 2022. Now 62 home runs with a 207 wRC+, which would be the 21st-highest total in a single season ever. An average MLB player is posting a .703 OPS in 2022. Aaron Judge is slugging .686. That's physically unheard of. His on-base percentage is 20 points above the next competitor. Judge has accumulated an fWAR of 11.4. The last time we saw a player post that kind of number was back in 2004 with the great Barry Bonds. He's a living cheat code.
This home run record has been broken before. The trio of Mark McGwire, Sammy Sosa, and Bary Bonds have all reached this legendary mark. However, all three have heavily been linked to PEDs. I refuse to discredit the achievements of these legendary players but let's give Judge credit. This is the American League home run record. I refuse to pick a side in this argument, but we cannot discredit what Judge just did tonight.
The entirety of my generation were still toddlers when these achievements were being accomplished. Now, as a 22-year-old, I will be able to tell my kids, and my grandkids, that I witnessed Aaron Judge break the all-time AL home run record. And regardless of what Judge does throughout the rest of his career, this accomplishment takes home the cake. He should be incredibly proud.
Judge is a humble character. Throughout this entire race he's refused to show even a tad bit of emotion. Post-game interviews following numerous Judge homers included him praising his teammates above all else. He spoke about the team before himself. All everyone wanted to talk about was this historic race, but he remained a class act throughout the process. Rarely during his multiple home run trots would you even see a smile out of him. No fancy bat flips, no over the top celebrations, just business as usual. While the entire nation had their eyes on him, he never once made it about himself. He reminds many Yankees fans, like myself, of The Captain, Derek Jeter.
After Judge roped the ball over the left field fence, it was legendary. As he rounded third base, he pointed to his parents, who have attended nearly every game over the past two weeks, finally cracked a smile as he rounded third base, and landed at home plate where his teammates were ready to give him all the love in the world.
The closest any player has come to the Maris record recently was Giancarlo Stanton back in 2017. He smoked 59 home runs, just missing the record by two. Guess who was the first player to congratulate Judge on breaking the record? Giancarlo Stanton.
Crowned as the new-age bash brothers, the duo has a ton of love for each other. Judge is this team's heart and soul, their leader. Not a soul in that Yankee clubhouse envies his achievement. Because not only is he an incredible talent, he's an incredible person.
The job is yet to be finished, and I assure you Judge would say the same. With a roster as talented as this one is, the Yankees are dreaming of a World Series championship in the not-so-distant future. And it's all over Judge's mind as well. Besides his historic season, this Yankees team is ultra-talented. They'll finish up the regular season with another game in Texas, looking to crack the 100-win mark. Judge will receive a well-deserved day of rest before the six-day break before the ALDS. With the home run king behind the wheel, the sky's the limit for this Yankees team.
Above all else, congratulations to Aaron Judge. This record seemed nearly unbreakable for the longest time, and he's achieved this feat. I'm not sure where Judge's next chapter lies, as he is set to hit free agency at the end of this season. But one things for sure, he's a Yankee legend. And he always will be for the rest of time. The entire baseball community loves you, Aaron. This man is the face of baseball. From me and the rest of the baseball community, thank you for making this season one of the greatest we've ever seen.