Analysis
2023 Cincinnati Reds Starting Rotation Outlook
With Hunter Greene and Nick Lodolo, the Reds have two promising young arms atop their rotation but also have a lot of questions behind them.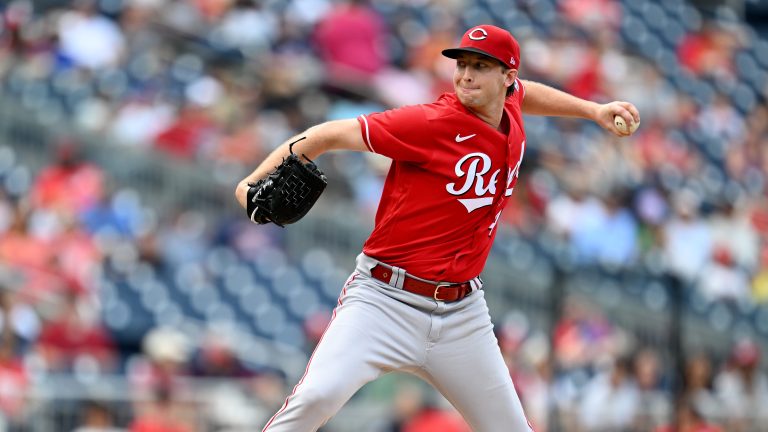 The 2022 season did not yield much excitement for Reds fans. Losses piled up, and familiar faces were traded away. The 2023 season is looking like more of the same. However, the rotation could have more intrigue.
Headlined by two former top-10 picks, Hunter Greene and Nick Lodolo, the pitching rotation is beginning to come into form. The third rookie, Graham Ashcraft, flashed moments of excellence proving he can be a useful arm going forward. A few pitching prospects have a path to earn innings as well, joining last season's rookie crop.
A learning curve is usually part of the development and growth cycle. But what we saw from the three rookies in their first year gives Reds fans reason to be excited.
How will the Reds rotation look in 2023?
Locks for the Rotation
Hunter Greene
2022 Stats: 5-13, 4.44 ERA, 125.2 IP, 164 SO, 1.21 WHIP
The second overall pick from 2017 finally debuted in 2022. The much-anticipated rookie season saw up's and down's, high strike out numbers, and a promising second half. After posting a 5.78 ERA and 1.35 WHIP in the first half, Greene finished the season strong with a 1.02 ERA, 0.849 WHIP, and 13 K/9 in his final six starts.
Known for his 100 plus mile per hour fastball, his slider was the pitch that really will help him take his game to another level.

Greene's fastball will always be his bread and butter. Learning how to effectively work off the fastball, mixing in his secondary offerings, will ultimately decide just how high his ceiling is. As you can see from the image above, batters hit .170 off his slider with a 38% whiff rate. His slider also recorded the weakest contact. As with any flame thrower, hard contact will happen. Catching hitters off guard will only happen if his secondary pitches are effective enough to keep batters on their toes.
I expect better overall numbers from Greene in 2023. Not only does he have a year under his belt, but Tyler Stephenson should be back and healthy behind the plate. Last season the Reds filtered in several catchers in Stephenson's absence, which did not help any of the pitching staff gain a rhythm.
Nick Lodolo
2022 Stats: 4-7, 3.66 ERA, 103.1 IP, 131 SO, 1.24 WHIP
When healthy, Lodolo showed why he was a top-10 pick. Like Greene, Lodolo shined in the second half posting a 2.92 ERA and 1.06 WHIP across 13 starts. The lefty looked unhittable at times and has the stuff to slot into the top-two of the rotation for years to come.

All four of Lodolo's pitches graded out as plus horizontal movement in his rookie season. As the season went on, Lodolo's walk numbers started trending in the right direction, without a drop off in his strikeout numbers.
His confidence on the mount stood out as he began challenging hitters more and attacking the zone with success. Combining his stuff with a unique arm angle from the left side with Hunter Greene's fastball /slider makes for a very promising top-two in the rotation.
Graham Ashcraft
2022 Stats: 5-6, 4.89 ERA, 105 IP, 71 SO, 1.41 WHIP
Ashcraft is one of the more interesting names on this list. At times he looked like a bona fide top three rotation arm, and other times pitched like a back of the rotation piece. His "fastball" (or cutter or gyro) tops 100 miles per hour with movement, but it does not yield many strikeouts.
He's been more of a groundball pitcher in the minors and that would play well in Great American Ballpark. Really, he does not have much choice due to his lack of strikeouts. While I expect Ashcraft to be in the rotation for the entirety of 2023, there's always a chance he could move to the bullpen in the future. And if he does, he has the pitch to be a dominate back of the 'pen type pitcher.
Consistency is the main focus for 2023. Learning how to mix his pitches to hopefully lead to a few more strikeouts would be promising.
Back End Options
Luis Cessa
2022 Stats: 4-4, 4.57 ERA, 80.2 IP (10 Statrs), 59 SO, 1.28 WHIP
Cessa has spent the majority of his career coming out of the bullpen. Towards the end of the season, Cessa was moved to the rotation and performed well enough to be considered a starting option in 2023. Of his eight non-opener starts, Cessa allowed three of less runs in all but one.
Whether or not the Reds decide to use him in the bullpen or rotation is to be determined. While his advanced metrics don't point towards some late-blooming diamond in the rough, Cessa could eat innings until a prospect is ready to take his place.
Justin Dunn
2022 Stats: 1-3, 6.10 ERA, 31 IP, 21 SO, 1.58 WHIP
The former top-100 prospect acquired in the Jesse Winker deal with Seattle has had a tough go of it so far. After returning from injury, Dunn did anything but impress. In eight Triple-A starts, Dunn posted an 8.07 ERA and 5.5 BB/9. In 31 innings for the Reds he posted pedestrian numbers as well.
Cincinnati is likely playing a wait-and-see game as this will be his first healthy offseason in awhile. Dunn will get a chance to compete for a rotation spot but I would not be surprised if the leash is short.
Vladimir Gutierrez
2022 Stats: 1-6, 7.61 ERA, 36.2 IP, 29 SO, 1.90 WHIP
Gutierrez debuted in 2021 and pitched well enough to be considered for a back of the rotation role going forward. After a terrible 2022, Gutierrez was shut down and had Tommy John surgery. There's no guarantee he will see the field in 2023, but he remains an option, for now.
Connor Overton
2022 Stats: 1-0, 2.73 ERA, 33 IP, 14 SO, 0.97 WHIP
Everyone's favorite surprise pitcher from 2022. Overton was pretty much a career minor leaguer who earned four starts and peaked some interest. In those starts, Overton posted a 1.82 ERA while striking out 10 in 24.2 innings.
Overton is another candidate for the bullpen and/or rotation. Perhaps he fills the role Jeff Hoffman had the past couple of years. Without great stuff or velocity and lower strikeout numbers, I do wonder how he fits. I would imagine Overton is either swingman or organizational depth. Not to take away from his success, I am just not sold on him from a small sample size.
Prospects
Levi Stoudt
2022 Stats (AA/AAA): 7-8, 4.70 ERA, 111 IP, 103 SO, 1.288 WHIP
Stoudt was a piece brought back from the Luis Castillo trade with Seattle. Now on the 40-man roster, Stoudt will likely get some innings at some point with the Reds. Like the back-end options above, the there's questions about Stoudt's ceiling and if he can pitch well enough to be a starter in the future.
Starting in Triple-A is probably the best bet. He pitched well in a short stint in Louisville last season and I do not think the Reds are in a rush to call him up. With several other similar profile pitchers already on the roster, Cincinnati can let Stoudt get regular starts in Louisville to begin the season.
Brandon Williamson
2022 Stats (AA/AAA): 6-7, 4.11 ERA, 122.2 IP, 123 SO, 1.55 WHIP
Also acquired from Seattle, Williamson seemed to take a step back in 2022. The Reds top pitching prospect, according to several outlets, will need to have a bounce back season in 2023. Williamson has a plus curveball and much better 2021 numbers and the Reds are far from giving up hope, and so should you.
Starting back in Triple-A would allow Williamson to find his form without the pressure of being on with the big league club. With 2023 looking like another rebuilding year, the Reds can be patient and make sure Williamson is fully ready before calling him up.
Andrew Abbott
2022 Stats (A+/AA): 10-7, 3.81 ERA, 118 IP, 159 SO, 1.25 WHIP
A second-rounder from Univeristy of Virgina, Abbott was brilliant in High-A before getting the call to Double. Across 20 starts for the Chattanooga Lookouts, Abbott struggled a bit to find the zone posting a 4.1 BB/9 across 91 innings.
Abbott is pushing himself up the depth chart and could earn innings at some point in 2023. Likely beginning in Double-A, I expect Abbott to pitch the majority of his innings in 2023 in Triple-A. Of the prospects on this list, Abbott has shown the most upside in my eyes.
Joe Boyle
2022 Stats (A+/AA): 3-6, 2.86 ERA,100.2 IP, 153 SO, 1.29 WHIP
If you are on twitter, you have likely seen some Joe Boyle highlights. A flame thrower who has struck out 14.5 per nine to start his minor league career. The problem is he struggles to find the zone. Boyle has posted a 7.3 BB/9 through his first two minor league seasons.
We will have to wait and see if Boyle can fix his command issues, and if he can you would be looking at a much different pitcher. I expect him to make the move to bullpen at some point and see if that fastball can translate to a plus option in late games.
Heading into 2023, Cincinnati has two top of the rotation level arms in Greene and Lodolo. Ashcraft could fall anywhere from a #3 – #5 but is for sure going to be getting regular starts. From there, its all question marks. As you can see, the Reds could use another arm.
Brining in a veteran to help eat innings and guide the young staff would be smart. Most of the ideal options are already off the board but a few still remain. Michael Wacha, Joe Ross, and Dylan Bundy are a few. Although I think they could have better options available to them.
In order to consider 2023 a success, I would want to see the following from the rotation:
Lodolo and Greene over 140 inning pitched
Improvements and consistency from Ashcraft
One of the prospects show enough to be considered going forward
A back end piece effective enough for a 4.50-4.75 ERA
Greene closer to second half than first half