Analysis
World Series Game 2: By The Numbers
Some of the most notable stats from Game 2 of the World Series.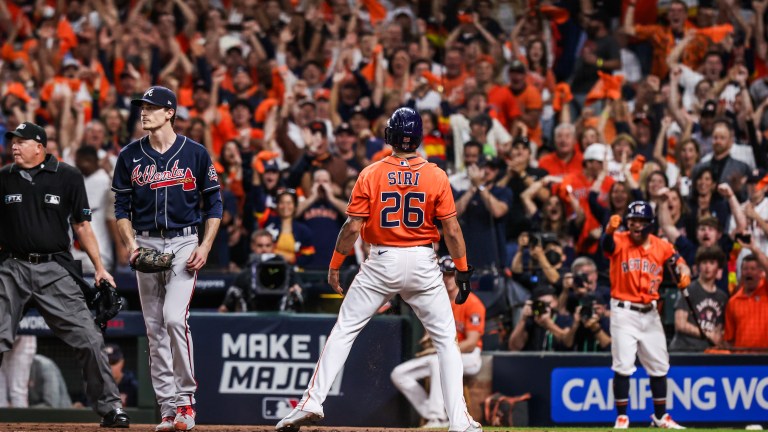 Houston No Stranger to a Blowout
The Houston Astros tied the series at a game a piece with a commanding 7-2 win over the Atlanta Braves. The 'Stros are no stranger to a blowout. Seven of their eight playoff wins have been won by five or more runs, which Baseball Reference considers a blowout win and ties the 2007 Boston Red Sox for most blowout wins in a postseason. During the regular season, the Astros won 36 games by five or more runs, which is second most behind the Tampa Bay Rays, and since 2000, is tied seventh for most blowout wins in a season. The 2007 Yankees hold the record with 46 blowout victories in a season.
As much as everyone is wishing for tight, down to the wire games, this series may not gift us with many unless both teams are able to score runs. I wouldn't put my money on a pitchers duel anytime soon.
Brantley Barrels Baseballs™️
Yep that's right, I'm trademarking Brantley Barrels Baseballs. It's all the man does. His dreams every night are filled with him in a cage hitting 100 MPH line drives in the gap. After a four barrel performance in game 1, Brantley backed it up with three more barrels tonight. If you bet Michael Brantley to win World Series MVP at +1600 odds, don't count your bet out yet!
Disclaimer: Michael Brantley does not rank highly on the barrel rate leaderboards, coming in at 108 with only a 5.8% barrel rate, but for the time being, I only know one thing: Brantley Barrels Baseballs.
Hit of the Night
104 MPH off the bat. 55 feet in height. Only four seconds of hang time. The camera could barely catch up to it. This is a home run that Giancarlo Stanton would approve of. Travis d'Arnaud gave the Braves hope his second inning blast to tie the game at 1-1, but it would not be enough to keep the braves in it.
Not to spam this article with twitter videos, but watch how d'Arnaud pulls his hands in and refrains from extending his lead arm in order to get the barrel under a pitch high in the zone. It's an incredible piece of hitting and is just another example of what makes major league hitters so much better than we even give them credit for.
Pitch of the Night
Even with a five run lead, Dusty Baker was not messing around, bringing in one of his closers, Ryan Pressly, in to hold down the 8th inning. It was clear that Pressly was fresh and fired up for his fourth World Series appearance, and first in the 2021 world series. He dropped a hammer in to Joc Pederson with an ungodly 3,387 RPM of spin. There's unhittable, then there's 53 inches of vertical drop and 17 inches of horizontal break" unhittable.
To put in perspective how rare that much spin is, Pressly only threw five pitches with that much spin on his curveball all season, and threw two pitches above the 3,387 RPM threshold tonight. Only Kyle Crick, Garrett Richards, Seth Lugo, Lucas Sims, and Dustin May threw more pitches with that much spin this season than Pressly. Will we see Pressly cross the 3,400 RPM mark this series? Something he's only done three times all season.