Rankings
Fantasy Baseball Rankings: Top 10 Second Basemen for 2023
With so many second basemen overcoming injuries and down years, you might be wise to fill this position in the back half of your draft.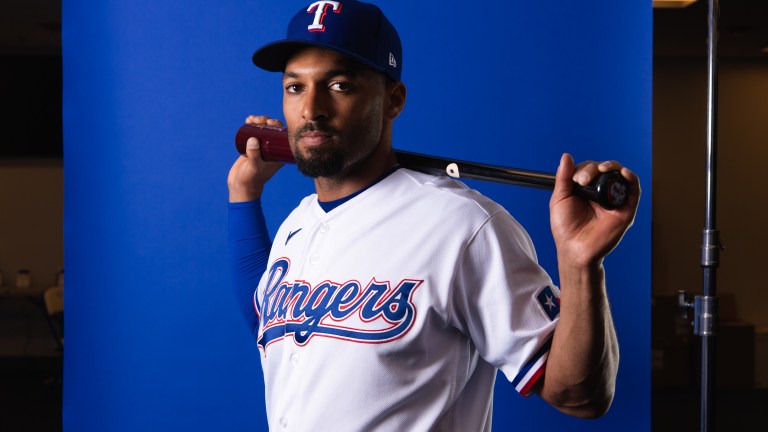 The list of fantasy second basemen involves a lot of players who were injured in 2022, as well as those with limitations or question marks. Overall, the depth is pretty weak, and the top ten includes plenty of risk. Before jumping into this discussion, consider your draft strategy at second.
Personally, while I like a few players in the top 100, I'd rather fill second toward the back half of the draft. This particular position is one at which I'd be comfortable drafting two lower-ranked players and watching the waiver wire. That does not mean the player is not worth their ADP, so if you are compelled, go for it!
Let's dive in.
1. Marcus Semien – Rangers
2022 Stats: .248/,304/.429, 26 HR, 101 R, 83 RBI, 25 SB
ADP: 34
Marcus Semien got off to such a dreadful start that some owners elected to place him on waivers. Anyone who scooped him up added a legitimate difference-maker. From June 1st through the end of the season, Semien batted .268 with 25 home runs and 19 stolen bases.
A combination of power and speed batting at or near the top of this Rangers lineup makes Semien a very attractive fantasy player. Texas has worked to improve the team, and Semien should benefit from that. After some inconsistency over the years, you are hoping to see more of a 2021 Marcus Semien if you are using a top-40 pick on him.
Value: You could say it is a bit risky, but I am buying the post-June 1st numbers. Over the past two seasons, we have seen a lot more elite baseball than bad baseball from Semien, which leads me to believe he is worth the value.
2. Jose Altuve – Astros
2022 Stats: .300/.387/.533, 28 HR, 103 R, 57 RBI, 18 SB
ADP: 33
Altuve just keeps producing. In 2022, Altuve posted a career-high 164 wRC+ while batting .300 and hitting 28 home runs. He's always posted a great average and plus power for a second baseman, but we saw the speed return in 2022. His 18 stolen bases were his best since 2017, when he stole 32 bags.
I am not sure we will see him run as much, but we cannot ignore the stolen bases. At the end of the day, you know what you are getting in Altuve. His approach and bat-to-ball skills give Altuve an extremely high floor at a position where surefire offense might be slightly more difficult to come by.
Value: If you are feeling uncomfortable about Semien, Altuve will calm your nerves. He doesn't have the same power and speed, but he makes up for it with consistency. I'm in on Altuve at this ADP.
3. Jazz Chisholm Jr. – Marlins
2022 Stats: .254/.325/.535, 14 HR, 39 R, 45 RBI, 12 SB
ADP: 42
The Marlins', hell maybe the league's, most electric player is making the move to center. Lucky for you, he will retain his second base eligibility. Jazz was limited to 60 games last season due to injury, but he still put up 14 home runs and 12 stolen bases. While his 27% strikeout rate is concerning, it has (slightly) come down each season.
Jazz has the ability to be the number one guy on this list. His ability to impact the baseball and change the game on the bases will entice fantasy owners. The questions I have are about health and strikeouts. I love the player, but I am not going to be surprised if he goes earlier than his ADP.
Value: I want to talk myself into it, but I think the smarter move is to pass on Jazz at this value. If you are willing to take the risk, it very well could pay off, but I will play a safer route at this position and value.
4. Ozzie Albies – Braves
2022 Stats: .247/.294/.409, 8 HR, 36 R, 35 RBI, 3 SB
ADP: 49
Another player battling back from injury, owners will likely have very split opinions on the switch-hitter. On the one hand, you have a player with a 30-home run season, over 100 runs three times, and 15-20 stolen base potential in a great lineup.
On the other hand, you have a player who struggles versus righties compared to lefties, is coming off a difficult foot injury, and who saw a significant dip in his batted ball data, albeit in only a 64-game sample size. The 2021 Albies is a fantasy stud, but I question whether or not the foot injury will result in fewer stolen bases. I think he's closer to a 20-25 home run player and not a 30 home run guy.
Value: Albies is one of the more interesting cases and high-upside players, but I just can't fully get there. Plenty will take the chance, I just do not subscribe to taking a second base-only option with this risk at his ADP.
5. Tommy Edman – Cardinals
2022 Stats: .265/.324/.400, 13 HR, 95 R, 57 RBI, 32 SB
ADP: 72
Edman's value is pretty straightforward. You are going to get great stolen base production, especially at his ADP, while getting some positional flexibility at second and short. He's going to hit around .260 with limited power and RBI production. A safe bet, but the upside is pretty "ehh."
We know the Cardinals are a great team and the lineup will theoretically help Edman's run production. The issue I see is where he'll be slotted in the batting order. With the addition of Willson Contreras and the emergence of young players in the organization, Edman could be batting closer to the bottom of the order.
Value: I am not going out of my way to target Edman, but he is the type of player I'd be more than happy to land on at or just after his ADP – especially if you are lacking stolen bases from your other positions.
6. Andres Gimenez – Guardians
2022 Stats: .297/.371/.466, 17 HR, 66 R, 69 RBI, 20 SB
ADP: 82
Gimenez, only 23 years old, impressed in 2022, posting a .297 average with 17 home runs and 20 stolen bases. Owners might see his numbers and age and convince themselves there's another level to his game. While they might be right, I think a regression is more likely than a next step.
Gimenez outperformed his expected batting average by 40 points and his expected slugging by 60 points. He does not hit the ball particularly hard or find many barrels. The speed is a plus, but is his floor worthy of his ADP?
Value: Simply put, I'll pass on Gimenez. Too many signs are pointing to him not repeating his 2022 numbers.
7. Gleyber Torres – Yankees
2022 Stats: .257/.310/.451, 24 HR, 73 R, 76 RBI, 10 SB
ADP: 112
Torres has had a rollercoaster of a career in New York, from being the next great power hitter, to being on the trade block and eventually not being an everyday player. He bounced back in a big way in 2022, leading me to believe he'll have a promising 2023 season.
In 2022, Torres saw an increase in his fly ball rate, home-run-to-fly-ball rate, barrel percentage, and hard-hit percentage. He's in a great lineup and should produce over 20 home runs and respectable stolen base and average numbers.
Value: I expect Torres and Gimenez to have similar numbers, with more power from Torres and more steals for Gimenez. Considering the ADP, I would rather wait and take Torres than spend a top-90 pick on Gimenez.
8. Max Muncy – Dodgers
2022 Stats: .196/.329/.384, 21 HR, 69 R, 69 RBI, 2 SB
ADP: 131
Muncy has three seasons of 30 or more home runs. He walks at a high rate, doesn't strike out much, and his average should benefit from the no-shift rule change. A UCL injury resulted in a slow start in 2022, but he still finished with 21 home runs.
We know how lethal this Dodgers lineup will be. I expect Muncy to be back closer to his ceiling than his floor. You very well could be selecting a 30 home run player outside of the top 100.
Value: I am sure many others feel the same way I do about Muncy. Because of that, I expect him to go much earlier in drafts, and rightfully so. You might need to plan on selecting him earlier than projected, and you won't regret it.
9. Brandon Lowe – Rays
2022 Stats: .221/.308/.383, 8 HR, 31 R, 25 RBI, 1 SB
ADP: 161
Yet another player hampered by injuries in 2022, Lowe will look to rebound to the power hitter we know he can be. In 2021, Lowe's first full season (excluding the COVID year), he hit 39 home runs and racked up 99 RBI with a .277 ISO. In 2022, Lowe's ISO dropped to .162 and his hard-hit percentage dropped below 40% for the first time in his career.
There's still plenty of upside in drafting him, especially outside of the top 150. Throughout his career, we have seen nothing but signs pointing toward major power production, and if healthy, he should return to form. The average might not help your team, but if you need some power, Lowe is a great value.
Value: Depending on the rest of your team's makeup, you could roll the dice here and hope to draft power at a great value. I do not even think it's that risky, but a bounce-back is needed.
10. Jorge Polanco – Twins
2022 Stats: .235/.346/.405, 16 HR, 54 R, 56 RBI, 3 SB
ADP: 152
After a big 2021 season led owners to select Polanco relatively high, many were left disappointed. Yet another player on this list that struggled with injury, Polanco managed 16 home runs and a .235 average in 104 games.
Polcano will not be a .300 hitter, but .250-.260 is reasonable, and he still has 30 home run potential. The batted ball data from 2022 was not all that different from 2021. As is the case for others on the back half of this list, he's worth it at his ADP.
Value: It might seem like I am copying and pasting at this point. But the truth is several second basemen are high-reward players with injury concerns from 2022. If you want to roll the dice, I'd suggest doing so on one outside of the top 100.