Analysis
Jarred Kelenic Is a Buy-'Low' Target for Dynasty and History Proves it
Patience is a virtue, even with baseball's best prospects.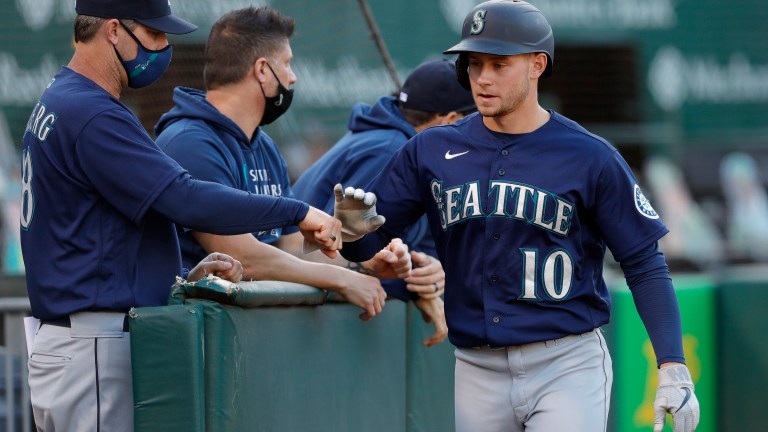 Jarred Kelenic ranks as the No. 4 overall prospect on MLB.com. He possesses a 65-grade hit tool with 60-grade power and above average speed. He's had all the minor-league success you could ask for. However, things have yet to translate to the bigs, as he owns just a seven – yes, that's not a typo – OPS+ and a nine wRC+.
| G | PA | AB | R | H | 2B | 3B | HR | RBI | SB | CS | BB | SO | BA | OBP | SLG | OPS |
| --- | --- | --- | --- | --- | --- | --- | --- | --- | --- | --- | --- | --- | --- | --- | --- | --- |
| 27 | 109 | 100 | 7 | 11 | 2 | 0 | 2 | 6 | 3 | 0 | 8 | 34 | .110 | .183 | .190 | .373 |
Jared Kelenic's MLB Stats
Even after getting called up, sent back down to AAA, performing well again, then coming back up, he's just 3-17 with all singles, no walks, and eight strikeouts in his four games back.
I don't bring all of this up to say that Kelenic isn't going to work. In fact, quite the opposite. Given his pedigree and success in the minors, you should still have high expectations for him. Now might be the very best time to go out and acquire Kelenic in a dynasty fantasy baseball league, especially if Kelenic's owner is in a bit of a panic.
Kelenic isn't the first highly touted prospect to struggle right away. In fact, he's far from it. To give you even more confidence in the fact that he will not only have a very bright future, but also enjoy tons of success as early as 2022, here's some players who started on similar paths only to erupt into star players a year later.
Mike Trout:
Ever heard of him? In 2011, Trout played 40 games in his first taste of the MLB, slashing just .220/.281/.390. By year two in 2012 he won AL Rookie of the Year, was an All-Star and finished second in the MVP race, beginning quite the run of baseball into becoming one of the greatest ever.
Freddie Freeman:
2010 saw Freeman play in his first 20 games in the majors. His slash line was .167/.167/.333 with a 32 OPS+. The very next season he was runner-up for NL ROTY and owns a 138 OPS+ in his 12-year career. He's the second MVP on this list.
Anthony Rizzo:
You might remember a time in 2011 when you had Rebecca Black's Friday stuck in your head, the final Harry Potter movie had come out, and Anthony Rizzo was on the San Diego Padres. In 49 games, he slashed just .141/.281/.242 with a 51 OPS+. He did alright from there and immediately by 2012 (after being traded to the Cubs) produced an .805 OPS in 87 games.
Aaron Judge:
In 27 games up in 2016, Judge slashed .179/.263/.345 and a 61 OPS+. One season later in 2017, he was second in MVP voting with his 52-home run season and 1.049 OPS.
Kyle Tucker:
During a 28-game stint in 2018 for his first try at the MLB level, Tucker didn't have the best start. He hit .141 with a 23 OPS+. After more time in the minors in 2019, he found success in limited MLB time (.857 OPS) to kick off what looks to now be a very promising career.
Honorable Mentions:
Several other hitters like Xander Bogaerts (.684 OPS in 2013 and .660 OPS in 2014), Byron Buxton (.576 OPS in 2015), Javier Baez (.551 OPS in 2014), Nick Castellanos (.556 OPS in 2013), Joey Gallo (.717 OPS in 2015 but then a .360 OPS in 2016), and Yoan Moncada (.513 OPS in 2016, .915 OPS by 2019) are also cases of top prospects struggling right away. Unlike some of the ones above though, they didn't immediately turn into a stud by year two and maybe took a few more years before becoming very fantasy relevant.