Analysis
Five Players to Pick Up in Fantasy Before It's Too Late
Matt Mervis is finally up with the Cubs, while Triston Casas is turning his season around in Boston. Here are some must-add players in fantasy.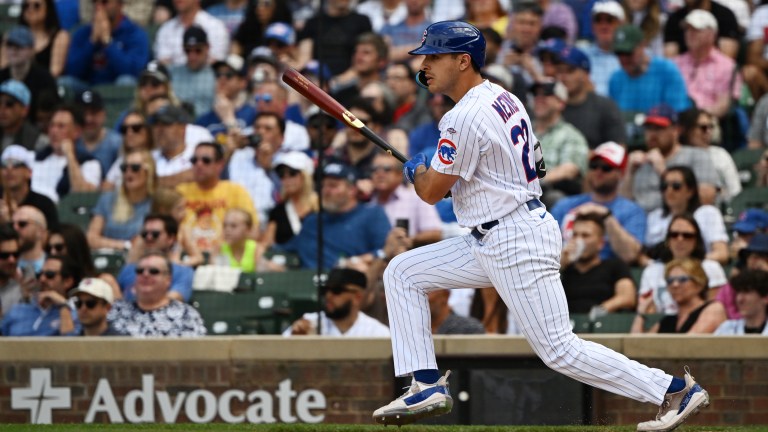 If you are looking for that extra piece to help put your fantasy team over the top right now, here are five names you can find on the waiver wire that could pay off in a big way throughout the season.
Matt Mervis – 1B – Chicago Cubs
Yahoo Ownership – 47%
It was only a matter of time with the king of ground balls himself, Eric Hosmer, off to a horrendous start, but alas, Mervis was finally called up from Triple-A last week. His ownership shot up from under 20% to nearly 50% in the matter of a few days, so you may have already missed the boat on Mervis. If so, I have a back up option for you below, but first, let me sell you on Mash Mervis.
Since the beginning of 2022, Mervis has played 164 games from High-A to the bigs and has amassed 42 home runs and 148 RBI in that span. His strikeout rate in 352 Triple-A plate appearances is under 16%, while maintaining a walk rate over 10%. He's shown power and patience and does a whole lot of damage in the air.
The Cubs have placed him seventh in the order in his first three games and if he performs, he should climb up in no time. Mervis is a prototypical four hitter in today's game with the ability to hit for average and power and should be rostered in 10-man leagues and above. If you love Vinnie Pasquantino, you will also love Matt Mervis.
Triston Casas – 1B – Boston Red Sox
Yahoo Ownership – 22%
If you missed out on Mervis, let me introduce you to Triston Casas, who had an abysmal start to the year and is now signaling a breakout is on the horizon.
Through his first 59 plate appearances, Casas had a .135/.220/.308 slash line and a 33.9% strikeout rate. He was taking far too many pitches and getting himself into bad counts causing the high strikeout rate. His last 53 plate appearances, we've seen a completely different Casas.
His strikeout rate is much more sustainable 20.8% and he's walking at a 23% clip over that span. His hard hit rate in his last 53 PA is 53.3%, but shockingly, the results have not totally been there despite barreling the ball consistently.
Casas hit a home run on Sunday against the Phillies to deep center field, which very well could be the start of a breakout. He's entrenched himself into the six-hole of the potent Boston Red Sox offense. If you missed out on Mervis, jump on the Casas train before he too is scooped up in your league.
Anthony Rendon – 3B – Los Angeles Angels
Yahoo Ownership – 49%
It's quite shocking to me that Rendon is owned in less than half of Yahoo leagues right now for a couple reasons. Firstly, he is a big name that usually draws more casual owners to players like him. Secondly, he's been hitting well so far. He owns a .291 average and a gaudy .419 OBP so far this season, so why is he not owned in more leagues?
He's only hit one home run in 118 PA and has not shown much power with only four XBH's on the season, but even still, he has 16 runs and 18 RBI. He's striking out at a career-low rate of 10.9% and walking at a career-high rate. Even though the power has not shown up yet, he's hitting the ball in the air on nearly 70% of his batted balls.
I expect Rendon to hit more doubles in the future to improve his power numbers and with a refined approach at the plate, Rendon is a clear add for teams in need of a shakeup at third base. Rendon currently ranks fourth xwOBA among third basemen behind Matt Chapman, Max Muncy and and Rafael Devers. That's some good company.
Yennier Cano – RP – Baltimore Orioles
Yahoo Ownership – 43%
Yennier Cano has arguably been baseball's best reliever in 2023. He leads all relievers in fWAR and is the only qualified reliever yet to allow a run and one of three to not allow a walk. He has racked up two saves, five holds and one win in 12 appearances and has a firm hold on the setup role in front of Felix Bautista.
What makes him so relevant right now is that the Orioles are winning enough games that he fills in for Bautista on his days off making him the most valuable handcuff reliever in the game.
Just rest your eyes on Yennier Cano's pitch mix and try not to fall in love. He attacks batters primarily with a sinker that's allowing an average launch angle of -19 degrees, which is practically straight into the ground. He's given up just one hit against the sinker. His secondary offering is a changeup that is getting whiffs on 40% of swings and he has yet to allow a hit when throwing the changeup. He sprinkles in a slider to create a truly devastating arsenal.
As long as Bautista is healthy, Cano's value will be suppressed, but in leagues that value holds and saves, he is a must add.
Mason Miller – SP – Oakland A's
Yahoo Ownership – 41%
EDITOR'S NOTE: Mason Miller is currently being evaluated for right elbow tightness.
So much of the hype this week has been centered around Bryce Miller, and for good reason after Bryce shutout the Astros and looks to have one of the nastiest fastballs in baseball by Stuff+. The Bryce Miller hype has created an opportunity to add Mason Miller, who also owns one of baseball's nastiest fastballs, while everyone is distracted.
The A's eased Miller into major league action as he failed to complete the fifth inning in each of his first two starts, but he's put in two consecutive quality starts against the Mariners and Royals. Outside of the four walks he had against the Mariners, he's walked just one batter in each of his other three starts and now owns a 3.38 ERA and 3.18 xERA. He has the stuff and command to deliver quality starts, so if you missed out on Bryce Miller, go ahead and snag Mason Miller while there is still time.
One reason to hold off on picking up Miller however is that he is currently dealing with tightness in his elbow, but if the injury proves to be minimal, he is a must-add.