List
Five Fantasy Baseball Trade Targets
Go get these players before it's too late.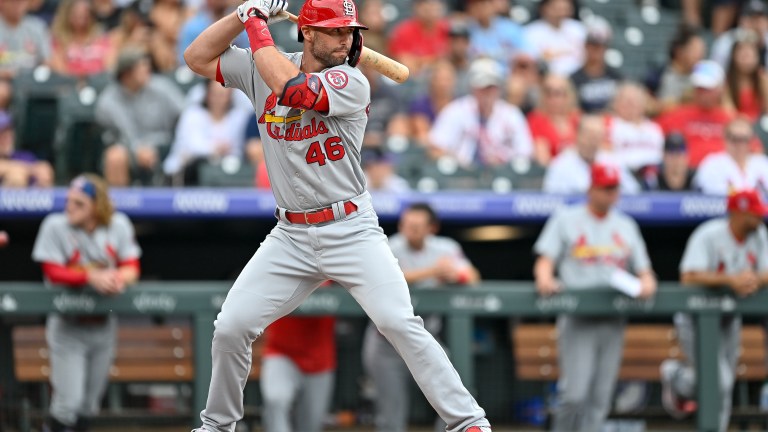 Last week we highlighted five hitters that we think you should sell high on in fantasy. This week we're looking at the opposite and giving you five hitters you should target as buy low options in your fantasy baseball leagues. There's a ton of name value on this list so buying when their value is low is an absolute necessity. Here are some guys who could be game changers for your squad in the second half.
Fransisco Lindor – SS – Mets
The New York Mets starting shortstop and $300 million man has had a disastrous start to his tenure in Queens, posting career lows in just about every offensive statistic thus far. While some New York fans have already slammed the panic button, a deeper dive into the numbers tells us that his slow start can be attributed to bad luck and your standard slump. 
His batted ball data is right in line with what we've become accustomed to, as his hard hit percentage and average exit velo are right around his career norms. The only change in his profile that we've seen this year is a slight increase in walk rate as well as a decrease in his chase rate. Another reason to believe in Lindor is that his BABIP is fifth lowest in the sport at .241. That's drastically lower than a player with Lindor's speed and power should have.
Another thing worth noting is that Lindor is notoriously second half hitter; as the weather heats up, so does Lindor. His career OPS is 50 points higher in the second half. All of this combined with the fact that he is still adjusting to a new organization and city only add to the notion that Lindor is going to have a monster second half. 
Mike Yastrzemski – OF – Giants
Yastrzemski seemingly came out of nowhere in 2019, transforming himself into an above average regular in his late 20's. That 2019 outburst was nothing compared to what he had coming in 2020, when he posted a .968 OPS and finished eighth in the NL MVP race. While he hasn't been bad so far this season, his .802 OPS and .225 batting average have to be considered a disappointment compared to his 2019-2020 production. 
Peeling back the layers on the numbers can provide optimism that he will return to form in the second half of 2021. His .252 BABIP is 13th lowest among qualified regulars and when combined with his elite eye (89th percentile in chase rate), and solid average exit velocity (60th percentile), we have the makings of a hitter who has run into a significant amount of bad luck. 
Expecting an OPS north of .950 might be extreme, but it wouldn't surprise us to see him produce around a .900 OPS the rest of the way with a little more batted ball luck. 
Jose Abreu – 1B – White Sox
Coming off his MVP campaign in 2020, expectations were reasonably high for Abreu coming into 2021. He was expected to be the driving force in a dynamic White Sox lineup that also features stars like Luis Robert, Tim Anderson, Eloy Jimenez, and Yoan Moncada. Losing Robert and Jimenez appears to have hurt Abreu, as he has struggled to the tune of a 117 wRC+, the worst of his big league career. There are, however, reasons to be optimistic about Abreu returning to form. 
Abreu is another case of a hitter who heats up as the summer wears on. For his career, his second half OPS is 69 points higher than that of his first half. While some of his expected stats are down, he still ranks in the 89th percentile in average exit velocity as well as 88th in hard hit rate. Good things happen when you hit the ball hard consistently so expect hits and homers to come in bunches in the second half. 
The White Sox will need Abreu to shoulder a good chunk of the offensive load with so many of their young stars hurt in the second half. As he's shown throughout his career, he's more than capable. 
Dom Smith – OF/1B – Mets
Dom Smith burst onto the scene in 2020 as one of the most potent offensive threats in a Mets lineup that ranked third in the majors in OPS. That offense has yet to show up this year, and like many Mets hitters, Smith has struggled mightily in the first half. His wRC+ has dropped nearly 60 points, from 164 in 2020, all the way down to 105 in 2021. He has looked very much like the hitter of pre-2020 and fantasy owners are hitting the panic button. 
We expect Dom to turn it around and produce at a clip somewhere between his monstrous 2020 season and average 2021. While many of the advanced metrics are down from last season, it's difficult to produce in a struggling offense, and we think that it is contributing greatly to not only Smith, but many of the Mets hitters. Smith is simply too talented of a bat to stay down for long; buy him now before he starts mashing again. 
Paul Goldschmidt – 1B – Cardinals
Goldschmidt has been as consistent as they come over his career at first base, posting wRC+'s of at least 116 every season, making him a comfortable bet to produce at an above average clip. 
Goldy is having a down season by his standards, producing a 108 wRC+ which would be the lowest of his illustrious 11-year career. While both the power and batting average have been lacking, he's ran into a lot of bad luck so far this season. His hard hit rate is in the 96th percentile and his expected slugging is in the 88th percentile, hinting that he has barreled a lot of balls right at outfielders.
While he may not be the 35 homer threat he once was, Goldy is simply too intelligent at the plate to keep struggling. We feel confident that he'll make the necessary adjustments to return to form as a fantastic first base option and prolific run producer. If you can add Goldy from an owner who thinks he's past his peak, go get him now while his value is down.