Analysis
Fantasy Baseball: Yay, Nay, or Just Okay
A quick look at a trio of players that could help, hurt, or steady your fantasy baseball teams this season.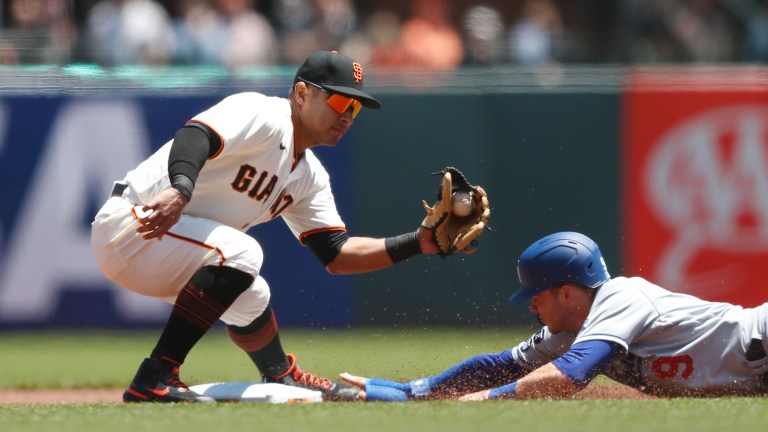 Each week throughout the season I'll be evaluating the fantasy stock of a trio of players and assigning them one of three tags: a "Yay" tag (a player you should target); a "Nay" tag (a player you should avoid – at least compared to the other two); or a "Just Okay" tag (a player somewhere in the middle of the other two). If you have a player you need help knowing whether to target (or not), put their name in the comment sections or reach out on social media (@DJohnsonRadio and/or @JustBBMedia on Twitter).
This week we'll be looking at a mix of young infielders: Wander Franco, Cavan Biggio, and Gavin Lux.
YAY: Wander Franco – Tampa Bay Rays
Finally! It's about time Wander Franco got called up! I was scrolling through past Top 100 prospect lists on MLB.com the other day and the one thing that stood out to me the most regarding Franco was his 80-grade hit tool. Outside of Vladimir Guerrero Jr., I couldn't find another player who was given that designation. That alone makes him worthy of a "Yay" tag. On the flip side, the one major question I have regarding Franco is how much home run power will there be? Certainly he has plenty of gap-to-gap muscle, but he hit 27 home runs in 214 minor league games, that's good for a 20 home run pace in a 162-game season. If paired with a great average and other offensive numbers, that will certainly get the job done, but what happens if he hits .300 with 14 home runs? He'd still be a good player, but how valuable was Omar Infante for fantasy in 2010 when he hit .321 with just 8 home runs?
That being said, I don't think we'll see Infate-esque power issues with Franco, I believe he will be a low to high 20s home run guy. And, if you're taking into consideration all of his other skills (high average, OBP, slugging, and steals), there's not a whole lot to dislike. For me, he's as big of a "Yay" as possible, acquire him if you are able.
NAY: Cavan Biggio – Toronto Blue Jays
If you've tracked the advanced numbers, you know that Biggio doesn't favor well in many of the categories. Since coming up in 2019 he has a .225 XBA, a .384 XSLG, and a .327 XWOBA. Alternatively, he's been an above average player every year in OPS plus and wRC+. I think he's a player who has ability beyond what some of the advanced numbers show – there are clear cases of players like that and one's on the other end of the spectrum (i.e., Franchy Cordero who had a .188 average in 2020/2021 combined despite being in the 99th percentile in 2021 and 85th percentile in 2020 in max exit velocity).
Two of the aspects of Biggio's game that have made him so valuable in fantasy in the past were the rate at which he could steal bases and score runs. After going 20/20 on steals in the first 159 games of his career (2019 + 2020), he now has just two on three tries in 2021; and it's not as if the Blue Jays aren't running – they're 10th in the MLB in stolen base attempts per game. He's also netted just 19 runs in 49 games – last year he had 41 runs in 59 games. My guess is that him not being as high in the lineup as he was last year has hurt him here. It's also possible that his previous IL stint in May over a cervical spine ligament sprain is causing him issues, which might even be more reason to "Nay" him.
Long-term in dynasty leagues I'm still in on Biggio being a solid OBP guy with speed who can score runs if in a good lineup. As far as the rest of this year, I'm not loving what we've seen and I think it's enough to try to move him and/or avoid acquiring him if offered in a trade.
JUST OKAY: Gavin Lux – Los Angeles Dodgers
Not a slight to be in the "Just Okay" column when Wander Franco is involved, but here is a fun little comparison of their minor league stats:
WF: .332/.398/.536, HR per 30.7 at-bats, 27 SB/21 CS
GL: .305/.383/.483, HR per 32.9 at-bats, 52 SB/25 CS
I know, I know. Lux has the well-known PCL (now Triple-A West) boost, but the dude clearly showed he can play. I don't think I'm way off-base to label him as having the potential of becoming a "Wander Franco lite".
That said, Lux in the majors hasn't really pounded the baseball, isn't barreling up a high number of balls and is pretty much around league average in strikeout, whiff rate, and walk rate percentiles. Here's what the Bat X projections are giving for Lux the rest of the way: .257/.323/.430 with 10 HR, 35 RBI, and 39 runs scored. That's fine production and, if he can figure out how to hit slower stuff (.195 on breaking/off-speed in the MLB in 2020 + 2021 versus .252 on fastballs), he may produce at a higher clip and be an even nicer addition to your fantasy team – track him closely.