Analysis
Fantasy Baseball Waiver Wire Pickups: Week 4
An up-and-coming Pirates slugger and a couple of intriguing Marlins pitchers highlight this week's waiver wire pickups.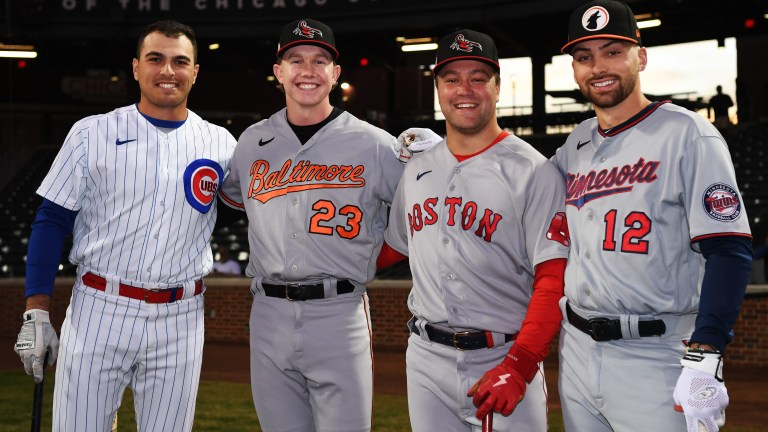 As sample size grows, the waiver wire options shrink. Those hot-start rookies have been scooped up, but plenty of good players are still available. Today we have options for deeper leagues, but even a 10-person league can get ahead of the curve with these players. Also, we've got a couple of minor league options to keep an eye on.
For more in-depth discussion of these players, check out the Just Fantasy Baseball Podcast on YouTube or your favorite podcast platforms.
Jack Suwinski – OF (3% ESPN) – Pittsburgh Pirates
2023 Stats: .255/.383/.638, 5 HR, 7 R, 12 RBI, 2 SB
In 2022, Suwinski flashed power, but the swing-and-miss kept him off the fantasy radar for many owners. So far, his chase rate has dropped by 10% and his approach has improved. On Sunday, we saw him battle and draw back-to-back walks off Hunter Greene, laying off pitches he would not have last season.
Suwinski is still making loud contact with an average exit velocity of 95.2 mph, 25% barrel rate, and 56.3% hard-hit rate. The swing-and-miss is still there (28.3% K%), but I like the direction the approach has taken: power, a bit of speed, and an improving Pirates team that can help with run production.
Harold Ramírez – OF/1B (19%) – Tampa Bay Rays
2023 Stats: .373/.422/.712, 5 HR, 11 R, 10 RBI, 0 SB
Ramírez has seen his numbers spike since joining Tampa Bay last season, and he's not just a platoon bat. He has been slotted in the five-hole of one of the best lineups in baseball and is producing. His five home runs are one short of his 2022 season total.
His .386 BABIP suggests he's a candidate for regression, but a .306 xBA is something fantasy owners would be more than happy with. Playing time is always a concern with Rays players, but Ramírez has only sat once in the past week. I say he's an add in 12-person leagues and should be a strong consideration in 10-person leagues too.
A.J. Puk – RP (11%) – Miami Marlins
2023 Stats: 9.0 IP, 9 SO, 1.00 ERA, 4 SV
Acquired from Oakland this winter, Puk is probably relatively unknown to casual baseball fans. However, Puk was one of Oakland's best bullpen options last season. His success is not new. A 95-mph fastball paired with a sweeper has led to a 29.7% whiff rate and only an 85.2-mph average exit velocity.
The question was always if he would take the closer role or if Tanner Scott would once again claim that role. So far, it's looking like Puk. A closer who is actually good on a team that is average is usually a fantasy option that is not available. Go scoop Puk before more people catch on.
Eduardo Rodriguez – SP (17%) – Detroit Tigers
2023 Stats: 31.0 IP, 25 SO, 2.32 ERA, 1 W
After Rodriguez took a perfect game into the seventh inning on Sunday, I imagine the owners who stream him keep him. But if he's available, grab him and cautiously hold. After a bizarre 2022, Rodriguez is healthy and looking more like the pitcher we saw in Boston than the one we have seen in Detroit.
He's not going to rack up strikeouts, but he's improved his walk rate from around 3 per nine to 1.45 to start the season. I expect his ERA will trend back toward 4.00, but even then, he can bring value in certain leagues or as an injury replacement.
Bryan Hoeing – SP (0%) – Miami Marlins
2023 AAA Stats: 17.1 IP, 20 SO, 2.08 ERA
Here's one out of left field. Hoeing will be recalled this week to start for Miami, and Just Baseball's own Aram Leighton suggested he be added to this list.
Hoeing struggled in eight games last year with the Marlins, pitching to a 12.08 ERA, primarily out of the bullpen. However, his fastball velocity has ticked up three miles per hour, resulting in his hot start at Triple-A Jacksonville. A streaming option for sure, but for you super deep leaguers, Hoeing might need to be grabbed right away.
Keep an Eye On:
Alex Kirilloff – 1B/OF (2%) – Minnesota Twins
Matt Mervis – 1B (1.4%) – Chicago Cubs
You know the book on Kirilloff: talented and often injured. Currently on a rehab assignment, some think he could stay in Triple-A to get more at-bats before getting a chance in Minnesota. If he keeps hitting like this, watch out.
Matt Mervis destroyed the minors in 2022 and is doing more of the same this year, slashing .262/.397/.557 with five home runs in 17 games. The Cubs are better than some expected, and Trey Mancini and Eric Hosmer are both off to pedestrian starts. Add Mervis to your watch list and monitor closely.