Fantasy Baseball Waiver Wire Pickups and Streaming Options for Week 2
These pick ups could be difference makers for your fantasy team this year as the season gets rolling.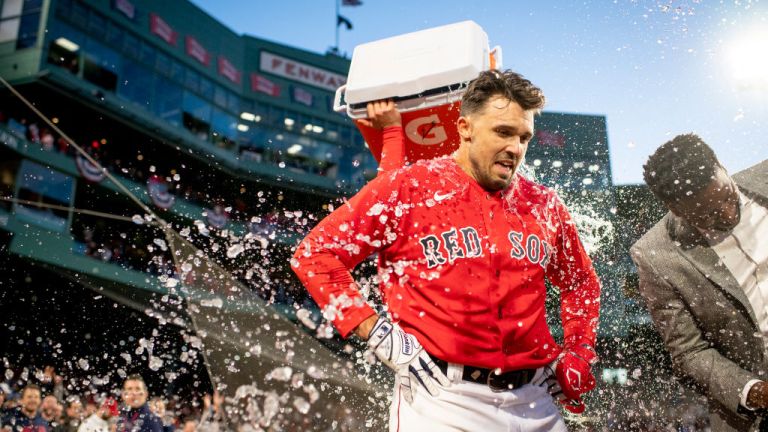 The first four days of the MLB season are quickly coming to a close and that brings us to our first waiver wire article of the year. Below I'll breakdown a few names I'm targeting on the waiver wire this week as well as a few starting pitching streaming options. With most teams only having played three games, that gives us an opportunity to snag two-start streaming options for week two of the season.
Waiver wire threshold is any player owned in less 60% of Yahoo leagues and streaming threshold is any pitcher owned in less than 50% of Yahoo leagues.
Waiver Wire Pickups
Miguel Vargas – 1B/2B – Los Angeles Dodgers
Yahoo ownership: 63%
This one ay be cheating as Vargas is owned in 63% of leagues right now, but I felt the need to talk about him…especially if you're in a league that values on-base percentage. You may remember, Vargas couldn't swing for the first couple weeks of Spring Training due to a hairline fracture in his pinky finger. The Dodgers kept him in the lineup to just track pitches even though he couldn't swing and he ended up walking in four of his first eight Spring Training plate appearances.
He has a great feel for the strike zone. He had 71 walks compared to 76 strikeouts in Triple-A last year and combined that with gap to gap power as well as 16 steals in 113 games. Vargas has already racked up seven walks in 12 plate appearances this year. Players with a profile like Vargas, where they keep strikeouts under control and walk at a decent clip with above average power upside have a very good record of translating into above average producers at the next level.
Although Vargas is currently listed as a first basemen only, he is the Dodgers everyday second baseman and will be getting second base eligibility within the week. Second base is one of the thinnest positions in fantasy making Vargas a must add in most leagues. If he's out there, grab him.
Esteury Ruiz – OF – Oakland Athletics
Yahoo Ownership: 53%
Not everyday you can pickup the guy who might be the MLB leader in steals at year's end. Esteury Ruiz is exactly that, and he provides more than just stolen bases. For background, Ruiz stole 85 bases across Double-A and Triple-A last year in what was one of the greatest displays of speed on a baseball field since Billy Hamilton.
Now you're probably thinking, can he hit? The answer is: yes. He hit 16 homers last year and hit above .300 at every stop while carrying a walk rate above 10% and a strikeout rate below 20%. I'm not expecting the power to play up at the big league level, especially in the power-tapped Oakland Coliseum, but Ruiz will get on base enough to be a stolen base machine. He is another must-add.
Adam Duvall – OF – Boston Red Sox
Yahoo Ownership: 31%
No player has started the 2023 season hotter than Adam Duvall. On Saturday, he hit two home runs, a double and a triple with two more doubles on Sunday. He's taking full advantage of being a pull happy fly ball hitter in Fenway Park with the Green Monster. He's just a season removed from hitting 38 home runs and should provide plenty of power and RBI production hitting in the middle of the Red Sox option. He's a viable outfield asset in 12 team leagues and could be more than that if this hot streak continues.
Brett Baty – 3B – New York Mets
Yahoo Ownership: 16%
This one is a bit preemptive as Baty is not currently on the Mets Major League roster, but he will be called up at some point before June and possibly even sooner than that with how good he's playing in Triple-A, so I want to make sure people in deep leagues add him now and people in shallower leagues add him to their watchlist.
I'm just gonna leave this tweet from Aram here and you can decide for yourself if Baty is the real deal after posting a .312/.406/.544 slashline in double-A last year. It's better to be early than late on Baty. Add him before your league mates do.
Mackenzie Gore – SP – Washington Nationals
Yahoo Ownership: 14%
I'm currently watching Gore carve up the Braves as I type this. The former top pitching prospect in baseball looks to not only have his confidence back, but also his stuff. His fastball is sitting 95-96 and he's hitting all of his spots with it leading to 8 whiffs on 16 swings thus far.
His mechanics look smooth, which is something he tinkered with last season, so it's promising to see him attacking hitters. He's a post-hype pitcher with all the upside in the world and I expect his ownership to climb quite quickly, so make sure to jump on Gore now.
Garrett Whitlock – SP – Boston Red Sox
Yahoo Ownership: 31%
Whitlock will make one more minor league start as he rehabs from a hip injury before returning to the Red Sox rotation. He struck out six and surrendered one run over four innings in start at Triple-A. Whitlock pounds the zone and gets ground balls, but also get plenty of whiffs. He will have a prominent place in the Red Sox rotation this year and has plenty of upside. It's smart to pick him up now and stash him on your IL before he returns.
Starting Pitcher Streaming Options for April 3 – April 9th
Anthony DeSclafani – SP – San Francisco Giants
Yahoo Ownership: 1%
DeSclafani is making his return from a broken fibula that held him to just five starts last season. He had a 3.17 ERA and 3.62 FIP in 2021 and gets the White Sox on Monday and Royals on Sunday. The White Sox start is a tad scary, but the Royals start is what I'm targeting.
Kutter Crawford – SP – Boston Red Sox
Yahoo Ownership: 1%
Streaming pitchers is sometimes like taking your cough medicine. You don't like the taste, but you have swallow it for your own good. Crawford was beat up last year across 12 starts, posting an ERA over 5.00, so on the surface he doesn't look like an appealing streaming option. Oftentimes though, beggars cannot be choosers and Crawford gets a two-start opportunity against the Pirates on Monday and then the Tigers later in the week. These are two of baseball's five worst offenses and Crawford will be put into a situation to succeed. It's a high-risk, high-reward play.