Rankings
Fantasy Baseball Rankings: Top 20 Outfielders For 2023
With Aaron Judge, Ronald Acuna Jr., Mookie Betts and Mike Trout, the outfield is filled with some of the best players in all of fantasy baseball.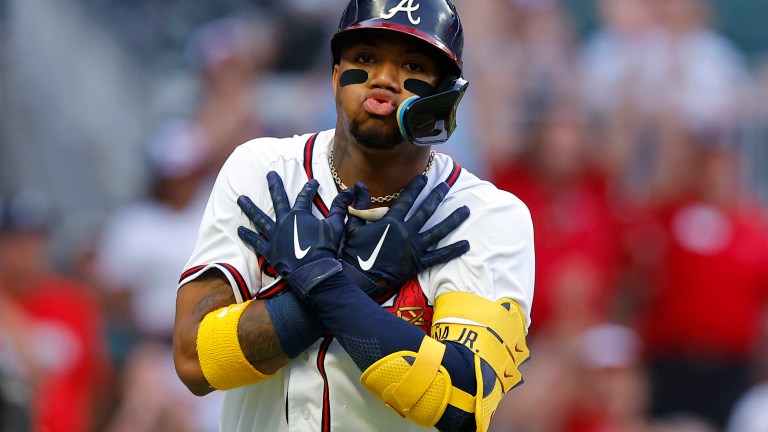 Today we will dive into the top 20 outfielders, all of which fall into ADP top 100. A deep group that includes at least eight bona fide, elite players. Power, speed, veterans, injury risk, and rookies. You name it, this list has it.
Before drafting, consider the amount of depth in this position. One or two from this list might be all you can afford to draft. Good luck resisting the temptation to spend all your draft capital on these players.
Colby Olson and I breakdown the top 20 and sleeper options on the Just Fantasy Baseball show. Please consider subscribing so you do not miss future episodes.
1. Aaron Judge – New York Yankees
2022 Stats: .311/.425/.686, 62 HR, 133 R, 131 RBI, 16 SB
ADP: 3
How could we not put Judge as number one? Sixty-two homers, 133 runs, and 131 RBI is a monster season. His 207 wRC+ from 2022 is not a typo. While I doubt he will be able to repeat his numbers from last season, (who could) Judge still brings value in all categories.
Shadowed by his home runs numbers were his 16 steals, surpassing his previous career-high of nine. No matter what scoring format you use, Judge is a top-five pick.
2. Ronald Acuna Jr. – Atlanta Braves
2022 Stats: .266/.351/.413, 15 HR, 71 R, 50 RBI, 29 SB
ADP: 2
Acuna still managed 119 games last season, but I doubt he was truly healthy during that stretch. A truly 30/30 (hell, 40/40) potential, Acuna will be healthy and ready in 2023. I expect him to return to his .950+ OPS self and deliver top-five value.
I understand where some would still be concerned about the injury and numbers from 2022. Maybe you do not want to use your first selection on what some would consider a risk. The good news – outfield is extremely deep. Sit back if you wish, but good luck finding more speed and power combinations like Acuna.
3. Julio Rodriguez – Seattle Mariners
2022 Stats: .284/.345/.509, 28 HR, 84 R, 75 RBI, 25 SB
ADP: 4
At 21 years old Rodriguez already has an All-Star, Silver Slugger, and Rookie of the Year award to his name. The phenom lived up to the hype in year one and expectations are year two will be even better. Bashing 28 home runs and stealing 25 bags in only 132 games cements his name in the top 10 of every draft.
At this point, the question is just how high is his ceiling? Signs are pointing to an MVP-caliber player year in and year out.
4. Kyle Tucker – Houston Astros
2022 Stats: .257/.330/.478, 30 HR, 71 R, 107 RBI, 25 SB
ADP: 6
Tucker notoriously starts slow in April, but finishes near the top of fantasy list. His average took a dip from his .294 number in 2021, while he almost doubled his stolen bases. With the changes in bags, Tucker could continue to see the number of steals climb.
After finishing with exactly 30 home runs two years in a row, I expect Tucker to continue to provide power while the run production can still go up. Batting near the top of a great lineup, with power and speed, and a good bill of health the past two seasons. An easy pick in my eyes.
5. Yordan Alvarez – Houston Astros
2022 Stats: .306/.406/.613, 37 HR, 95 R, 97 RBI, 1 SB
ADP: 10
I'm not sure if there's a power hitter I enjoy watching more than Alvarez. He absolutely destroys baseballs with a 60% hard hit rate and 25% home run to fly ball rate. Getting to 40 home runs should not be a problem, especially if he can play closer to 150 games.
Alvarez increased his walk rate by over five percent and lowered his strike out rate by six percent. It's hard to believe he's only 25 years old. A no-doubt top 10 consideration.
6. Mookie Betts – Los Angeles Dodgers
2022 Stats: .269/.340/.533, 35 HR, 117 R, 82 RBI, 12 SB
ADP: 11
Mookie Betts remains one of the most exciting players in the league. His 35 home runs were a new career-high. Once a 25-30 steal player, I wonder if he runs a bit more with the changes made in the game. Even if he doesn't, you can pencil him in for 10-15 bags.
Another case of a proven vet in a great lineup with little to no concern over his production. I've never heard someone complain about having Mookie on their fantasy team.
7. Juan Soto – San Diego Padres
2022 Stats: .249/.401/.452, 27 HR, 93 R, 62 RBI, 6 SB
ADP: 10
It feels criminal to be this far into the list and just now mentioning Soto. In a point league only, Soto would be higher thanks to his insane 20% walk rate. The average took a dip to .242 in 2022, and the run production was hampered due to spending most of the year on the Nationals roster.
I would be shocked if Soto suddenly became a .250 hitter. Expect that average to jump up and a full year in the stacked Padres lineup to help his run production.
8. Mike Trout – Los Angeles Angels
2022 Stats: .283/.369/.630, 40 HR, 85 R, 80 RBI, 1 SB
ADP: 20
We are at number eight and each of the names either has been, or could be, a top three pick. When healthy, Mike Trout is a top five player in baseball. In only 119 games last season, Trout hit 40 bombs posting a crazy .347 ISO.
The talent is of the chart, but Trout is often off the field. You have to decide what the threshold is to draft Trout. If you get 120 games from him is that enough for a top 10 pick? That's for you to decide.
9. Michael Harris – Atlanta Braves
2022 Stats: .297/.339/.514, 19 HR, 75 R, 64 RBI, 20 SB
ADP: 28
Atlanta just keeps producing studs. Harris came up one home run short of a 20/20 rookie year, in which he only played in 114 games. Yet another speed and power player in an outstanding lineup. The 4.8% walk rate and 24% strikeout rate could be better, but now we are getting greedy.
A full season of Michael Harris in center will be a treat. Very possible for him to play his way up these rankings in 2024.
10. Randy Arozarena – Tampa Bay Rays
2022 Stats: .263/.327/.445, 20 HR, 72 R, 89 RBI, 32 SB
ADP: 38
Arozarena might mark the first drop in tiers. Not to say he isn't a great fantasy option, but the ceiling is lower than the first nine. Back-to-back 20 home run years is respectable, but the stolen bases truly bring his value. After 20 in 2021, Arozarena stole 32 in 2022.
Swing and miss has been an issue throughout his short career, but a 24% strikeout rate in 2022 is definitely trending in the right direction. His value might change depending on your league making his ADP a bit high for some.
11. Luis Robert Jr.- Chicago White Sox
2022 Stats: .284/.319/.426, 12 HR, 54 R, 56 RBI, 11 SB
ADP: 46
How long are we allowed to talk about the tools and dream on the possible production? Robert brings speed and power, while showing flashes of greatness. He's also yet to breach the 100-game mark due to a list of injuries.
Robert is worthy of a pick. You need to decide for yourself if a top 50 pick should be used on a player with the injury history like Robert.
12. Cedric Mullins – Baltimore Orioles
2022 Stats: .258/.318/.403, 16 HR, 89 R, 64 RBI, 34 SB
ADP: 49
A 30/30 2021 season saw Mullins shoot up fantasy list heading into last year's draft. Unfortunately, the production did not carry over. Mullins finished with only 16 home runs and a .258 average. Regardless of his power, the speed will always be there.
Anyone drafting Mullins will be hoping for a bounce back, 30/30 ceiling, with the floor of a speed-first option. Baltimore does have an improved lineup and that should translate to more run production opportunities. Personally, a top 50 pick will be steep for me.
13. Kyle Schwarber – Philadelphia Phillies
2022 Stats: .218/.323/.504, 46 HR, 100 R, 94 RBI, 10 SB
ADP: 52
Schwarber stole the hearts of the Philly faithful in his first season with the team. After a great, yet limited 113-game campaign in 2021, the lefty slugger came back and posted career-highs in home runs, runs, RBI, and stolen bases.
The power is real, and moving to a better lineup obviously helped his run production. A 54% hard hit rate and 20% barrel rate would suggest a repeat performance is possible in 2023.
14. Adolis Garcia – Texas Rangers
2022 Stats: .250/.300/.456, 27 HR, 88 R, 101 RBI, 25 SB
ADP: 57
From out of nowhere to fan-favorite, Garcia is more than just a fun story. He's a legit 30/30 threat at a better value than some listed above. With his power and speed does come a major concern – swing and miss. Garcia struck out 28% of the time last season, which was actually lower than his 2021 number.
With so many ADP's being this close, it is hard to say exactly who will be selected where in your draft. If you structured your team with higher average players, Garcia is the type of player who can help fill your power and speed needs.
15. Eloy Jimenez – Chicago White Sox
2022 Stats: .295/.358/.500, 16 HR, 40 R, 54 RBI, 0 SB
ADP: 72
Like Robert Jr., Jimenez is a talented White Sox player who has struggled to stay healthy. Gambling on the often injured is a dangerous game that could payoff. Jimenez has power and the ability to hit for average. In the second half he slashed .323/.391/.558 with 14 home runs *eyeball emoji*.
16. Teoscar Hernandez – Seattle Mariners
2022 Stats: .267/.316/.491, 25 HR, 71 R, 77 RBI, 6 SB
ADP: 71
The Teoscar Hernandez trade this past winter flew a little under the radar. While not an exceptional player, Hernandez is a quality bat with 25-30 home run potential and ability to hit for average. Sure, he probably is what he is at this point in his career, but that's a well above-average regular.
If you chase upside throughout the draft, you might need someone with a more predictable stat line to balance your roster. You'll find just that with Hernandez, but the ADP might scare some away.
17. Corbin Carroll – Arizona Diamondbacks
2022 Stats: .260/.330/.500, 4 HR, 13 R, 14 RBI, 2 SB (32 Games)
ADP: 70
Speaking of upside, the first rookie has entered this list. Fresh off an eight-year extension, Carroll is set to slot into the outfield everyday and bring excitement back to the desert. The former first-rounder breezed through the minors before posting a 130 wRC+ in his first 32 big league games.
Rookies in the top 100 picks are risky, and often fall short of the value they need to deliver. If you want to target Carroll, you might have to reach. He'll be a hot name many are clamoring for.
18. George Springer – Blue Jays
2022 Stats: .267/.342/.472, 25 HR, 89 R, 76 RBI, 14 SB
ADP: 76
Springer returned from injuries in 2021 and did not miss a beat. At this point, you can guarantee he'll hit .265 with 22-27 home runs. In 2022 Springer also stole 16 bags, his most since 2015. We know the talent and consistency, the question will always be health. At age 33, there might not be many more seasons of top 100 Springer. Just remember, balance your roster with injury risk.
19. Starling Marte – New York Mets
2022 Stats: .292/.347/.468, 16 HR, 76 R, 63 RBI, 18 SB
ADP: 82
At 34 years old, Marte can still produce numbers worthy of a top 100 pick. In fact, the past two seasons have both been career-highs in wRC+. The speed dropped from 47 bags in 2021 to only 18 in 2022. There's reason to believe he'll be more aggressive with the rule changes, but we'll have to wait and see. Yet another injury-prone player, so draft with caution.
20. Bryan Reynolds – Pittsburgh Pirates
2022 Stats: .262/.345/.461, 27 HR, 74 R, 62 RBI, 7 SB
ADP: 87
The first two months of 2022 led many owners, myself included, to move Reynolds out of frustration. Like many players of his talent, he bounced back. You can expect 25 home runs, a .275 average, and limited run production. Well, unless he's finally traded to a better lineup.