Analysis
Fantasy Baseball Roster Trends: Leody Taveras On the Rise
Leody Taveras and Henry Davis are trending up on fantasy rosters, while guys like Luis Severino and Jack Flaherty are trending down.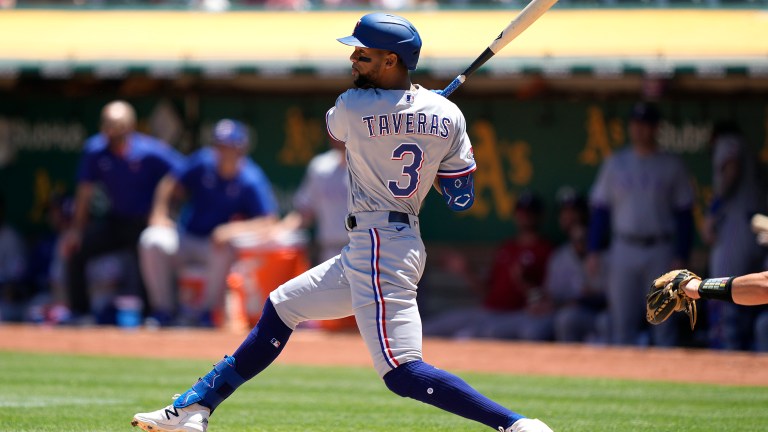 More prospects have entered in the league, players have fallen off while others are red hot. You know what that means, roster moves! Today we will dive into the most dropped, and most added, players share thought on if you should join the trend.
Players must be owned in less than 40% of leagues to qualify for trending up
Trending Up
Leody Taveras – OF – Texas Rangers (+14%)
2023 Stats: .305/.358/.490, 8 HR, 37 R, 32 RBI, 7 SB
One of the hottest hitters, on one of the best teams is usually a great recipe for fantasy success. Taveras is crushing the baseball and spraying it to all fields. His home run to fly ball rate of 14.8% is more than double what he put up last season, and I view him as more of a line drive than home run hitter.
The speed and run production alone makes Taveras an add, even in a 10-team league. It's important to remember, he's only 23 years old and finally starting to settle in.
Henry Davis – C/OF – Pittsburgh Pirates (+13%)
2023 Stats (AA): .284/.433/.547, 10 HR, 25 R, 27 RBI, 7 SB
The former first overall pick just recently joined the Pirates, and will play plenty of right field. Right now he's only eligible as a catcher, but that should change quickly. The Pirates could use a spark and Davis provides enough power to bring value to your lineup.
We'll see how high his average will be, but I consider Davis an add in deeper leagues, and a watch list player in shallow leagues. If the Pirates let him run some, you could add stolen bases to your catcher spot, which is always difficult to find. Catching can be hard to find, and Davis can fill that void.
Eddie Rosario – OF – Atlanta Braves (+12%)
2023 Stats: .271/.311/.520, 13 HR, 34 R, 37 RBI, 1 SB
The Braves have tried a few different options in left, and Rosario is the latest hot bat to take over. He is yet to crack 15 home runs since 2019, and I do not think his .249 ISO is sustainable. His expected slugging is 50 points lower than his actual slugging.
Rosario is currently chasing 43% of pitches outside of the zone. This will eventual lead to more strikeouts, or lower quality of contact. In shallow leagues, I would sell him, but he is a great option in deeper leagues, although he's likely to already be rostered.
Gavin Williams – SP – Cleveland Guardians (+11%)
2023 Stats (AAA): 46 IP, 2.93 ERA, 4.11 FIP, 61 K
Another week, another exciting arm to get a call-up. If you missed out on the long list of rookie starters, give Williams a shot. He has the stuff to rack up strikeouts, and hopefully he can limit walks. If nothing else, I trust the Guardians with pitching as much as any other team. If you are going to roll the dice on a rookie pitcher, a Guardian is a good one to pick up.
Julio Teheran – SP – Milwaukee Brewers (+11%)
2023 Stats: 30.1 IP, 1.78 ERA, 3.74 FIP, 20 K
Teheran is BACK after barely pitching the past couple of years. His 1.78 ERA and four walks in 30.1 innings is impressive. He's currently rocking a career-low 7.9% home run to fly ball rate and doing a great job of limiting hard contact.
Although I am rooting for Tehran, I only see value in deep leagues. He's not going to strike many out and some regression is on the way. I would rather take a chance on Williams at this point.
Trending Down
Bryan De La Cruz – OF – Miami Marlins (-19%)
2023 Stats: .275/.324/.424, 8 HR, 29 R, 39 RBI, 3 SB
After a hot stretch, De La Cruz is trending back towards the numbers we expected him to put up. A .230/.298/.370 slash over the past month. De La Cruz tends to chase pitches out of the zone, strike out more than you would like, and not draw too many walks.
Overall, I think he's an ok player who's best suited as a fourth outfielder. I would follow the trend in shallow leagues, and even consider swapping him for Kerry Carpenter in deeper leagues. If Nolan Jones is still available, do that!
Nolan Gorman – 2B – St. Louis Cardinals (-15%)
2023 Stats: .231/.318/.472, 15 HR, 27 R, 46 RBI, 4 SB
Like the Cardinals, Gorman has struggled mightily. Over his past 23 games he's slashing .111/.189/.198 with 36 strikeouts to nine hits. The past two weeks he has 21 strikeouts to two hits. We know he's going to be a high strikeout, big power player but how long do you keep a player struggling this badly?
He's likely dropped in shallow leagues, but I'd actually hold on in deeper leagues if you can afford to bench him. I think he'll be a streaky hitter, and production at second base is not easy to come by.
Luis Severino – SP – New York Yankees (-10%)
2023 Stats: 30 IP, 6.30 ERA, 6.38 FIP, 28 K
Everything that can go wrong, has gone wrong for Severino. He's getting hit hard, velocity is down on the majority of his pitches, and he's not getting as many swing and misses. Still, this is a pitcher with a hell of a track record, but have the injuries caught up?
I can't drop him just yet. Only a 30 inning sample size, and pitching is getting harder and harder to come by. The leash should be short, but let see what the next three or four starts look like.
Josh Lowe – OF – Tampa Bay Rays (-9)
2023 Stats: .278/.325/.500, 11 HR, 32 R, 41 RBI, 18 SB
Another furious case of Rays players not getting enough playing time. In this case, Lowe has not produced enough (recently) to be an everyday player on one of the best teams. A .222/.250/.264 slash over the past month is tough to swallow, but hang in there.
I'd hold onto Lowe simply because of the rare blend of power and speed you'd be giving up. An injury or a hot week could find his playing time increase, and I would hate for you to just give him up. Maybe you can get create and include him in a two-for-one trade to sweeten a deal and bring back an impact player.
Jack Flaherty – SP – St. Louis Cardinals (-8%)
2023 Stats: 80 IP, 4.95 ERA, 4.21 FIP, 80 K
I hate to say it, but the Jack Flaherty from 2019 is long gone. Injuries have limited his production and now his strikeouts continue to go down and a 4.95 BB/9 is tough to roster. The Cardinals are not winning and Flaherty has been too inconsistent.
A good streaming option in shallow leagues, and a hope and pray in deep leagues.