Analysis
Fantasy Baseball: Best Available Wavier Wire Pickups
Top players on the waiver wire that fantasy owners should be targeting this week.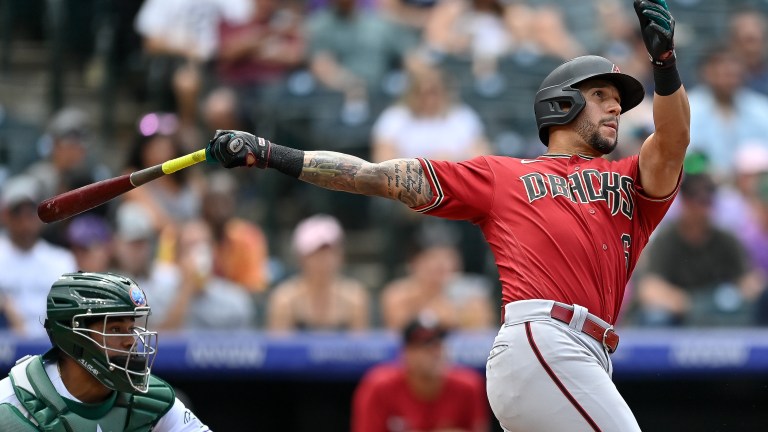 The calendar has flipped to July, as we are approaching the halfway mark in the season. While the buzz is around the All-Star game and trade deadline, fantasy baseball continues to chug along. This week I have three hitters and three pitchers to scoop up that can help your fantasy team.
David Peralta- OF – Diamondbacks (14.3% ESPN)
2022 Stats: .251/.317/.476, 11 HR, 110 wRC+
The 34-year-old outfielder has been productive throughout his entire career with 2022 being his best season since 2018. His 45.8% hard hit percentage and 12.7% barrel percentage are both career highs. Over the past two weeks, Peralta has slashed .320/.393/.640 and that is not including his two-hit performance with a grand slam Sunday.
After a down 2021, Peralta has quietly put together a solid first half and found his power. Picking up Peralta now could pay off post deadline. If traded, his value in a contenders lineup will only go up. Plenty of teams will look to add a lefty bat, and Peralta's expiring contract will fit on several teams.
Cavan Biggio – 3B/OF/2B/1B – Blue Jays (7.35 ESPN)
2022 Stats: .241/.388/.407, 2 HR, 130 wRC+
Biggio is starting to look like the lefty bat the Blue Jays need in their lineup. After injury led to a disappointing 2021, Biggio has bounced back in 2022. While the power has not been there, a 17.6% walk rate and 13% barrel rate are positive signs.
The greatest attribute is Biggio's roster flexibility. At the very least, he can be a bench bat for your team that fills in all over the place. Adding him could allow you to drop two bench bats, and use the other roster spot on a flyer or streaming option. Playing time has been a slight concern, but if he continues to play at this level that will not be a problem.
Harold Ramirez- OF/DH/1B – Rays (2.7% ESPN)
2022 Stats: .325/.373/.447, 3 HR, 136 wRC+
Harold Ramirez has bounced around the past few seasons and might be yet another written off player to find success in Tampa Bay. While his home run numbers will not jump off the page, his average and on-base percentage will drastically help in category leagues.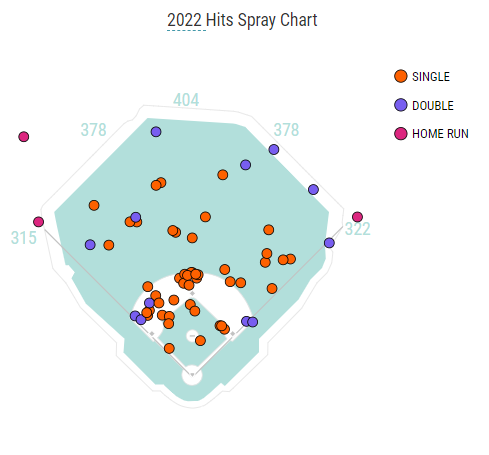 This beautiful spray chart should help paint the picture of Ramirez's ability to hit. Striking out only 13.6% and making contact on 87% of pitches in the zone show his bat-to-ball skills. Playing time will always be a question with Tampa, but scooping him up and riding a hot streak is a good idea, especially in deeper category leagues.
Tyler Wells- SP- Orioles (32.4% ESPN)
2022 Stats: 6-4, 3.09 ERA, 1.00 WHIP
Tyler Wells continues to pop up as a streamer option and it's time to change that. He has earned a more permanent spot on your roster. Over the past month, Wells has a 2.05 ERA while holding batters to a .125/.250/.300 slash line. These stats do not include his six innings of three-hit, one-run ball on Sunday, where he struck out seven Twins.
Wells will not headline your fantasy rotation. But having a solid starter in your back end will help in any scoring format. The only concerns are the strikeouts and innings. Baltimore has Wells on an inning watch, which you should keep in mind, but he's better than most streaming options.
Tanner Rainey- RP- Nationals (16.3% ESPN)
2022 Stats: 2.81 ERA, 11 SV, 25.2 IP, 31 SO
Rainey has been know for his fastball velocity, but his control issues have always held him back from becoming a complete reliever. This deep into a fantasy season it is hard to find saves, and jumping on players who get opportunities is key.
Since June 21st, Rainey is 4-for-5 in save opportunities. Rainey is an option in category leagues only at this point. The Nationals will not have many save opportunities and the job is far from locked up for Rainey. It's a risky move, but if you need saves desperately Rainey is a pickup that could pay off.
Brad Hand- RP- Phillies (3.5% ESPN)
2022 Stats: 2.16 ERA, 3 SV, 25 IP, 25 SO
Brad Hand is in the same boat as Rainey. If you need saves at this point in the season, you need to have a revolving door of players getting opportunities. The Phillies do not have a set closer and it is looking like a closer by committee situation until someone takes the job.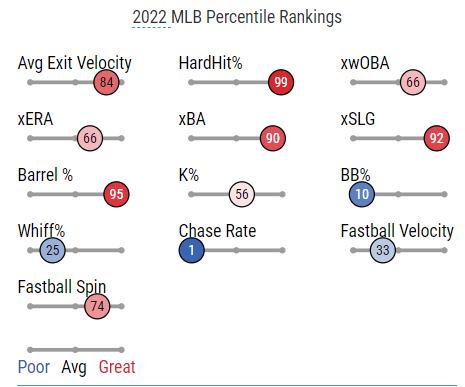 I would pick Hand over the others do to his experience. Over his 12-year career, Hand has recorded 129 saves. He's pitching well, the advanced metrics look good, and managers tend to trust experience in close games.