Building an MLB Team From NFL Players
In honor of fantasy football season starting, we put together a roster of NFL players who could hold their own on the baseball diamond.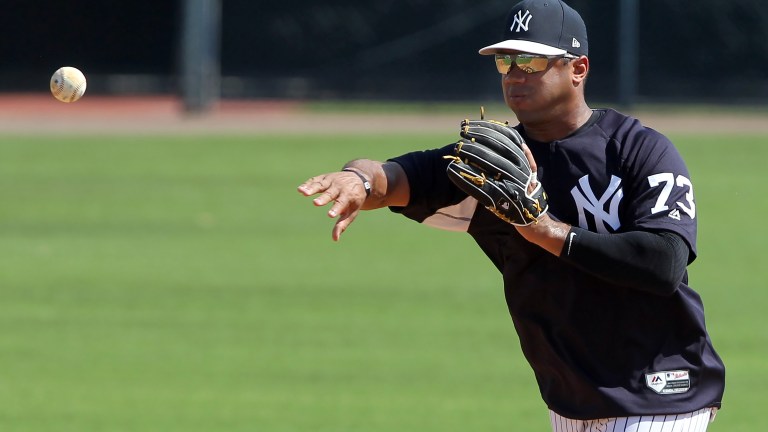 It's that time of year once again: fantasy football season. And what's more 'fantasy' than turning a bunch of football players to another sport. Heck, Tim Tebow did it!
The only rule for putting this roster together is they must be active NFL players.
*Editors Note: Tim Tebow has been released.
MANAGER:
Tom Brady – Tampa Bay Buccaneers (QB)
Besides being a winner and all-time leader in football, Brady also has a baseball background. He was drafted as a catcher in 1995 in the 18th round. It's been a bit too long to expect him to squat for 100+ game pitches, but how about making him the manager – the same position that David Ross, a 19th round pick in 1995, occupies.
HITTERS:
C: Matt Moore – Free Agent (QB)
I can't lie, there was nobody with experience behind the dish, but Matt Moore played the hot corner in high school and that is just going to have to do. Despite not playing baseball beyond high school, the Anaheim Angels selected him in the 22nd round of the 2004 MLB Draft. Moore had been sitting out from football for a year due to NCAA's transfer rules and was seen by Angels scouts playing in a men's league.
1B: Hayden Hurst – Atlanta Falcons (TE)
Prior to walking-on at South Carolina and making an NFL career, Hurst was drafted in the 17th round by Pittsburgh in 2012. He could be used as a reliever as well, but mostly played as a hitter at rookie ball where he hit .245 with a .333 OBP in 16 total games.
2B: Russell Wilson – Seattle Seahawks (QB)
Wilson was drafted out of high school then again in the 4th round by Colorado in 2010. As a middle infielder, he owned a .710 OPS in 93 games across A- and A ball in 2010 and 2011.
3B: Justin Fields – Chicago Bears (QB)
Fields played shortstop at Harrison High School, but with Murray playing there he slides to third where you're bound to see some fading throws from the left of the foul line. He was also a leadoff hitter for the team and should provide even more athleticism to the lineup.
SS: Kyler Murray – Arizona Cardinals (QB)
Murray gives a ton of versatility to the team and is likely the star player. He played middle infield in high school before moving to the outfield in college, but given more outfielders available for this team, time to move back. His slippery quickness and top-end speed combined with instincts and arm make him a top-level defender. He even owned a .954 OPS in 2018 with Oklahoma en route to being the 9th overall pick in the 1st round for the Oakland A's.
LF: Golden Tate – Free Agent (WR)
Though Tate is not currently on an NFL team, last playing for the New York Giants, he still plans to play in 2021 and could be picked up at any moment. He might actually fit better at CF with his speed, but he played LF at Notre Dame. One thing Tate did well with the Fighting Irish: hit for average. He hit .329 and scored 45 runs in 55 games as a sophomore.
CF: Trae Waynes – Cincinnati Bengals (CB)
Waynes brings top-notch athleticism in centerfield. He was a star in football, track and baseball at Mary D. Bradford High School. As a junior, he hit over .400 with a team-high in home runs, 14 extra-base hits and 25 steals in 26 tries.
RF: Tim Tebow – (formerly) Jacksonville Jaguars (TE):
Ironically enough, Tebow winds up on this list because he retired from baseball to re-join the NFL. 2019 was a struggle in AAA, but 2018 saw him slash .273/.336/.399 in AA at Binghamton. Just based on proving it by actually playing at the higher levels of the minors, Tebow is in theory one of the best players on this team.\
DH: J.J. Watt – Arizona Cardinals – (DE)
Watt is just an athlete. In high school he lettered in football, basketball, baseball, and track and field. He even traveled all over as a kid playing competitive hockey. Watt is our team's Nelson Cruz. You can pencil him in the middle of the order every day, with his one focus being to hit moon shots. Don't believe us? Check this out.
Bench UT: Patrick Queen – Baltimore Ravens (LB)
Queen was good enough at baseball to make his high school team as an 8th-grader and hit .380 in his senior season. He gives athleticism to right field and a solid bat in the lineup.
Bench IF: Jacob Eason – Indianapolis Colts (QB)
Everything you want from a utility infielder – he played 1B/SS/3B in addition to pitching until his junior season. He's got a good arm and obviously some power.
Bench OF: Shaq Thompson – Carolina Panthers (LB)
At 6-2 225, Thompson is an athletic linebacker for the Panthers. He showed that off by playing centerfield in 18 games of rookie ball with the Boston Red Sox after being taken in the 18th round of the 2012 MLB Draft. Unfortunately, Thompson went 0-39 – though did garner eight walks – as an 18-year old before opting to just play football at the University of Washington. In the bench outfielder role, his defense and athleticism off the bench late in the game can be emphasized.
Bench OF: DeSean Jackson – Los Angeles Rams (WR)
Plenty of speed to burn for Jackson, who had 25 steals in 20 games his final prep year. He also had six assists as a centerfielder in his senior year at Long Beach Poly High School and should anchor the defense or as a pinch-runner off the bench. He also hit .296 with a .359 OBP but didn't have much power.
Bench OF: Grant Delpit – Cleveland Browns (S)
Delpit loved playing baseball growing up but eventually called it a career after his sophomore year of high school. Still, he should be a rangy athlete to pinch-run or play defense off the bench even though we don't have record of his hitting stats.
PITCHERS:
SP: Justin Herbert – Los Angeles Chargers (QB)
He never played past high school, but the stats are amazing; Herbert went 8-0 with a 0.66 ERA as a senior and 11-0 with a 1.24 ERA in his high school career per his MaxPreps page. At 6'6″, his large frame bodes well for durability as a starting pitcher. In NL games, you don't mind him hitting either after he went 42-94 (.447) with 13 extra-base hits and 30 RBI his last year.
SP: Jake Fromm – Buffalo Bills (QB)
Fromm pitched in high school and was an ace at the Little League World Series in 2011 – between the LLWS and qualifying, he had a 1.08 ERA and 36 strikeouts in 16.2 IP. Plus, if it's the National League you're getting a solid hitting pitcher too after he hit three bombs in the Little League World Series and a tank in his high school finale (his second state championship).
SP: Nate Stanley – Minnesota Vikings (QB)
Stanley was a three-sport star in high-school and started all four years on the team, registering a 90 mph fastball in baseball. Had he pitched in college maybe that would have developed even more.
SP: Denzel Mims – New York Jets (WR)
Not much of a scouting report to be found online on Mims, but he was a great athlete as a receiver, baseball player and later track star after an injury ended his pitching career as a freshman.
Long-Reliever: Cole Kmet – Chicago Bears (TE)
Another durable body at 6'5″ 260-plus pounds, Kmet played baseball at Notre Dame mostly as a reliever. Need him in a late-inning pinch? He had eight saves as a freshman. Need a spot start? He made two starts at Notre Dame. His lasting impression was strong too, owning a 2.89 ERA as a sophomore in 2019.
Set-Up Man (LHP): Kyle Long – Kansas City Chiefs (OL)
Breaking the mold of all these QBs with an offensive lineman, Long is a phenomenal athlete. In high school he was throwing 95-96 from the left side and was taken in the 23rd round by the Chicago White Sox. Long wound up on the path to football though and returned from retirement this past offseason.
Set-Up Man (RHP): Jameis Winston – New Orleans Saints (QB)
The Shohei Ohtani of this roster construction (and yes, I want to delete this article in even making that comparison) as he can play in the outfield or DH with his .723 OPS at Florida State in 2013 as a switch-hitter. Winston was actually a better pitcher than hitter at Florida State. Behind his fastball that could top in the mid-90s, he collected a 1.95 ERA and 62 strikeouts in 60.1 IP across 2013 and 2014 with the Seminoles.
Closer: Patrick Mahomes – Kansas City Chiefs (QB)
Not only was Pat Mahomes a pro, but Patrick's godfather is LaTroy Hawkins, who amassed 127 career saves. You could potentially use him as a starter – he had a 16 strikeout no-hitter in high school – but he had some command issues in his limited (lone) appearance at Texas Tech. As a closer he can max-out throwing gas and you don't have to worry if the moment is too big.