Analysis
2022 Fantasy Player Profile: Juan Soto
Our 2022 Fantasy Player Profiles begin with Juan Soto, arguably the top pick for both one-year leagues and keeper leagues.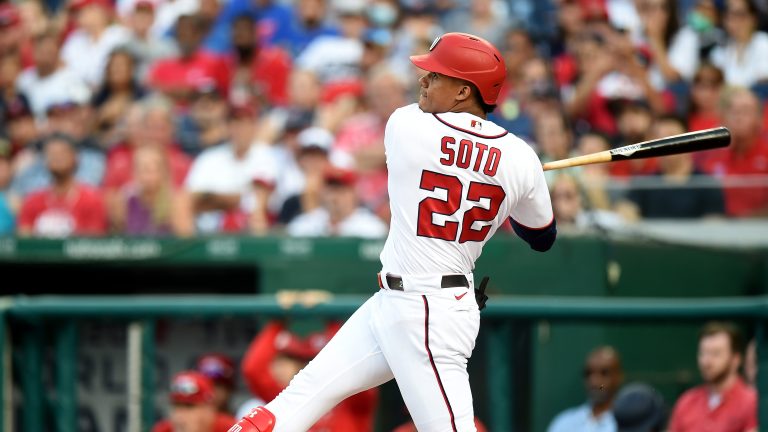 Don't expect the Washington Nationals to be particularly active in the offseason. They may very well finish at the bottom of the standings again in 2022 considering they have a fairly significant rebuild ahead of them. However, Nationals outfielder Juan Soto will remain a constant for them as a cornerstone for the franchise for the foreseeable future. Soto will head into his age-23 season and is already heading into his fifth season as a major leaguer.
Soto absolutely mashed in the 2021 season, posting a .313/.465/.534 slash line along with 29 homers and 95 RBI's in a less-than-stellar Nationals lineup. Soto isn't known for his speed, nabbing nine steals in 16 attempts. However, the consistent output over the last few years offensively is something that can't be ignored as Soto hasn't even entered his prime years yet.
As a keeper player, Soto is almost an obvious top pick overall. In a one-year league, you can argue his second half of the 2021 season could lead to his first MVP award and, in turn, a top overall pick value in the upcoming 2022 season.
From an analytics standpoint, Soto has been nothing short of an absolute machine offensively, finding himself in among the leaders in every offensive category according to Baseball Savant. Soto ranks in the 94th percentile for Average Exit Velocity, 99th in expected Weighted On-Base Average, 83rd in Barrel percentage, 80th in Whiff rate, 88th in Outs Above Average, 98th in Max Exit Velocity, 97th in Expected Batting Average, 90th in Strikeout percentage, 100th in Chase Rate, 95th in Hard Hit percentage, 92nd in Expected Slugging percentage, and 100th in Walk percentage.
While his sprint speed and outfielder jump ranks in the middle of the pack, Soto has the most electrifying peripherals of any player in the game. These should not be ignored considering he still has room for growth in this league.
In his four years of service, Soto has a career slash line of .301/.432/.550. From a fantasy standpoint, if OBP is a category used in your league, this guy may very well win the league for you. When provided with runners in scoring position, Soto is literally a menace.
With runners at second and third in his 2021 season, Soto reached base safely in all 11 plate appearances, walking 7 times while going 4/4 with 5 RBI's in the situation. If the Nationals do add another bat in that lineup, expect Soto to tee off and post an even more impressive stat line in that situation.
In a 9×9 Yahoo League that featured the categories of Runs, Hits, Doubles, Homers, RBI's, Stolen Bases, Average, On-Base Percentage, and Slugging, Soto ranked only behind Vladimir Guerrero Jr., Bryce Harper, and Trea Turner. Expect Soto to be right there with the same elite company and potentially above those names at the end of 2022, regardless of who Washington decides to bring into the fold for the upcoming season. Considering many top picks have had injury issues over the past season, Soto feels like a safe choice that will inevitably pay off next year and for years to come.