Rankings
Top 10 Third Basemen in College Baseball
From top transfers to stud underclassmen, plenty of talented players are manning the hot corner in college baseball.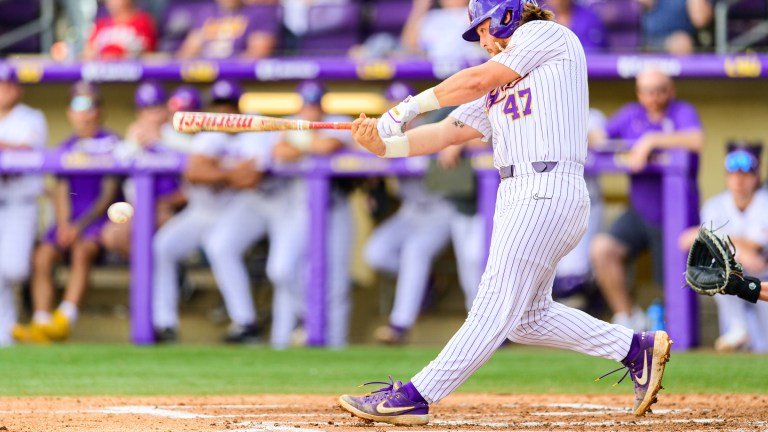 This is easily the most talented position on the infield in college baseball. From top transfers to stud underclassmen, the hot corner has it all. In 2023, the third base spot may see the most collegiate players drafted in the top three rounds out of any position besides outfield and pitcher. Let's dive into this star-studded lineup of players, starting with some honorable mentions:
Honorable Mentions
Alejandro Figueredo – Florida Gulf Coast: Figueredo is a tall, sturdy corner infielder who has split time between the hot corner and first base. Wherever you play him, he will mash, slashing .392/.476/.660 with 13 homers and 21 doubles last spring.
Nick Lorusso – Maryland: Lorusso is an experienced college player, spending three years at Villanova before transferring to College Park in 2022. Despite showing only mild power in the past, Lorusso hit 15 bombs and 17 doubles last season for the Terps.
Nolan McLean – Oklahoma State: After being drafted in 2022, McLean will return to Oklahoma State for his senior season. The strikeouts have been a problem, but his immense power and strong arm will make him an exciting name to watch in 2023. Oh, and he also throws 95+ in relief for the Cowboys.
10. Drew Bowser – Stanford
Ht: 6-4 | Wt: 226 lbs. | B/T: R/R | Class: Junior | Draft Yr: 2023
Bowser is going to be a huge part of a Stanford club that many believe can go the distance in 2023. After being a big name coming out of high school, Bowser made it to campus and did not disappoint, slashing .297/.355/.534 with 25 home runs and 91 RBIs in 114 career games. The Harvard-Westlake product's game includes some swing-and-miss, but his game power and athleticism should propel him to a great season for the Cardinal.
9. Mike Boeve – Omaha
Ht: 6-2 | Wt: 205 lbs. | B/T: L/R | Class: Junior | Draft Yr: 2023
Mike Boeve was one of the most impressive players I saw this past summer in the Cape Cod League. He was a walking base hit and his numbers back that up. Over his first two seasons at Omaha, Boeve has hit .343/.450/.511 with 39 doubles and more walks than strikeouts. The Nebraska native followed up a 1.075 OPS sophomore campaign with a productive summer on the Cape, getting on base at a .403 clip. Boeve's frame offers room for more power, as he has only hit nine homers in his college career. If I were a scouting director, I would take a chance on this guy earlier than most.
8. Drew Cowley – Oregon
Ht: 5-10 | Wt: 194 lbs. | B/T: L/R | Class: Senior | Draft Yr: 2023
Putting up big offensive numbers in a conference that featured big-time starters in 2022 isn't easy, but Cowley managed to do it with ease. A Cal Poly Pomona transfer, Cowley raked last spring, hitting .424/.506/.616 in 151 at-bats. The California native will turn 24 this spring, making him one of the oldest in the sport. For a Ducks team that has been constantly ranked within top 25, Cowley figures to be a key contributor this spring.
7. Gino Groover III – North Carolina State
Ht: 6-3 | Wt: 205 lbs. | B/T: R/R | Class: Junior | Draft Yr: 2023
All LuJames "Gino" Groover III does is hit. A Charlotte transfer, Groover tapped into more power in 2022, slugging .568 and hitting ten homers during his first spring in the ACC. NC State had an experienced left side of the infield last spring, so Groover bounced around, splitting time at first base and in the outfield. Now ready to take on a permanent assignment in 2023, Groover is poised to put up big numbers, and I expect his home run total to skyrocket.
6. Carson DeMartini – Virginia Tech
Ht: 6-0 | Wt: 185 lbs. | B/T: L/R | Class: Sophomore | Draft Yr: 2024
DeMartini may have been the best freshman in the country not named Vance Honeycutt or Tommy White. The Hokies infielder slashed .342/.452/.659 with 15 bombs in 59 games. He followed up his spring with a strong summer in the Cape Cod League, despite a high strikeout total. Not surprisingly, many are already projecting him to be a first-round pick in 2024, but for now, college baseball gets two more years of DeMartini.
5. Brock Wilken – Wake Forest
Ht: 6-4 | Wt: 225 lbs. | B/T: R/R | Class: Junior | Draft Yr: 2023
Wilken had one of the more impressive freshman seasons in recent memory, producing a .983 OPS with 17 homers, followed up by an MVP campaign on the Cape in 2021. In 2022, Wilken hit 23 homers and 77 RBIs, but his strikeout rate almost doubled. The native Floridian's calling card will always be the power, and if the swing-and-miss can be kept under control, he is looking like a scary player at the next level. At third base, Wilken has a strong arm but isn't the quickest, so a move to first base may be in order.
4. Yohandy Morales – Miami
Ht: 6-4 | Wt: 209 lbs. | B/T: R/R | Class: Junior | Draft Yr: 2023
A converted shortstop, Morales drew draft hype coming out of high school in 2020 but made it to campus. Morales had a productive freshman year, but followed that up with a monster sophomore campaign, slashing .329/.411/.650 with 18 home runs and 17 doubles. That success came with a decent amount of strikeouts, but he was able to offset that with a decent amount of walks. Morales is a good defender at the hot corner, making him a candidate to stick there long-term.
3. Brayden Taylor – Texas Christian
Ht: 6-1 | Wt: 175 lbs. | B/T: L/R | Class: Junior | Draft Yr: 2023
Another converted shortstop, many believe that Taylor can still handle the position, making him an above-average defender at the hot corner. The best part of Taylor's game is his hit tool, making him a consensus top-15 pick in this upcoming draft. Over his first two seasons at TCU, the Utah native owns a .319/.450/.574 line with 25 homers, 103 RBIs, and way more walks than strikeouts. He has also been a consistent performer across two summers on the Cape.
2. Jake Gelof – Virginia
Ht: 6-1 | Wt: 198 lbs. | B/T: R/R | Class: Junior | Draft Yr: 2023
I kept going back and forth between Gelof and Brayden Taylor here, but Gelof's 2022 season was just too good to pass up. In 58 games, the slugging third baseman hit 21 homers, drove 81 in, and slashed .377/.477/.764. If those aren't video game numbers, I don't know what would be. Not to mention, Gelof was coming off a freshman season where he played 38 games and hit just four bombs. He's not much of a defender at the hot corner, but Gelof's immense power should carry him to a day-one draft selection in July.
1. Tommy White – Louisiana State
Ht: 6-0 | Wt: 242 lbs. | B/T: R/R | Class: Sophomore | Draft Yr: 2024
If you followed college baseball just a little bit last season, you are probably familiar with Tommy White. During his freshman campaign, White hit a whopping 27 homers, slashing .362/.425/.757. He then transferred to LSU, where he figures to be a huge part of the scariest team in the sport. With Tre' Morgan manning first base, White will get an opportunity to play third, despite probably moving back to first at the next level. White solidified himself as one of the most polished and advanced hitters in college baseball last year, with the chance he becomes one of the more famous players in recent memory.