Rankings
Top 10 Right-Handed Pitchers in College Baseball
After ranking the top 10 southpaws last month, let's take a look at the best right-handed pitchers in college baseball ahead of the season.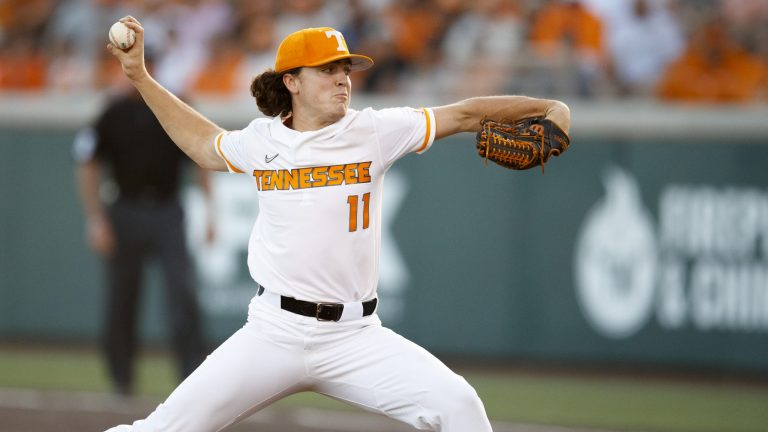 After examining a talented group of left-handed pitchers, let's do a deep dive into this loaded group of righties, some of whom will hear their names called during the first round of this summer's draft. Headlined by Tennessee's Chase Dollander, the SEC again has a strong presence on this list, showing how competitive college baseball's best conference will be in 2023.
Honorable Mentions
Juaron Watts-Brown – Oklahoma State: A transfer from Long Beach State, Watts-Brown threw a no-hitter in 2022, striking out 16 against UC Riverside. A good pitch mix and improved competition could land Watts-Brown on a lot of radars this spring.
Ben Hess – Alabama: Hess impressed at the SEC tournament last spring as a freshman, striking out 10 Georgia Bulldogs in 4.1 innings. With a pair of strong springs, Hess could find himself getting selected in the first round of the 2024 draft.
Nathan Dettmer – Texas A&M: While he isn't the flashiest pitcher on this list, Dettmer is as steady as they come. Given the Friday night duties on a talented Aggies team, Dettmer may be the biggest up arrow right-hander this spring.
10. Drew Beam – Tennessee
Ht: 6-4 | Wt: 203 lbs. | Class: Sophomore | Draft Yr: 2024
Even though he ranks within the top 10, Beam is the third-best pitcher on Tennessee's staff, showing how dominant the Volunteers will be on the mound in 2023. Beam is somewhat of a scout's dream. A projectable frame, upper 90s fastball, and a good mix of secondaries make Beam one of the most intriguing underclassmen in college baseball. As a freshman, the Tennessee native started 15 games, owning a 2.76 ERA and 0.93 WHIP.
9. Tanner Witt – Texas
Ht: 6-5 | Wt: 215 lbs. | Class: Junior | Draft Yr: 2023
There is so much to like about Witt, who offers one of the best curveballs in college baseball. The struggle has been staying healthy, having pitched in just two games last spring due to Tommy John surgery. When he's on the mound, Witt possesses four impressive offerings, headlined by a mid-90s fastball and curveball that tunnel well, as shown below. It will be interesting to see how the spring shakes out for the 6-foot-5 righty, who is expected to pitch at some point this season.
8. Cade Kuehler – Campbell
Ht: 6-1 | Wt: 205 lbs. | Class: Junior | Draft Yr: 2023
Campbell continues to be a mid-major powerhouse, producing first-round pick Zach Neto and 36th overall pick Thomas Harrington last summer. Cade Kuehler will look to continue that first-round tradition and he has a great shot to do so. From a shorter arm path, Kuehler offers five pitches; a four-seam fastball, cutter, split-change, slider, and curveball. The North Carolina native impressed in 2022, posting a 4.07 ERA, striking out 111 over 84 innings (15 starts).
7. Will Sanders – South Carolina
Ht: 6-6 | Wt: 215 lbs. | Class: Junior | Draft Yr: 2023
Sanders is as well-rounded as they come, headlining a group of second-tier righties that will presumably hear their names called on day one of the 2023 draft. In 37 career games for the Gamecocks (15 starts), Sanders owns a 3.47 ERA with just 42 walks in 142 innings. Sanders comes from a projectable 6-foot-6 frame and owns a strong three-pitch mix, including a fastball that can run up to 96. Working off of his fastball is a good change-up and solid slider.
6. Thatcher Hurd – Louisiana State
Ht: 6-4 | Wt: 200 lbs. | Class: Sophomore | Draft Yr: 2024
Hurd comes to Baton Rouge from UCLA, where his freshman season was cut short due to a back injury in early April, ending the year with a 1.06 ERA in 34 innings. Hurd possesses one of the best pitches in the 2024 class with his slider, which has produced spin rates north of 3,000. His fastball reaches the mid-90s Much like the Tennessee Volunteer pitchers on this list, Hurd will look to dominate a part of one of the best pitching staffs in the sport.
5. Rhett Lowder – Wake Forest
Ht: 6-2 | Wt: 200 lbs. | Class: Junior | Draft Yr: 2023
A personal favorite, Lowder offers some of the nastiest pitches in all of college baseball, along with a fastball that can reach the mid-to-high 90s. The 6-foot-2 junior is especially effective against left-handed batters due to his change-up, which has earned 60 grades. Lowder doesn't just throw nasty stuff, he knows where it is going, with his slider and fastball playing well off of the change-of-speed. The 2022 ACC Pitcher of the Year posted a 3.07 ERA last spring, punching out 105 over 99.1 innings and pitching well for Team USA last summer.
4. Hurston Waldrep – Florida
Ht: 6-2 | Wt: 205 lbs. | Class: Junior | Draft Yr: 2023
Waldrep put his name on the map last spring for Southern Miss, owning a 3.20 ERA and striking out a shocking 140 batters over 90 innings. Now in Gainesville, Waldrep will presumably take over the Friday night duties for the Gators. The Georgia native is similar to another arm on this list, Chase Burns. Waldrep offers a four-pitch mix including his nasty slider and a mid-to-high 90s fastball that plays well up in the zone. This spring, Waldrep will look for more of the same results against improved SEC competition.
3. Paul Skenes – Louisiana State
Ht: 6-6 | Wt: 235 lbs. | Class: Junior | Draft Yr: 2023
Skenes was a headline transfer in a packed class for LSU this offseason, joining Thatcher Hurd and Tommy White in Baton Rouge, among others. Skenes is coming from Air Force where he was a two-way player, although many evaluators prefer him on the mound. The California product operated in the high-90s this fall, complimented by a sharp high-80s slider that has produced swings-and-misses regularly. His change-up is a bit firm, with room for some separation from his fastball. Skenes won 10 games in 2022, posting a 2.73 ERA over 15 starts.
2. Chase Burns – Tennessee
Ht: 6-4 | Wt: 205 lbs. | Class: Sophomore | Draft Yr: 2024
Aside from teammate Chase Dollander, Burns is the best power pitcher in college baseball. As a freshman, Burns struck out 103 batters over 80.1 innings, posting a 2.91 ERA in 15 starts. His fastball can reach 99, with a slider that sits in the 86-89 range, both enhanced by his long history of throwing strikes. Both offerings have reported very high spin rates. While Burns has worked primarily with his two-pitch mix, he is developing a curveball and splitter that will prove to make him a problem for a long time.
1. Chase Dollander – Tennessee
Ht: 6-3 | Wt: 192 lbs. | Class: Junior | Draft Yr: 2023
While many give the edge to LSU's Dylan Crews, Chase Dollander has a legitimate chance to be selected first overall during this summer's draft. Dollander started his collegiate career at Georgia Southern, where he was solid as a freshman in 11 starts. The Georgia native then transferred to Tennessee, where he turned himself into the best pitcher in college baseball. In 2022, Dollander went 10-0 with a 2.39 ERA, striking out 12.3 per nine and walking just 13. Dollander compliments his high-90s fastball with sweeping slider that has reached the low-90s and an above-average change-up that could develop into a real weapon for him. Best of all? He throws strikes, making him one of the best pitching prospects since Gerrit Cole and Stephen Strasburg.