News
Luck of the Irish! Notre Dame Beats No. 1 Tennessee to Advance to Omaha
Top overall seed Tennessee is sent home in the super regionals.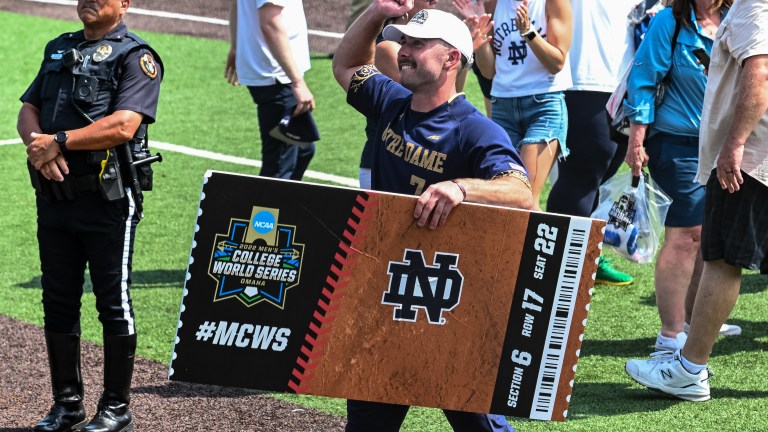 Written by Will O'Shea
I closed my recap yesterday with, "Heading into game 3, depth widely favors the Volunteers, who will look to close the door on the little bit that Notre Dame has left."
Well…the Irish had a lot left, and they showed up late to come back and beat possibly the most stacked college roster of all time.
A Luc Lipcius home run kicked off the day, putting the Volunteers up 1-0 in the first, the third bomb of his last four at bats. Notre Dame scrapped one the next inning, taking advantage of freshman Chase Burns' inability to hold runners on (19-19 on SB attempts going into today). Jack Zyska would steal second and third on back-to-back pitches, with a David LaManna ground ball being all they needed to score him. Seth Stephenson would bring in the next one in both the second and fifth, giving the Volunteers a two-run lead heading to the back half of game 3\three.
Chase Burns dealt for the first six innings. A fastball sitting in the upper 90s and a wipeout slider touching 89, the freshman ran through the Irish lineup. In the fifth, Coach Link Jarrett gave the ball to freshman lefty Jack Findlay, who would close out the inning, stranding the runner on second to keep it a two-run deficit for Notre Dame.
In the top of the seventh, history would start to be made. A Carter Putz double led to a two out home run by David LaManna over the short right field, only his second of the entire season. Jack Brannigan, the next at-bat, crushed a home run to give the Irish their first lead since game one, silencing Knoxville and putting Catholics all over the world into a frenzy.
The Notre Dame lead didn't seem safe at all, until the eighth when Carter Putz and Jack Zyska came clutch with two out hits to bring in three more, extending the lead to 4 and beginning the countdown till elimination for the No. 1 Vols.
Despite the well-timed bombs, the player of the game would go to Jack Findlay. Findlay would go the rest of the game, limiting the best offensive team in recent memory to just four baserunners over the final five frames.
No No. 1 seed has won the College World Series since 1999, but Tennessee going down is the most shocking of them all. The Irish survive and advance to Omaha, beating juggernaut Vols 7-3.