Analysis
High Impact Transfers in College Baseball
The transfer portal has shuffled some of the best players in college baseball, bolstering some of the top programs ahead of next season.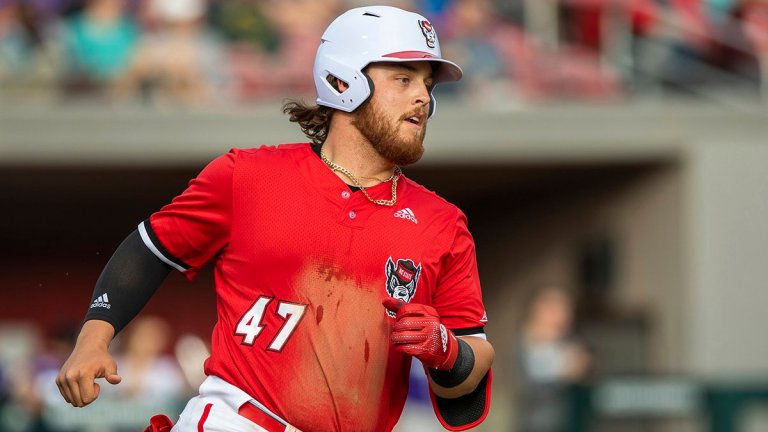 A new age of college baseball is upon us. One where each summer, top players from around the country are flipping schools, a flurry similar to that of an MLB offseason. There were nearly 120 players that entered the transfer portal from the SEC alone. Below we go in-depth on some of the most well-known transfers and some that will make huge impacts for their clubs this spring.
Louisiana State's Unbelievable Haul
INF Tommy White (NC State) – One of the most polarizing players in the country, Tommy White lit the college baseball world on fire as a freshman at NC State. The 2022 ACC Freshman of the Year slugged 27 home runs, owning a slash line of .362/.425/.923 through 235 at-bats. Surprisingly, White entered the transfer portal and quickly settled on LSU. His announcement started a flurry of well-known names heading to Baton Rouge.
C/RHP Paul Skenes (Air Force) – Skenes is a dynamic player on both sides of the ball. On the mound, his fastball has hit 97, complemented by a slider and change-up. Through 112.1 innings for Air Force, Skenes pitched to a 2.72 ERA, striking out 126 batters.
With the stick, Skenes is just as good, if not better. The junior All-American dominated with a .367/.453/.669 line, slugging 24 home runs and 31 doubles across two seasons for the Falcons. It will be interesting to see if LSU uses Skenes as a catcher or if they opt for the classic DH/RHP role among two-way players.
RHP Thatcher Hurd (UCLA) – A top draft prospect out of high school in 2021, Hurd made it to campus, pitching in nine games (1.06 ERA/34 IP) before going down with a back injury. The 6-foot-4 right-hander possesses a high-spin fastball that sits in the mid-90s and two nasty breaking balls. Many think that Hurd will be a top pick in the 2024 draft, but for now, he will look to lead a talented Tigers pitching staff.
RHP Christian Little (Vanderbilt) – Little made a name for himself during his freshman year at Vanderbilt, coming through in some big games at just 17 years old. He followed that up with a nice sophomore season, owning a 3.72 ERA over 18 games, starting just three of them.
Now with LSU, it seems like the plan is to turn him back into a starter. It makes sense with his repertoire, which includes a mid-90s fastball, a low-90s cutter, a curveball, and a good change-up.
Oklahoma State and Florida Land New Weekend Starters
RHP Juaron Watts-Brown (Long Beach State to Oklahoma State) – Watts-Brown was one of the most underrated pitchers in our sport last spring. The 6-foot-3 righty threw to a 3.68 ERA, striking out 111 over 73.1 innings in his redshirt freshman season.
Not to mention, Watts-Brown threw a no-hitter, going the distance against UC Riverside, striking out 16. With the departure of Justin Campbell, Oklahoma State was surely looking for someone to fill his shoes, with Watts-Brown being the likely candidate.
RHP Hurston Waldrep (Southern Mississippi to Florida) – If you don't know Hurston Waldrep's name by now, learn it, because this guy is the real deal. There weren't many pitchers better than Waldrep in 2022, who produced a 3.20 ERA and struck out 140 batters over 90 innings. His fastball sits near 97, reaching 102 last season, along with a nasty high-80s slider and a change-up that produced swings all spring long. Florida lost Hunter Barco to the MLB draft but the Gators shouldn't suffer with Waldrep taking over the Friday night role.
Arizona State Loads up on Both Sides of the Ball
SS Luke Keaschall (San Francisco) – Watching Luke Keaschall everyday for two months this summer was a treat, to say the least. It felt like he would sway the result of every game, either by hitting a big homer or making a defensive play at one of his many positions.
Keaschall looks to be the starting shortstop for the Sun Devils, who vastly improved their program through transfers last summer. The Cape Cod League All-Star hit 12 bombs and swiped 41 bags over his first two seasons at San Francisco.
LHP Ross Dunn (Florida State) – Dunn's work for the Seminoles last spring was overshadowed by the dominance of fellow lefties Parker Messick and Bryce Hubbart. For the most part, Dunn did well, striking out 92 over 60.2 innings for Florida State. Dunn has touched the high-90s from the left side, while also working with a nasty slider/change-up combination. He will now look to lead a talented group of arms in Tempe, will all signs pointing to him being their Friday night ace.
Tennessee Adds New Shortstop
SS Maui Ahuna (Kansas) – Maybe the highest profile player on this list not named Tommy White, Ahuna lit the world on fire over his first two years at Kansas. In 103 career games for the Jayhawks, Ahuna owned a .979 OPS while playing lockdown defense at shortstop. Needless to say, the Volunteers' lineup just got a whole lot scarier.
North Carolina State Scoops up High-Profile Outfielder
OF Carter Trice (Old Dominion) – Trice is one of the more exciting players that I had the luxury to watch this summer in the Cape Cod League. He has been a constant performer for a sometimes underrated Old Dominion program, slugging 31 homers and swiping 26 bases over two seasons. With the loss of Tommy White, NC State landed a guy in Trice who could rival White's production next season.