News
Comeback Commodores Climb Past Stanford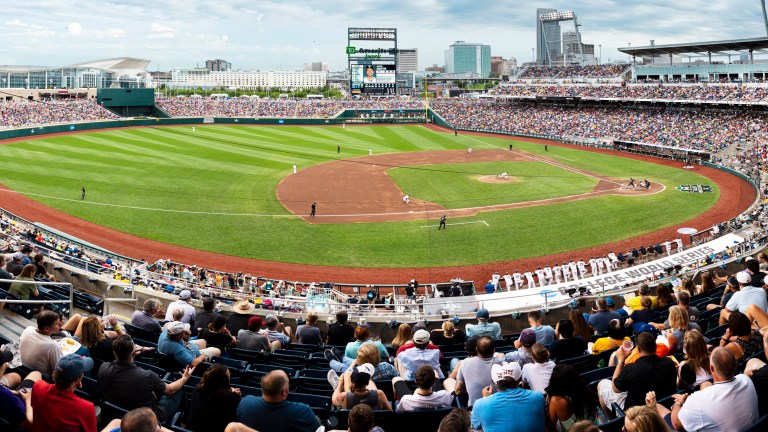 Down to their last strike and staring elimination in the face, Vanderbilt rallied with a walk and three hits to set up a walk-off wild pitch against Stanford's best arm, Brendan Beck.
Stanford led for 8 2/3 innings, but saw their lead trimmed to one run after Vanderbilt scored two in the bottom of the sixth via RBI singles from Tate Kolwyck and Parker Noland. In a one run game, Stanford Head Coach David Esquer opted to go with his ace Brendan Beck on three days rest.
Beck was magnificent for 2 2/3 innings before things started to unravel for him and the Cardinal. After retiring the first eight batters he faced (5 K's), Beck lost Vanderbilt's eight hitter, Javier Vez, after getting ahead with two strikes. Then, pinch-hitter Spencer Jones poked an infield single, setting things up for lead-off man Enrique Bradfield with two-outs and runners on the corners.
Bradfield, the SEC Freshman of the Year, came through big time jumping all over a first pitch breaking ball and lacing it into right field to tie the game. Just a few pitches later, Brendan Beck sailed one to the backstop allowing Spencer Jones to come in and score for the win.
Unfortunately, in games like these, somebody has to go home and a really talented Stanford team's season ended it heart-breaking fashion. Vanderbilt's win earns them a rematch with NC State on Friday and presumably one more start in the collegiate career of Kumar Rocker.
As for NC State, they will likely go to one of their two best arms in Sam Highfill, who already shut out the Commodores for seven innings this College World Series, or Reid Johnston who has been more than reliable for the Wolfpack this year.
Vanderbilt vs. NC State take two will be on Friday at 2 p.m. ET on ESPN 2.